Beto O'Rourke on Third-trimester Abortion: 'That Should Be a Decision That the Woman Makes…I Trust Her'
Democratic presidential candidate Beto O'Rourke said he believed abortion should be a woman's decision after he was asked about third-trimester abortions at a Monday campaign event in Cleveland.
"Are you for third-trimester abortions or are you going to protect the lives of third-trimester babies?" a crowd member could be heard asking O'Rourke in a clip of the Cleveland event posted to social media.
"Because, you know, there's really not a medical necessity for abortion," the crowd member continued. "It's not a medical emergency procedure because physically, third-trimester abortions take up to three days to have, so…in that sense, if there was an emergency the doctors would just do a C-section and you don't have to kill the baby in that essence. So, are you for or against third-trimester abortions?"
O'Rourke told the crowd: "So, the question is about abortion and reproductive rights. And my answer to you is that that should be a decision that the woman makes."
At that, the crowd broke out in a cheer, as O'Rourke said: "I trust her."
It is unclear whether O'Rourke said more on the subject at the campaign event, as the video, which was posted by Alexandra Desanctis, a staff writer at National Review, was cut short after that statement.
Studies have shown that American's support for the legality of abortion depends heavily on the trimester of the abortion. A Gallup poll conducted last year found that 60 percent of adults in the U.S. supported legal abortion in the first three months of pregnancy. Support dropped to 28 percent for abortions conducted in the second three months, and to 13 percent in the final three months.
The poll, which polled 1,024 adults between May 1 and May 10 in 2018, also found that support for third-trimester abortions varied depending on the situation.
When a woman's life was endangered, 75 percent of participants said they would support third-trimester abortion, while 52 percent said they supported third-trimester abortion if the pregnancy "was caused by rape or incest."
Forty-eight percent said they supported third-trimester abortion if the child "would be born with a life-threatening illness," while 35 percent said they supported it if "the child would be born mentally disabled."
Meanwhile, 25 percent said they believed third-trimester abortion should be an option if the child "would be born with Down syndrome," and 20 percent said they believed it should be legal if "the woman does not want the child for any reason."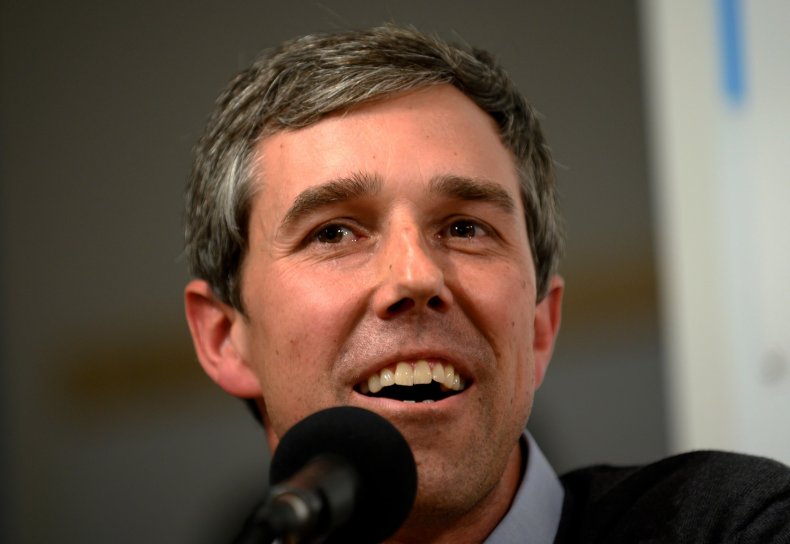 O'Rourke's campaign team has not immediately responded to a request for comment from Newsweek asking for further clarification on the Democrat's stance on abortion rights.
Previously, the three-term congressman and failed U.S. Senate candidate made it clear that he supported abortion rights, but in a December 2017 interview, he told Newsweek that he respected the views of those who did not agree with him.
In Congress, O'Rourke voted against a bill that would ban abortion after 20 weeks, saying "it would endanger the lives and health of women in Texas."
So far, O'Rourke's election campaign has succeeded on one measure—fundraising—with the former Texas congressman raising $6.1 million within the first 24 hours of announcing his bid, slightly more than Bernie Sanders raised and much more than his other 2020 Democratic rivals in the same time frame.
"In just 24 hours, Americans across this country came together to prove that it is possible to run a true grassroots campaign for president—a campaign by all of us, for all of us, that answers not to the PACs, corporations and special interests but to the people," O'Rourke said of his early campaign success.
The graphic below, provided by Statista, illustrates the 24-hour fundraising achievements of 2020 Democratic presidential candidates.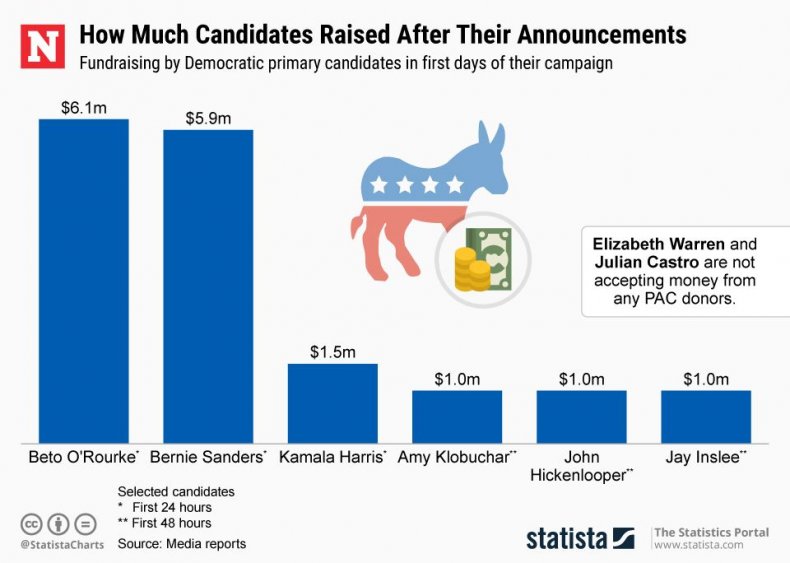 O'Rourke formally joined the crowded field of Democratic candidates last week, with a polling average on RealClearPolitics showing him trailing behind former Vice President Joe Biden and Senators Bernie Sanders, Kamala Harris, Elizabeth Warren and Cory Booker.