Beto O'Rourke vs. Greg Abbott: What Polls Say About the Texas Governor's Race
While the election is still nearly a year away, polls show Texas' GOP governor leading his Democratic challenger, former Representative Beto O'Rourke, who announced on Monday his 2022 campaign to unseat Greg Abbott.
O'Rourke served as a member of Congress for Texas' 16th District from 2013 to 2019. In 2018, he unsuccessfully campaigned in the state to unseat Republican Senator Ted Cruz—substantially raising his national profile. With his 2022 campaign announcement, O'Rourke raised $2 million within 24 hours, showing significant support from Democratic donors.
Although O'Rourke may be widely popular with Democrats and is seen as the front-runner to potentially defeat Abbott, recent polling suggests the former congressman will have an uphill battle. An October survey by the University of Texas at Austin and The Texas Tribune showed the governor substantially ahead of his Democratic rival.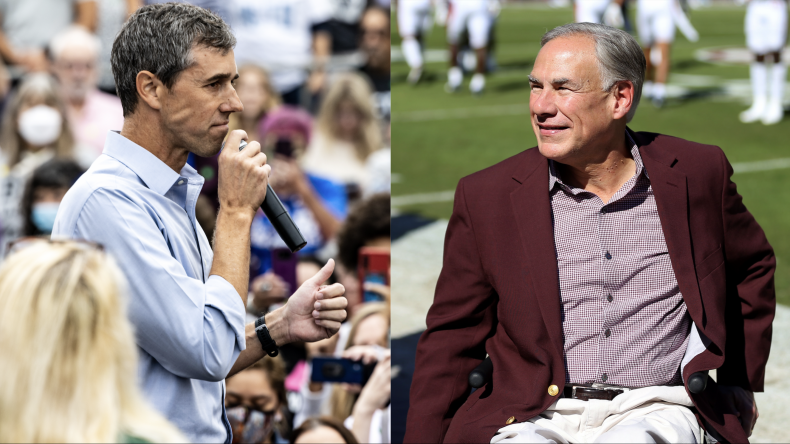 The poll found that 46 percent of registered voters in Texas would cast ballots for Abbott, while just 37 percent would back O'Rourke. However, 10 percent said they have "no opinion," while 7 percent said they'd vote for "someone else." That's a 9-point lead for the governor.
The survey had a margin of error of plus or minus 2.83 percentage points.
Another poll, released at the beginning of November by the Texas Hispanic Policy Foundation, found Abbott and O'Rourke in a virtual tie, although the GOP incumbent was still narrowly ahead. Abbott was backed by 43 percent of registered voters, compared with 42 percent who said they'd support O'Rourke. However, 12 percent said they were undecided, and 3 percent said they'd back other candidates.
The poll's margin of error was plus or minus 2.6 percentage points.
At the same time, Abbott's approval rating remains underwater with Texans. Tracking polling by the Texas Politics Project at the University of Texas at Austin shows that 48 percent of Texans disapprove of the governor, while just 43 percent approve, as of last month. Another 10 percent say they neither approve nor disapprove or don't know.
There is a stark partisan divide among Texans, with 85 percent of Democrats saying they disapprove of Abbott, compared with 79 percent of Republicans who say they approve. However, the governor is substantially underwater with independents. Fifty-seven percent of independents in the state say they disapprove of Abbott, while only 27 percent say they approve.
Although analysts have noted for several years that Texas is increasingly becoming a "purple" state—with Democrats winning more and more local races—Republicans continue to dominate in statewide elections. Former President Donald Trump carried Texas by nearly 6 points in the 2020 election. However, that was down somewhat from his 2016 margin of about 9 points.
Whether O'Rourke can mount a successful challenge to Abbott—and GOP control of Texas—is not yet clear. The Democratic candidate has already demonstrated a strong ability to fundraise and draw national support. His campaign team called his initial $2 million haul a record "for any Democratic gubernatorial candidate for the first 24 hours." At the same time, Abbott had some $55 million in cash on hand for his reelection bid at the end of June.