Betsy DeVos Narrowly Confirmed as Education Secretary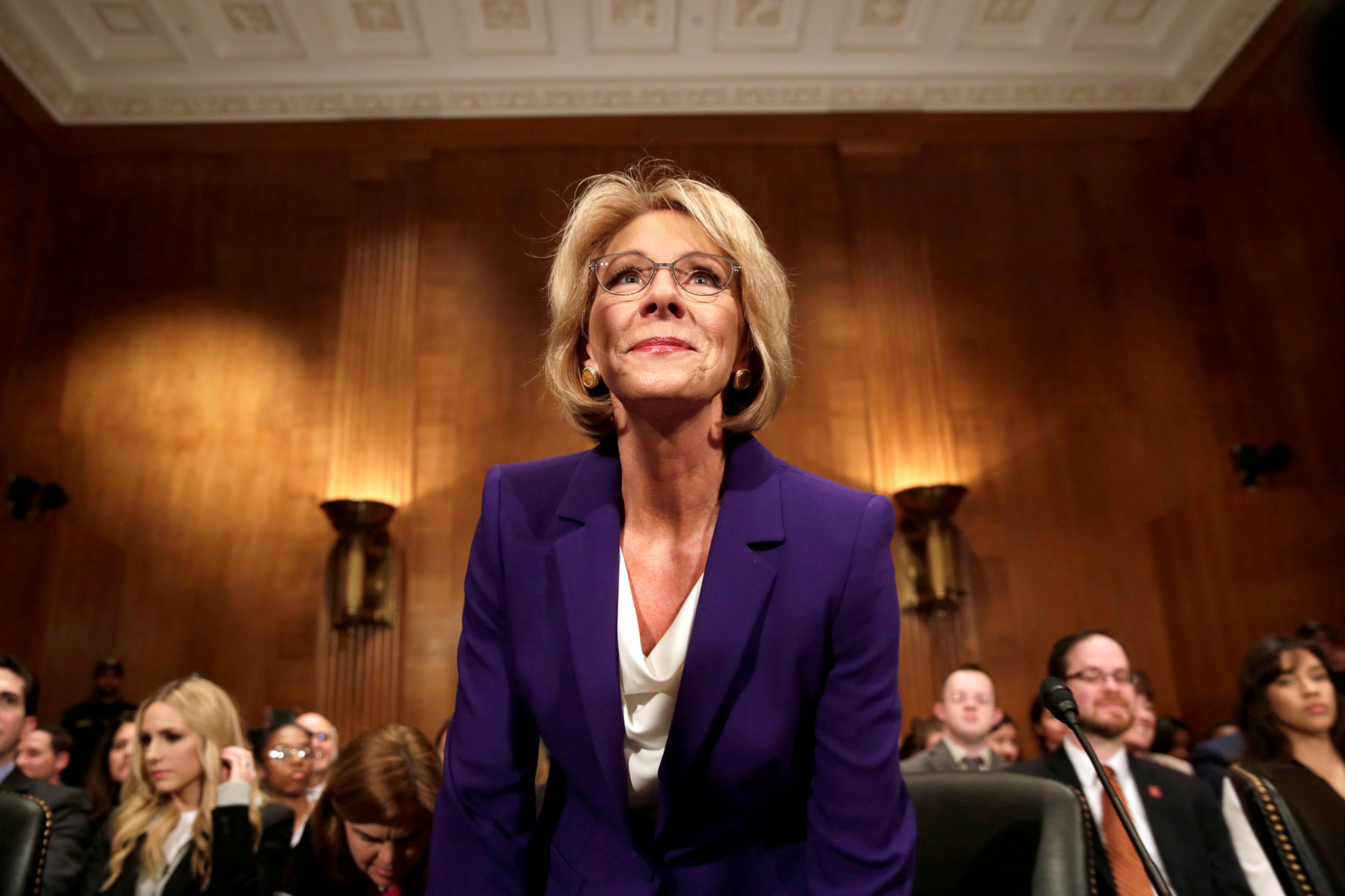 Betsy DeVos, the Michigan school choice advocate, on Tuesday was confirmed as U.S. education secretary, but only after an extraordinary intervention from Vice President Mike Pence, who, as Senate president, cast the tie-breaking vote.
The vote—by far the most contentious in the cabinet of President Trump thus far—came after a night during which Senate Democrats held the floor, seeking to paint DeVos as an inexperienced ideologue who would undermine public education.
Democrats needed only one more Republican to cast a vote against DeVos, since two others—Susan Collins of Maine and Lisa Murkowski of Alaska—had already indicated they'd vote against her. Both are from rural states where school-choice policies she backs could prove ruinous.
Liberals mounted a furious campaign of phone calls and protests seeking to persuade a centrist Republican—such as Pat Toomey of Pennsylvania or Rob Portman of Ohio—to vote against DeVos, a wealthy Republican donor who supported Jeb Bush and then Marco Rubio during the presidential campaign. On the Senate floor Tuesday morning, Minority Leader Chuck Schumer practically begged another Republican to flip his or her vote, noting that DeVos's antipathy to public schooling was particularly consequential for other rural states beyond Maine and Alaska, where there are few private or charter school options. "I would dare say is not good for the states of a lot of senators on the other side of the aisle who feel compelled, out of party loyalty, to vote for her," Schumer said. "So I hope against hope that another Republican will have the courage of the senators from Alaska and Maine and join us."
However, a third Republican vote never materialized, and Pence cast the tie-breaking vote as expected. Never in the history of the American presidency had a Cabinet nominee been confirmed in this way.
Then again, DeVos is no ordinary nominee. She has no experience in public education; and her four children did not attend public school. Most of her work has been in philanthropy, focusing on school choice, which she has depicted as an absolute good. She appears to have little knowledge of the Common Core standards, student testing, teacher evaluation, or any of the manifold issues in higher education, including student debt or the crisis of sexual assault on college campuses.
Democrats were especially troubled by her support for guns in schools, as well as her family's longstanding philanthropic support of conservative and Christian causes. In the end, however, they were unable to persuade a sufficient number of Republican peers to share in those concerns.