Betsy DeVos's Special Security Detail Could Cost Taxpayers $6.54 million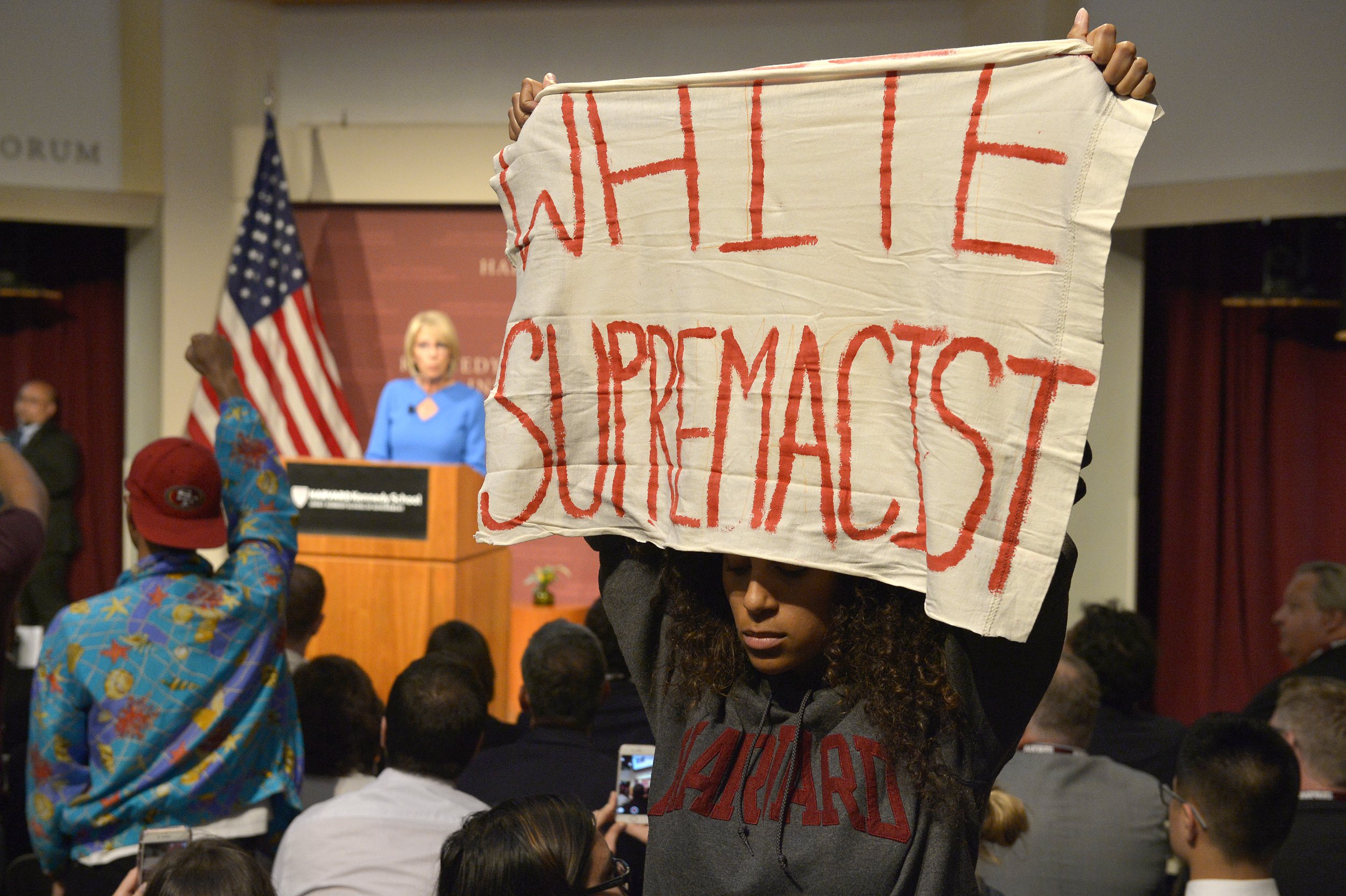 Taxpayers will shell out more than $6.5 million to have armed U.S. marshals provide round-the-clock protection for controversial Education Secretary Betsy DeVos—far more than was spent on her predecessors, who were protected by the department's own security team.
The marshals service, an arm of the Justice Department, determined that DeVos needed more protection from the start of her tenure at the Education Department after protesters swarmed her on her first day while outside a Washington, D.C., public school.
Protestors physically barred the education secretary from entering Jefferson Middle School Academy, held signs and shouted "shame" as the secretary turned heel and fled in the safety of her government SUV.
Since the February protest, the marshals service has spent $5.28 million to protect DeVos. By the end of the year, the cost is expected to reach $6.54 million.
U.S. marshals, who are technically the enforcement arm of the federal court system and are typically involved in asset seizures and caring for federal prisoners, have never provided a security team to an education secretary before DeVos.
DeVos pays for her own government travel and flies the marshals on her private plane with her. Prior secretaries under both Republican and Democratic presidents flew commercial. And none had armed marshals.
Protests against DeVos have continued to make headlines, though none have been violent. DeVos was greeted by silent protesters who unfurled a banner calling her a white supremacist at her speech at Harvard last week. DeVos got catcalls when she gave a commencement speech at Bethune-Cookman University in May.
Critics of the controversial education secretary and Michigan billionaire have said she lacks the credentials to oversee the nation's educational institutions. DeVos never attended a public school, nor has she ever worked in education. She supports allowing parents to send their children to charter, private or parochial schools with public money, which has public school advocates furious and worried about the future of public schools. Before her hiring, DeVos championed the use of vouchers to allow taxpayer dollars to fund religious education.
Her confirmation hearings left fellow senators baffled when she could not answer simple questions distinguishing proficiency from growth. Following her confirmation hearing, Senator Al Franken called her the "most incompetent Cabinet-level nominee" he had ever seen.
DeVos is not the only controversial education secretary. Arne Duncan, who served under former President Barack Obama for seven years, had two resolutions from teachers unions submitted against him in 2014. During his tenure, Duncan introduced standards for what students should be learning, known as Common Core, and adopted accountability measures for teachers, both of which made him unpopular among education advocates.