Many Americans are watching in horror on Wednesday as thousands of Donald Trump's supporters have stormed the U.S. Capitol Building following a "Stop the Steal" rally in Washington, D.C. The pro-Trump protesters are acting out in defiance of Congress' attempt to certify President-Elect Joe Biden's Electoral College victory.
The protesters clashed with the police and managed to knock down several layers of barricades outside the Capitol and entered the building. The Capitol was put on lockdown this afternoon, and the Cannon House Office Building and Madison Library of Congress were evacuated. Videos on social media show police injured, and there are reports of medical stretchers leaving the scene. Muriel Bowser, the Mayor of Washington, D.C., imposed a 6 p.m. curfew for the city in response to the situation.
Many people took to social media to react to the Capitol Hill protests, including such celebrities as Meghan McCain, Bette Midler, and Rob Reiner—all of whom appeared to be upset and shocked.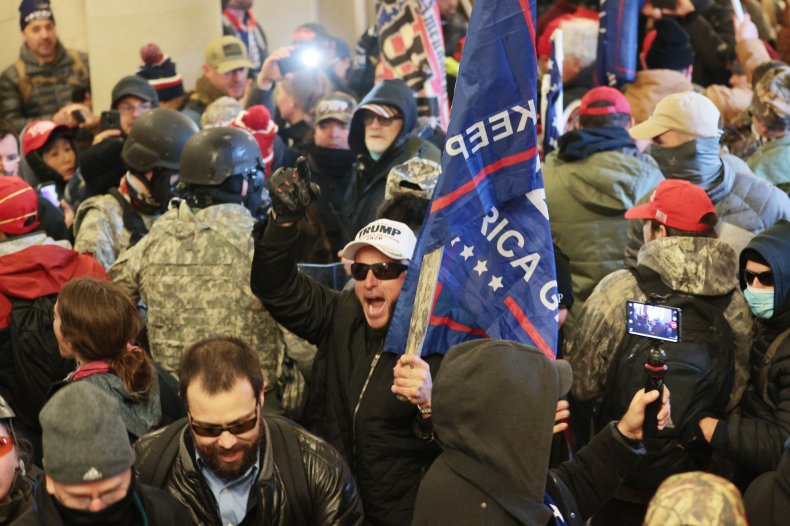 McCain, daughter of the late Arizona Senator John McCain, wrote that she's heartbroken by the violence and unrest unfolding at the Capitol, and she asked her followers to pray for peace.
Outspoken Trump critic Alyssa Milano tweeted that the protests are "an attempted coup to keep a reality tv star in power."
Actress and Broadway star Bette Midler wrote that Trump "should be arrested ASAP." She also called out Texas Senator Ted Cruz."You did this; you and your traitorous colleagues," she wrote. "This will follow you all your days. Deal with it."
Comedian Patton Oswalt called out the fact that Trump still has access to Twitter. "Shut down his g**damn Twitter feed and throw him in motherf**king jail. NOW." He also shared a tweet of Trump's from over the summer, in which the president condemned anyone doing damage to Federal buildings.
Meena Harris, lawyer and niece of Vice President-Elect Kamala Harris, told her followers not to ignore what is happening at the Capitol. "Do not downplay this. There are reports of gunshots and bomb threats at the Capitol. Democratically elected leaders are being forced to evacuate," she wrote. "Their families are scared for their safety. This is a white supremacist domestic terrorist threat FULL STOP."
Comedian and actor Josh Gad was critical of Capitol Police. "This is either a dereliction of duty by the Capital Police or a complicit desire to not plan for the known threat of chaos today," he wrote on Twitter. "Either way, this is inexcusable. If you can be prepared for imaginary ANTIFA protestors, you had no business not prepping for these actual terrorists."
Actor Don Cheadle simply wrote: "guns drawn in the chamber ... smdh ..."
Filmmaker Rob Reiner said that Trump needs to be arrested for "for Sedition, Treason, and Inciting Violence."
"This is a coup attempt on behalf of Trump and his complicit allies," actor Mark Ruffalo wrote. "This is All on Trump and his administration. The cowards in the GOP must be held accountable."
He also asked folks to put things into perspective. "Imagine if this was our side. There would be rivers of our blood in the streets and not a single one of us would be armed," he wrote. "This has been allowed. #CoupAttempt."
Actress Minnie Driver called out Trump's "pathetic legacy," writing: "Amplified hatred. That's all his lame presidency has been about + it's where the #GOP has ended up. Here, in the dying breath, as they gasp for one last shriek of chaos. All I can think is, you created all of this s**t and it's the whole of your pathetic legacy."
Comedian Mark Birbiglia said that the protests are "Domestic terrorism." "No one should call it anything else," he wrote.
Actress and writer Gabrielle Union shared a tweet from political activist Bree Newsome Bass, reading: "When can we stop being surprised that white supremacists are the most violent element in America and actually address/end the violence?"
Actress Sophia Bush called out Illinois Representative Adam Kinzinger for feeling "ashamed" to be a Republican. "Just figuring that out,@RepKinzinger??" she wrote. "Your party caused this. They've breached government. Insurrectionists are ON THE FLOOR OF THE UNITED STATES SENATE. You all did this. Cowards. Traitors. Seditionists."
"The irony is pretty funny," rapper Cardi B wrote. "[W]eren't people just wild animals in the summer for demanding justice and now?.....Let me just watch."
Soccer star Megan Rapinoe reposted a video of a police officer taking a picture with a MAGA protester. "Well well well. This is a Police Officer taking a selfie with a domestic terrorist that has stormed the Capitol Building," she wrote. "Protect and serve is exactly what this officer is doing."
Morning Joe cohost Joe Scarborough wrote: "This violence is what Donald Trump has wanted all along. A siege of the US Capitol. #Fascism"
Actor Chris Evans wrote, "Just think of the carnage had they not been white." Minutes later, he added, "So many people enabled this."
Actor and rapper Ice-T also asked people to wonder how this scene would have unfolded had it been people affiliated with the Black Lives Matter movement who had invaded the Capitol.
"Lets get real - If the 'protestors' and 'concerned citizens' storming the Capitol were BLM or people of color, the National Guard would have tanks on the streets," The Office alum Rainn Wilson tweeted.
Filmmaker James Gunn shared a Twitter thread regarding the pro-MAGA protests. "People broke into the Capitol building, destroyed property, one woman has been shot in the neck, our elected officials are in hiding with gas masks on, and THE SITTING PRESIDENT REFUSED TO ALLOW THE NATIONAL GUARD TO PROTECT ANYONE," he wrote.
"So, they throw down the American flag to put up a Trump flag and this is supposed to be people who love America? Give me a break," filmmaker Paul Feig tweeted, in response to a video from Politico.
Alec Baldwin called the American law enforcement "ethos" "racist to the core." "Tear gas? Pepper spray? A few knees on a few necks?" he wrote. "Not now. The protesters are angry, disenfranchised...AND WHITE!!!"