Videos Show Police Injured as Pro-Trump Protesters Storm Capitol
As hundreds of pro-Trump supporters stormed Capitol Hill in a chaotic fury Wednesday, videos across social media show Washington, D.C. police officers being injured during the clashes.
Following a speech from President Donald Trump, protesters clashed with officers, tore down multiple layers of barricades, broke windows, and stormed the Capitol building.
Photos and videos show protesters facing off against law enforcement, who used pepper spray and other riot gear to fend off the crowd. In some videos, officers left the scene with visible injuries.
The situation became so violent that one officer told his colleagues, "You want to get the hell out of here, they've taken over the Capitol," according to a reporter on Twitter.
In one video, a protester can be heard heard shouting at officers: "You're a f---ing traitor to your country!"
Other footage shows officers being escorted away from the crowds by their colleagues.
In some cases, protesters attempted to aggressively punch and storm at police from inside the building.
The Capitol is now under lockdown as footage shows protesters aggressively breaching the area. Reports have shown medical stretchers and severely injured individuals leaving the scene.
The protests erupted in response to a joint session from Congress to certify President-elect Joe Biden's Electoral College win. Lawmakers in the Capitol were forced to hide under desks and secure themselves in offices as protesters attempted to overrun both chambers.
In the halls of Congress, an armed standoff took place as police barricaded the front doors of the House chamber while protesters entered through windows and attempted to storm the room. Swarms of protesters broke into offices, flooded hallways and destroyed property inside the building.
Officials confirmed to Newsweek Wednesday that at least one person had been reportedly shot inside the Capitol. Additional video footage showed a bloodied woman being taken out of the building on a stretcher by paramedics.
Evacuations have been ordered for two Capitol Hill buildings, the Cannon House Office Building and Madison Library of Congress building. Hill staffers were ordered to "move in a safe manner to the exists" and to "close doors behind you but do not lock."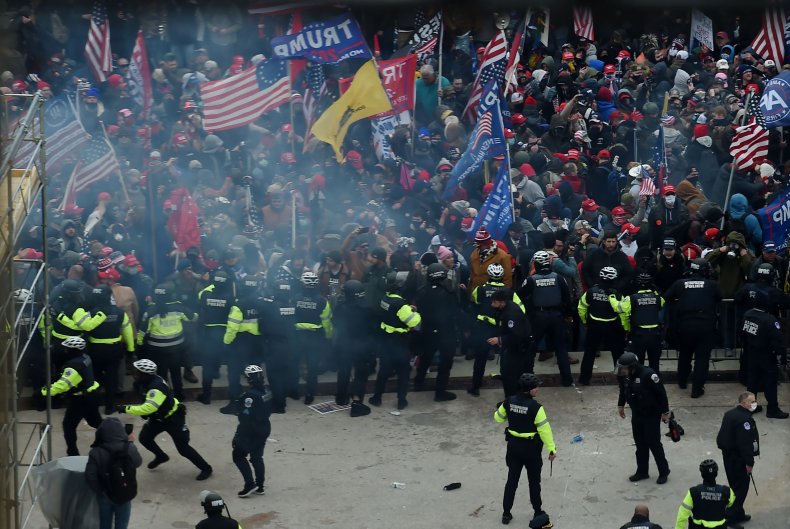 In response to the violence, Trump tweeted: "Please support our Capitol Police and Law Enforcement. They are truly on the side of our Country. Stay peaceful!"
Washington D.C. Mayor Muriel Bowser ordered a citywide curfew for 6 p.m. on Wednesday in an attempt to quell the violence.
Newsweek reached out to Capitol Police for additional comment, but did not hear back in time for publication.