Bette Midler Divides Fans by Saying Trans-Inclusive Language Erases Women
Bette Midler has stirred up a tense debate online after suggesting women are being erased with names like "birthing people" and "menstruators."
The passionate comments made by the actress has led to comparisons with J.K. Rowling who has been the target of much derision among trans campaigners. But while Midler's tweet enraged some within the trans community, others praised her.
Midler, who just reappeared on our screens in the trailer for the upcoming Disney+ sequel Hocus Pocus 2, got thousands of people talking within hours of sending her tweet. The original post by the 76-year-old performer started off in all caps.
"WOMEN OF THE WORLD!" She wrote to her 2.1 million followers on Monday afternoon, "We are being stripped of our rights over our bodies, our lives and even of our name! They don't call us 'women' anymore; they call us 'birthing people' or 'menstruators,' and even 'people with vaginas.'"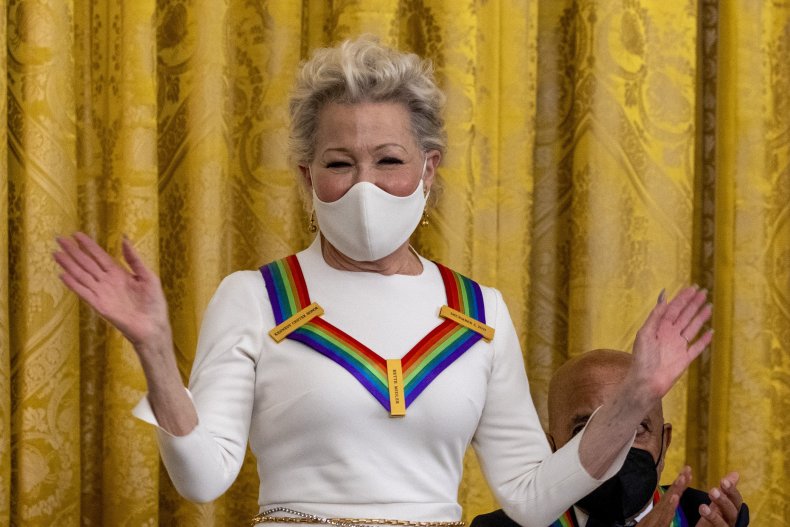 Midler continued: "Don't let them erase you! Every human on earth owes you!"
The comments sparked mass debate in the comments section and across Twitter with tens of thousands of people commenting on and retweeting other comments.
"Midler goes full Rowling," wrote journalist Jon Levine, comparing Midler to the author of the Harry Potter books J.K. Rowling. Rowling has been the subject of mass ire from the trans community for her comments over the past few years. The author tweeted a similar sentiment to Midler in June 2020 when she made fun of an article for referring to women a "people who menstruate" rather than women. Rowling was also one of the thousands who retweeted Midler's original tweet.
"With all due respect, Bette, trans-inclusive language doesn't take anything away from us," author Julie DiCaro wrote in response.
Irish drag performer and gay-rights activist Panti Bliss-Cabrera told Midler not to "fall for the ant-trans panic fake nonsense."
"No one is erasing women. In a few small healthcare cases where appropriate they are using trans inclusive language. That's all," they wrote.
However, the reaction to Midler's furious take wasn't all negative, as author and psychologist Dr. Pam Spurr sent praise Midler's way. "Such an awesome post! Yyyeeesssss! Every person in the world owes a woman their life! Not a chest-feeder, not a uterus carrier, not a birthing person but a woman!"
Republicans who would usually disagree with Midler's views—she has often been critical of former President Donald Trump for instance—expressed their support of her comment in this instance. "Even a broken [clock]..." wrote lawyer and Republican Party official Harmeet Dhillon, implying Midler is correct.
Journalist Katherine Brodsky also supported Midler but said that she'll be referred to as "transphobic" for speaking out. "She's merely disagreeing with this language which narrows down humans to their bodily functions and is frankly demeaning to all," she wrote of Midler's comments. "And you can make room for others without overwriting women. Just use the word AND, it's easy."
The backlash continued from some though. Roxane Gay, author of the Bad Feminist essays told Midler: "No one is trying to erase women with inclusive language about people who need abortion care. No one is calling you anything but what you prefer. You should extend that courtesy in return."
Midler's tweet also drew the attention of comedians, who used humor to make their point. British actress Shappi Khorsandi ironically quoted: "'I'm excited about drinks with some birthing people I went to school with...we are having a proper [menstruators] night out!' Let me know when this happens. Right now it's just a kind nod to inclusion of a tiny minority." British performer Sooz Kempner also commented: "Oh great, Bette Midler's doing this now is it."
Assuming it was not the real Midler, former Phillies baseball star Lenny Dykstra quoted one of her famous lines. "To whoever hacked [Bette Midler's] Twitter to suggest that women could be defined, DID YOU EVER KNOW THAT YOU'RE MY HERO?"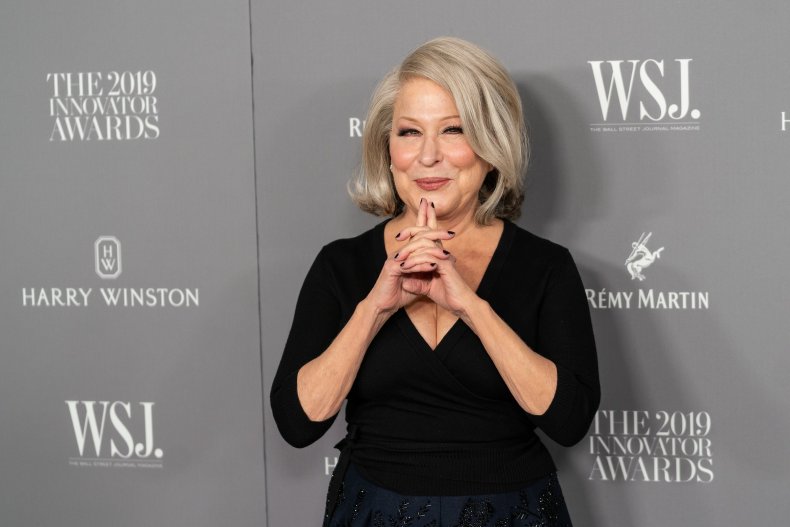 Former tennis pro Martina Navratilova also sent a warning Midler's way. "Careful Bette- you will be called transphobic too or worse..." the 18-time Grand Slam winner wrote.
Midler was in an outspoken mindset on Independence Day, as she reposted a video of people in Philadelphia fleeing a shooting incident. "They tell us we are citizens of 'The Greatest Nation on Earth', yet this is how we have to live...what a joke. why do we stand for it? Who are we? Are we ultimately just mice? When are we going to say 'Enough'?" Midler wrote late on Monday.
After the Chicago shooting which killed at least six people during a Fourth of July parade, Midler tweeted, "What a pathetic excuse for a nation; that lets its people die who are just trying to live."
Newsweek has reached out to Midler for further comment.