'Hocus Pocus 2' Trailer Stirs Up Nostalgic Frenzy: 'We're Back, Witches'
'90s kids are in the middle of yet another round of nostalgia, as the trailer for the sequel to Hocus Pocus has just dropped online.
Hocus Pocus 2 sees the return of the Sanderson sisters: Winnie (Bette Midler) Sarah (Sarah Jessica Parker) and Mary (Kathy Najimy). The trailer is available to watch now and it has been confirmed Hocus Pocus 2 will begin streaming on Disney+ September 30.
The sequel looks set to feature a new cast of characters, with three high-school students seemingly awakening the witches after almost 30 years of slumber.
The Hocus Pocus 2 trailer was instantly met with excitement from fans of the first movie who celebrated its return on social media.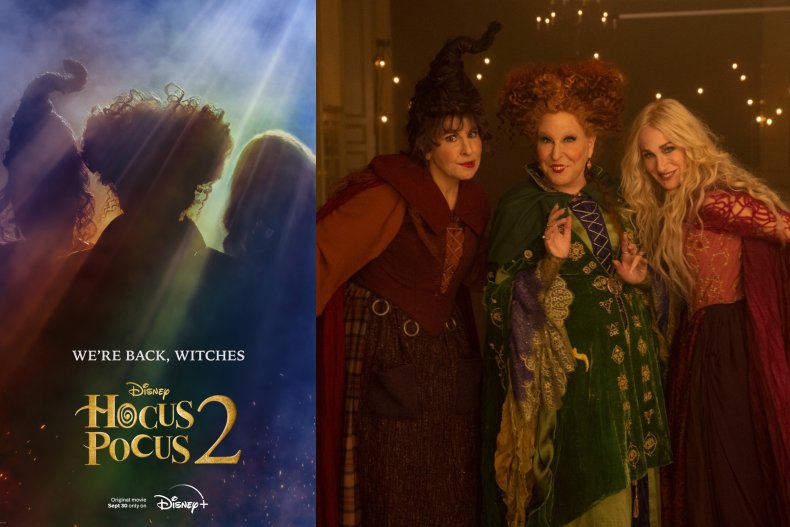 "I refuse to believe this many of you are obsessed with Hocus Pocus," wrote @ChiScoundrel, commenting on the online reaction.
"That Hocus Pocus 2 trailer was everything," wrote @IsDreSerious while @Bradleyberdecia said, "The Hocus Pocus 2 trailer makes me wanna skip thru the rest of summer to Halloween time now."
"One of my [favorites]" commented actress Heisel Mora while movie critic Ali Plumb commented on the tagline of "We're Back, Witches" by suggesting, "Any other tagline would have been a crime."
Thousands of fans reacted with joy and optimism, but some expressed concerns for the quality of the movie.
"If you know me you know I love Hocus Pocus so this had better be a Good resurrection," said @876boi. Another user @BGibs122 seemed sceptical, and accused Disney of cashing in on nostalgia. "Hocus Pocus 2: Because why let your children form attachments and memories to their own media when you can force feed them yours?"
While the original Hocus Pocus, released in 1993, has since become a cult classic, the movie was met with average to negative reviews upon release. Professional wrestler RJ City is predicting the same thing will happen again once with the upcoming movie.
"If the new Hocus Pocus is true to the original, it'll bomb and then be retconned in syndication years later as something we apparently all loved," he wrote on Twitter.
Hocus Pocus 2, releasing a month before Halloween, is written by Jen D'Angelo and directed by Anne Fletcher (Hot Pursuit, Dumplin'). Joining the cast are Whitney Peak, Lilia Buckingham and Belissa Escobedo, who will all attempt to stop the Sanderson sisters, while Hannah Waddingham (Ted Lasso), Tony Hale (Arrested Development) and Sam Richardson (The Afterparty) will also star.
Filming took place in Salem, Massachusetts, in 2021, while Midler confirmed shooting had wrapped on the movie in January 2022.