Betty Buckley, who starred on stage in such hits as Cats and Sunset Boulevard and on stage and screen in two versions Carrie, has had a long and storied career with Stephen Sondheim. Recently, she shared some of those stories and a few about her new album with Newsweek.
Like most people in the theater, Buckley was deeply affected by the death of Sondheim last year. After a period of grieving, Buckley's found a way of coping by putting together a compilation album of Sondheim songs that she has recorded over the years. The collection Betty Buckley Sings Stephen Sondheim dropped March 11 and is available across streaming and digital platforms. It features 24 of Sondheim's greatest songs, which were recorded from the early 1990s to present day in Buckley's career. She talked to Newsweek about how the album came about. working with Sondheim and her upcoming concert event at Joe's Pub at New York's Public Theater.
When Sondheim died on November 26, 2021, the news hit Buckley very hard. She told Newsweek, "I was just profoundly moved, bereft actually, for weeks following his death. Everybody in musical theater knows and loves his work. There was a great shared communal grief about the loss of him. It's like he was fine one day, and the next day he passed away. Speaking for myself, I thought he would always be here."
The Art of Making Art
In the next few weeks, she told Newsweek, "I started thinking about the large collection of his music that I've recorded. My first five CDs were released by Sterling Records, which was founded by Mort Drosnes. I worked with my ensemble of musicians for 20 years, and we did quite a few albums together."
Buckley worked with a group of jazz musicians headed by Kenny Werner, "who is a renowned jazz pianist and arranger. Working with Kenny and my musicians I was able to do these interpretations of especially Sondheim's material, but also of Andrew Lloyd Webber and other pieces from the musical theater. And they're kind of like paintings of how I felt the music, how I saw the music—in terms of color, a sense of place, environment and of sound. And, I think they're very innovative, beautiful arrangements that Kenny and I did together in those days.
"The albums have been out of print for quite some time. And I just thought that'd be really cool if I can pull together a compilation of all the Sondheim songs that I've done, as a memorial for Sondheim and what he meant to all of us."
Having recorded several albums for Palmetto Records, Buckley reached out to record executive Missi Callazzo about the project. She said yes. Buckley next sought to get the rights to the recordings from Brendi Drosnes, wife of Sterling Records executive Mort Drosnes. who has since died. Brendi is a huge Law & Order: SVU fan on which Buckley has had a recurring role this season. That connection gratefully seemed to help grease the skids a little, and after several conversations, "Brendi finally signed off on it. So, now I have all those tracks. I also had sung in concert "Another Hundred People" from Company—and "I Know Things Now" that Red Riding Hood sings in Into the Woods; I've always really loved that song. So, I sent those two board mixes of those songs to my recording engineer, a brilliant guy named Jason Wormer, and asked him to refine the board mixes, which he did.
"And then I talked to Missi, and I said I think we should remaster all this because the norm mastering has changed, and what people expect to hear has changed through the years since I started making records. So, we sent all 24 tracks out to Lurssen Mastering in L.A. and there's this wonderful mastering engineer Reuben Cohen with whom I've done several of my most recent albums.
"The songs are on the recording as an album in the order that I released them, that I put them into the world you know. It's kind of like, for me, an overview of the evolution of a girl singer in love with musical theater working with these phenomenal jazz musicians. It's also really nice to have them all in one place as a chronology, as a compilation and to honor the memory of Stephen Sondheim who is one of the greatest geniuses of our time."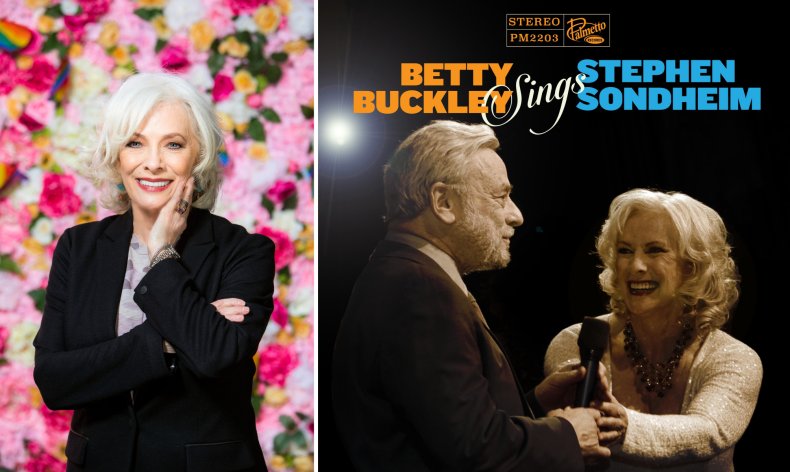 When asked if Sondheim is hard to sing, Buckley said. "You're asking the wrong person because I think everything is hard. You know, I mean, to do it well, takes a lot of work. You have to process the song and figure out who you are in the material and still be true to what he wrote. And at the same time, you have to make it your own. It's quite a process. But then that's true for all the great musical theater writers—Andrew Lloyd Webber, Jason Robert Brown, Rodgers and Hammerstein, all of the great composers and lyricists."
Memories…of Sondheim
While Buckley has appeared in only one Sondheim musical—she played Mama Rose in Gypsy at New Jersey's Paper Mill Playhouse—she has performed his work in many events over the years. And she has accrued some very special memories, which she shared. In the mid-1980s, she was in the first workshop and then the pre-Broadway workshop for Into the Woods and she told Newsweek "One day, Sondheim brought me into a rehearsal room, just he and I. We sat down and he said, 'I wrote this for you,' and it was 'Stay With Me,' and I wept. You know, it's just so lovely."
Buckley was a last-minute replacement, singing "Children Will Listen" from Into the Woods at Sondheim: A Celebration at Carnegie Hall. She had to travel from Williamstown, Massachusetts, where she was performing in Threepenny Opera. She had to leave in the middle of the day, "We drove helter-skelter down to New York City, and I'm literally in the back of the car, counting the bars you know, trying to make sure that I come in where I'm supposed to with the boys choir and to end where I'm supposed to. And the counts were tricky.
"In the dressing room before, I was, like, literally on my knees saying, 'Please God, I'm not even asking you for a great performance. I'm just asking to finish when the symphony finishes, when the boys stop singing. Please help me count the cutoff. So I'm not sticking out over the end of the orchestration.'
"So, I hear what I think is my cue. Mind you, I've only had rehearsal once—with the boys choir and once with the symphony. So I tap the stage manager on the shoulder and said 'I think I better go out there now.' And she's like, 'Yeah, yeah, go out there.' And I go onstage, and I look at the symphony conductor/music director Paul Gemignani, and he turns around—I'll never forget this for the rest of my life. I love him beyond loving—and he looked me right in the eyes, and he just extended his arms while he was conducting as if to me to say, you know, 'You're fine. Go." And my heart leapt into my throat. Because of that moment of such beauty and generosity from him, that compassion, because he knew I was freaking terrified."
The incident and performance were broadcast on PBS and is viewable on YouTube.
"Sondheim comes up to me in the party after the concert, and he's smiling, which was rare in my experience, and he said, 'Good job, good job.' And I said, 'Thank you.' And he said, "Oh, by the way, Jerome Robbins came up to me after the concert and said, 'That Betty Buckley is really beautiful.' And I melted."
One day after a rehearsal for the Into the Woods workshop I shared a taxi with Sondheim, which was intimidating. "I was like: 'Don't be stupid. What are you gonna say?' You know, so we're sitting next to each other in the cab and he's like, totally, in his own world, not interested at all. And I finally say, 'Can you just tell me how you come up with these phenomenal ideas in your writing? I'd really like to know how this works.' And he turns to me, very seriously, very kindly says, 'It's my collaborator. Whenever [writer-director James Lapine] describes the situation to me, he makes it clear what the moment is for the character. And I write it, but it's always my collaborators.' And I was just very moved by that."
Road Show
Now, Buckley will be performing a series of concerts, "Betty Buckley & Friends," featuring some of her favorite songs beginning March 18 with an eight-performance engagement at Joe's Pub in New York, which will run through March 21. She will be joined at select performances by Veanne Cox, Todd Almond, James Harkness and Claire Moore. For more information go to PublicTheater.org. Buckley will then perform in San Francisco at Feinstein's at the Nikko for four performances from March 30 to April 2. For more information on the San Francisco engagement, go to FeinsteinsSF.com.