Betty White Challenge Explained Ahead of 100th Birthday Celebrations
TV legend Betty White sadly passed away on the last day of the year, but a challenge is circulating on social media to honor the star on what would have been her 100th birthday.
Famous for her role as Rose Nylund in The Golden Girls, the 99-year-old passed away on December 31, just 17 days shy of celebrating becoming a centenarian.
Fans have harnessed the power of social media to orchestrate a fitting tribute to the late actress, a lover of animals all her life, aptly called the #BettyWhiteChallenge.
A graphic is being widely shared across Twitter, which says: "On Betty White's 100th birthday, January 17th, everyone should pick a local rescue or animal shelter in your area and donate just $5 in Betty White's name.
"Make her 100th birthday the movement she deserves."
One Facebook user, Nicole Maria Eldred, seemingly took credit for the graphic, as she wrote: "Made this graphic for the #BettyWhiteChallenge let's make Jan 17th the best day for rescue animals.
"ETA: I'm the director of a rescue, whom I made the graphic for yesterday (you can check out my personal page I shared the original post). I decided to share it here to reach more people after it gained traction on the rescue page. I did NOT come up with the challenge, just created an accessible graphic."
There are a few variations of the same message, with a post on Facebook featuring a youthful White and two dogs saying: "If you want to honor Betty White, make a donation in her name to our local animal shelter. Nothing would make her happier." This was shared 24,000 times.
Another Facebook post, shared nearly 200,000 times, echoed the same message and also asked fans to spare $5 in White's name.
Freedom Animal Rescue and Sanctuary, in Michigan, shared the same post, while asking for donations, revealing $2,951 had already been raised.
White was a lifelong animal lover, with her fondness for all things furry, scaly and fluffy documented in her 2011 book Betty & Friends: My Life at the Zoo.
"My preoccupation with animals is an open secret," she wrote.
White was also said to have cared for "26 dogs" at one point, she told People magazine in 1999.
But White's love of the animal kingdom stretched far beyond domestic pets, with White heavily involved with a number of zoos. She was even named an honorary zookeeper in 2013, by the Los Angeles chapter of the American Association of Zoo Keepers.
Following her death there was an outpouring admiration and gratitude for the star's tireless work as an animal advocate over the years, from various zoos she was affiliated with.
Her prominent work for animals saw her join the board of trustees of the Greater Los Angeles Zoo Association in 1974. That same year she filmed a TV special Backstage at the Zoo, documenting the work going on there.
A statement on the website from Tom Jacobson, president of the Greater Los Angeles Zoo Association (GLAZA), said: "We are incredibly saddened by Betty's passing and offer our deepest condolences to her family and friends as we collectively mourn the loss of a true legend, on and off the screen.
"Her work with the Greater Los Angeles Zoo Association spans more than five decades, and we are grateful for her enduring friendship, lifelong advocacy for animals, and tireless dedication to supporting our mission."
She also became an inaugural member of the Board of Zoo Commissioners, and was named as chair of the GLAZA board in 2010.
She was also a trustee of Morris Animal Foundation, from 1971 to 2013, and took on various roles throughout the years including canine division president as well as board president.
Tiffany Grunert, president/CEO of Morris Animal Foundation, said: "It is hard to imagine a world without Betty in it. She was a tremendous animal advocate who tirelessly supported the work of Morris Animal Foundation to improve the health of animals globally.
"All of us at the Foundation are mourning the loss of this amazing woman."
The Morris Animal Foundation also established the Betty White Wildlife Rapid response Fund in 2010, following the Deepwater Horizon oil spill, which was catastrophic for marine life.
At Columbus Zoo, the entrance to the Heart of Africa exhibit is named the Betty White Way.
"Our hearts are heavy hearing of the passing of our friend Betty White. We cherish the fond memories of her most recent visit to the Columbus Zoo and Aquarium when she was our guest of honor at the opening of the Heart of Africa region in 2014 with her dear friend [former director of the zoo] Jack Hanna. Betty was a wonderful person, a supporter of the Columbus Zoo, and a true champion for all animals. She will be greatly missed," the zoo's staff wrote.
The family of Hanna paid tribute separately, calling White a "champion for the animal world."
Tributes have also poured in from celebrities to politicians, including Jill Biden and Ryan Reynolds.
The official cause of death has yet to be made public. White's agent, Jeff Witjas, told People she "died peacefully in her sleep."
Speaking to Newsweek, Witjas said he thought the challenge was a "neat idea."
"My thought is Betty would be very happy that local animal shelters are being helped," he said.
Newsweek reached out to Eldred for comment.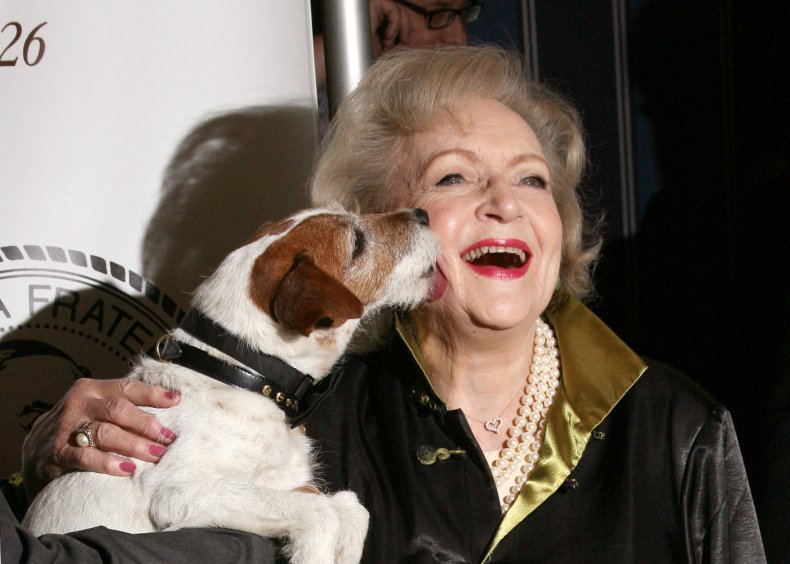 Update 01/05/22, 7:26 a.m. ET: This article was updated with comment from Jeff Witjas