Betty White's Hilarious Video With Ryan Reynolds Goes Viral Again, Following Her Death
Following the death of Betty White aged 99, a video clip made on the set of a film the Hollywood legend appeared in with Ryan Reynolds has been viewed widely online.
To mark her last birthday nearly a year ago, Reynolds shared the video made during the filming of the 2009 romantic comedy The Proposal, which also starred Sandra Bullock.
Since White's death, the three–minute clip has re-emerged on social media. It shows Bullock and Reynolds pretending to be out of character during some downtime.
White appears like a whirlwind, playing a diva-like version of herself, pretending to confuse film star Reynolds for an assistant, ordering to fetch a coffee.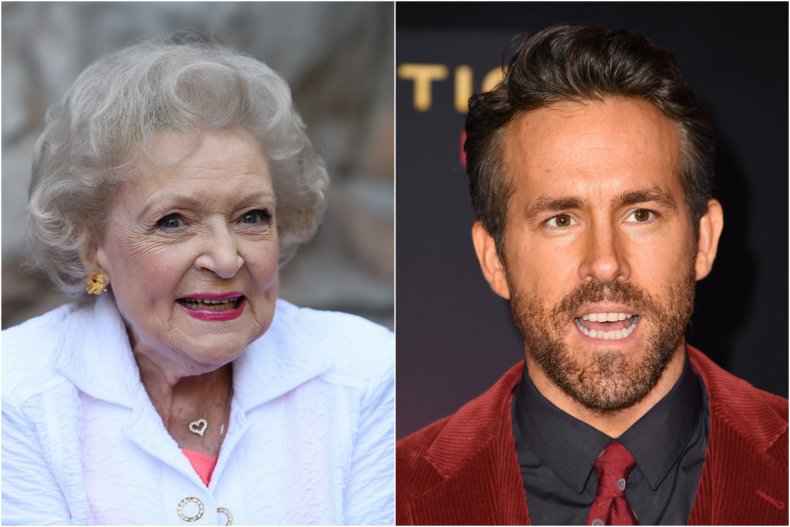 After she calls him a "jackass" Reynolds, playing an exaggerated version of himself, explodes and shouts abuse at White, who then runs to Bullock for comfort, playing up to her elderly status.
White then gives the finger to Reynolds, out of the eyeline of Bullock.
After comforting White, Bullock then takes Reynolds aside and tells him off for his behavior towards "a national treasure."
"That is a living legend, you are not," Bullock says before appearing to slap him. "Who is on the poster of this film?" Bullock says, "I am on the poster of this film. No one knows who you are Ryan," before adding, "they know who Betty White is."
Reynolds last shared a video of the skit on his YouTube channel on January 17, 2021. That version had been viewed more than 1.5 million times, as of Saturday morning.
With it, he wrote, "We made this 12 years ago. Betty White may be turning 99 today but she is the funniest person on the planet."
Many have shared the video since White's death to commemorate her life.
One clip posted to Twitter by a Canadian health researcher, Ahmed Ali, has been viewed more than 3.7 million times.
"This clip of Betty White with Ryan Reynolds lives rent free in my head," Ali wrote.
Also, sharing the clip, actor and comedian Gabe Sanchez wrote: "It's been 13 years since Betty White and Ryan Reynolds filmed this bit and I laugh every time. Thank you for everything, Betty."
After her death, Reynolds gave a moving tribute to the "Golden Girls" star, tweeting that "the world looks different now."
"She was great at defying expectation," Reynolds wrote, adding, "she managed to grow very old and somehow, not old enough. We'll miss you."
White had recently joked to People magazine that Reynolds had could not get over her despite her affection for Robert Redford.
It prompted the Deadpool star to respond in jest, "I'm absolutely sick of the media exploiting past relationships just to drive clicks."
LeVar Burton, George Takei and Ellen DeGeneres were among celebrities who paid tribute to White on Friday.
President Joe Biden tweeted that she "brought a smile to the lips of generations of Americans," describing her as a " cultural icon who will be sorely missed."