Beyoncé Appears To Join Snapchat Day Before Paid Subscription Launch
Beyoncé has officially and publicly joined Snapchat, seemingly just in time for the launch of the app's paid subscription service.
Snapchat+ launched on Wednesday, offering users the chance to gain access to "exclusive" content for $3.99 a month. The launch of this new model was joined by another addition to the app—Beyoncé.
Her arrival on the app prompted many of her fans to do the same, sharing that they had joined Snapchat as well with a print screen on Twitter. It also raises questions about the timing of her official arrival on the social media app with Beyoncé's latest single "Break My Soul" released earlier in June and her album, Renaissance due out on July 29.
The official account belonging to Beyoncé currently features "Break My Soul" and nothing else. It's currently listed as song number 6, implying that it will be the sixth song on the album.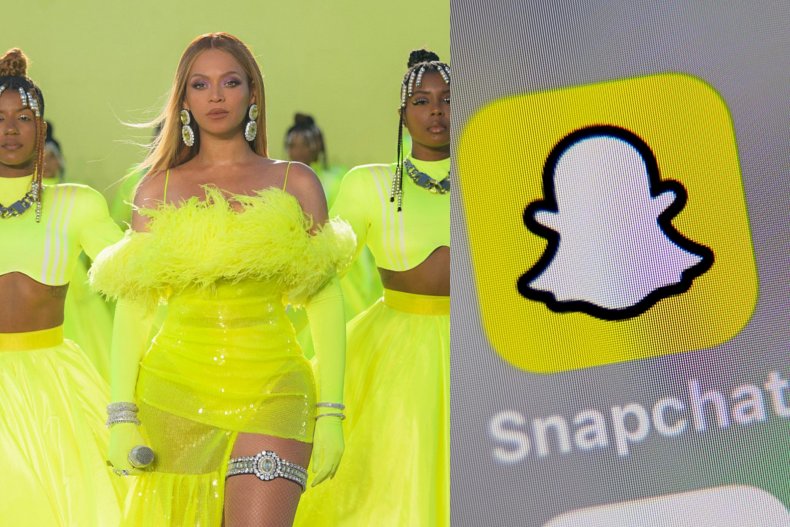 Beyoncé often shares pictures on her Instagram account that feature Snapchat filters, leading fans to speculate that she has a private Snapchat account.
Fans on Twitter anticipated that the new public Snapchat account implied that the album will be available there.
"If Beyoncé has a Snapchat account, you know that all corners of this world will be reached with this new album," wrote @kingbeyshive.
Many fans took the opportunity to highlight Beyoncé's alleged private Snapchat account and demanded to see it rather than the new public one. @Megiwaranoyonce told everyone not to let the new one "distract" you from trying to find the private account.
Snapchat isn't the only social media site that Beyoncé has joined and has yet to post on. "Beyoncé not gonna post on that Snapchat just like she don't post on that TikTok," wrote @itscaleb2.
As it stands, Beyoncé's verified TikTok account has 3.3 million followers but no posts. Like Snapchat, it also features "6. Break My Soul" in the bio and a link to her website.

Her official arrival on Snapchat came just before the site launched its subscription service.
For $3.99 a month, premium users can gain early access to features not yet available to the public. Other features included with Snapchat+ are the ability to view who's re-watched your Snapchat Story, change the app icon and to pin another user as your "BFF."
When announcing the new Snapchat+ service earlier in June, the company's statement read: "This subscription will allow us to deliver new Snapchat features to some of the most passionate members of our community and allow us to provide prioritized support."
Beyonce's next studio album Renaissance is due out on July 29, 2022 but can be pre-ordered and pore-saved online now.