Beyoncé Reveals Newborn Twins—Sir and Rumi Carter—in the Most Beyoncé Way Ever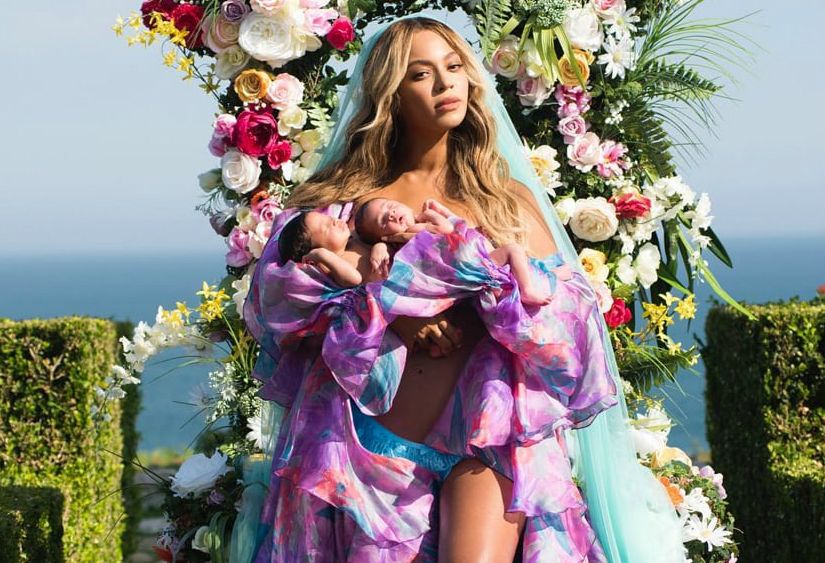 Beyoncé has shared the first picture of her and Jay-Z's newborn twins and revealed their names: Sir and Rumi Carter.
In an Instagram post early Friday morning, the "Formation" singer wrote that the twins are "one month today," indicating that she gave birth to them on June 14. (Beyoncé and Jay-Z hadn't previously acknowledged the birth rumors).
The baby announcement picture, in which the singer is clad in a bright purple dress and a long veil and posing in front of flowers, echoes how she announced her pregnancy in February.
For Beyoncé, the decision to present Sir and Rumi to the world on her Instagram and not, say, on the cover of a tabloid magazine like other celebrities, is yet another example of how the singer controls her own media narrative—filtering snippets of her life to the public how she wants and when she wants. It's usually in a pretty grandiose way.
The 35-year-old's tight control of her narrative extends from her personal life to her music. Her last two albums, 2013's Beyoncé and last year's critically acclaimed Lemonade, were released with little to no notice and shrouded in mystery up until she was ready to share them with the world. With her self-titled 2013 album, Beyoncé reportedly made her collaborators sign nondisclosure agreements, barring them from speaking about their involvement until it was released.
But Beyoncé is even more judicious about her personal life: When it comes to her marriage and her family, everything the singer shares is carefully curated. Though Queen Bey doesn't shy from sharing intimate moments of her private life with her content-hungry fanbase—a.k.a. the BeyHive—on Instagram (her page is frequently filled with pictures of her and Jay-Z's five-year-old daughter Blue Ivy), she does so on her own terms. This strategy, it seems, is meant to deter paparazzi—if she shares just enough, they may leave her alone because her audience is satisfied.
Related: Beyoncé's 'Lemonade' Was the Best-Selling Album of 2016
When the singer married Jay-Z in April 2008, the stars did not publicly announce their wedding—as some celebrities do—in a statement released to press, even when rumors about it had circulated widely. (Beyoncé's first acknowledgement of her marriage came more in an interview with Oprah in late 2008.) Bey rarely entertains speculation about her life, and her longtime publicist, Yvette Noel-Schure, often doesn't respond to media requests for comment on gossip.
In 2011, when Beyoncé was pregnant with Blue Ivy, she and Jay-Z announced the news on the MTV Video Music Awards. The singer showed off her baby bump moments after performing her song "Love on Top" to a global viewing audience.
And when Blue arrived, the stars wanted to be the first to share pictures of the young Carter prodigy before the paparazzi could scoop them. Bey and Jay shared a series of intimate pictures on Tumblr (since deleted) a month after the singer gave birth in January 2012.
So it's only fitting that Sir and Rumi get a similar introduction to the world, though this time it's on Beyoncé's social media platform of choice, Instagram, where she has over 100 million followers.
The first image of Sir and Rumi logged more than 3.6 million likes in under four hours and generated global headlines. With her adoring public satiated, now Beyoncé can go back to being a mom.