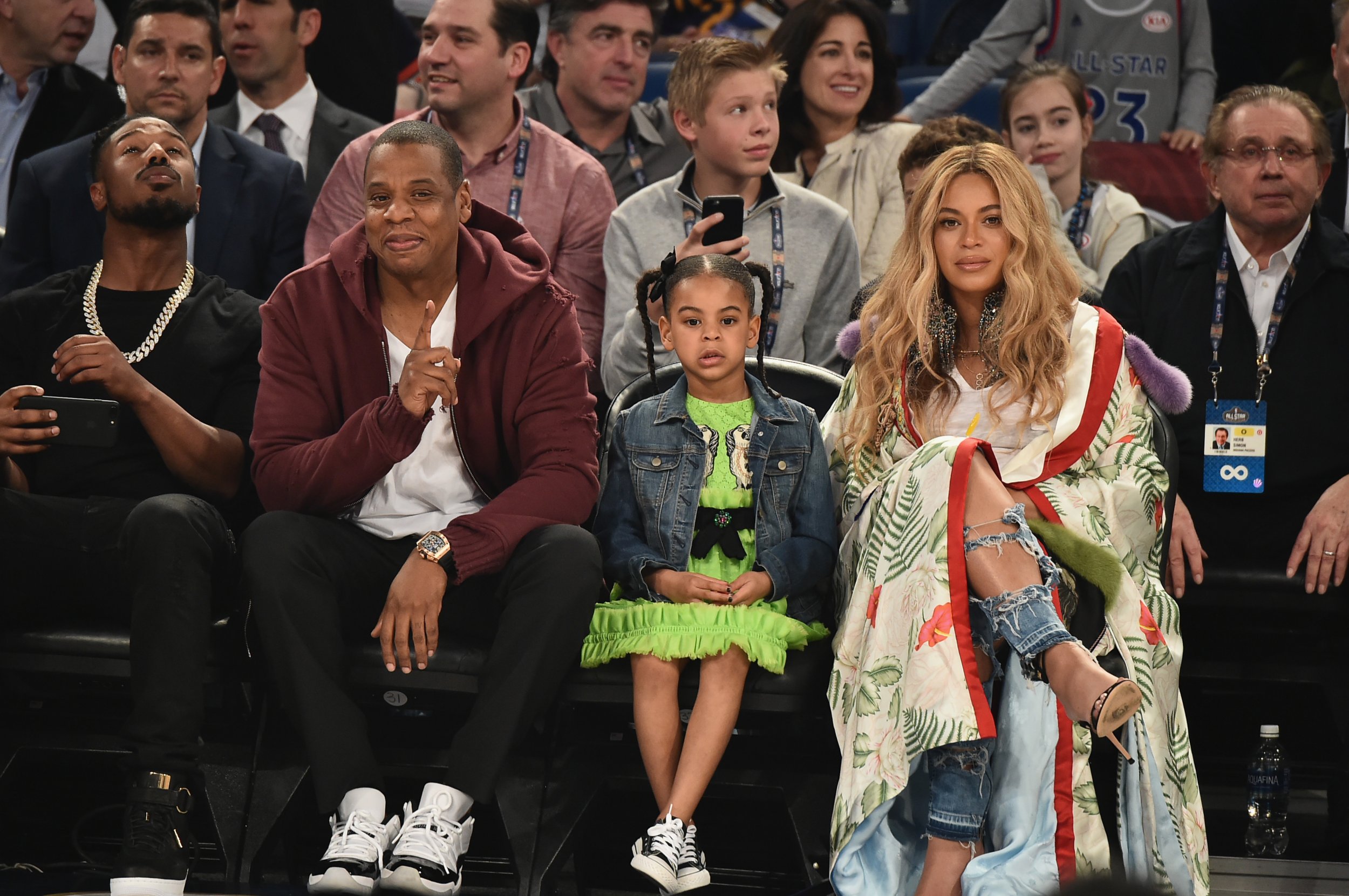 When your parents are musical royalty, having some rhythm is expected, as Blue Ivy Carter—Beyoncé and Jay-Z's eldest child—has proven.
The five-year-old features on a bonus track on Jay-Z's new album, 4:44, which was released exclusively on his streaming service Tidal on June 30 and has already been certified platinum.
Blue can be heard on the intro to "Blue's Freestyle/We Family," one of three songs exclusive to the physical release of the LP released Friday. (So, if you want to hear Blue and Jay collab, you'll have to go old school and buy a CD.)
Listen to Blue's freestyle below:
On her rap, Blue exhibits some of the swaggering and socially conscious rhetoric that laces 4:44 and mom Beyoncé's critically acclaimed 2016 album Lemonade .
The standout line is Blue rapping, "Never seen no ceiling in my whole life." That has powerful connotations: The idea that glass ceilings that oppress certain sections of society are (slowly) being shattered. That could translate to race or gender, both issues that Beyoncé and Jay-Z have remarked on in their music. They are also inspirational to black Americans through their success as artists and entrepreneurs. Beyoncé also solidified her status as force of feminist heroism with Lemonade.
Related: Jay-Z, Beyoncé and '4:44' Lyrics: References to Cheating and Becky with the Good Hair, Explained
Though Blue may only be five, this isn't her first appearance on a song. She made her musical debut at just two days old in January 2012. Two days after Beyoncé gave birth on January 7, Jay released "Glory", an ode to his newborn daughter, on his Life+Times website ; it sampled the sound of Blue's heartbeat and some of her first cries. The track is credited as featuring "B.I.C.," which is Blue's initials.
Blue is also credited as a featured artist on Beyoncé song "Blue," from her self-titled 2013 album.
"Blue" is inspired by the musician's journey into motherhood and the immeasurable love between mother and daughter. Blue can be heard at the end of the track saying, "Mommy, mommy."