Nigeria: Pro-Biafra Group Denies Carrying Weapons in Wake of Deadly Clashes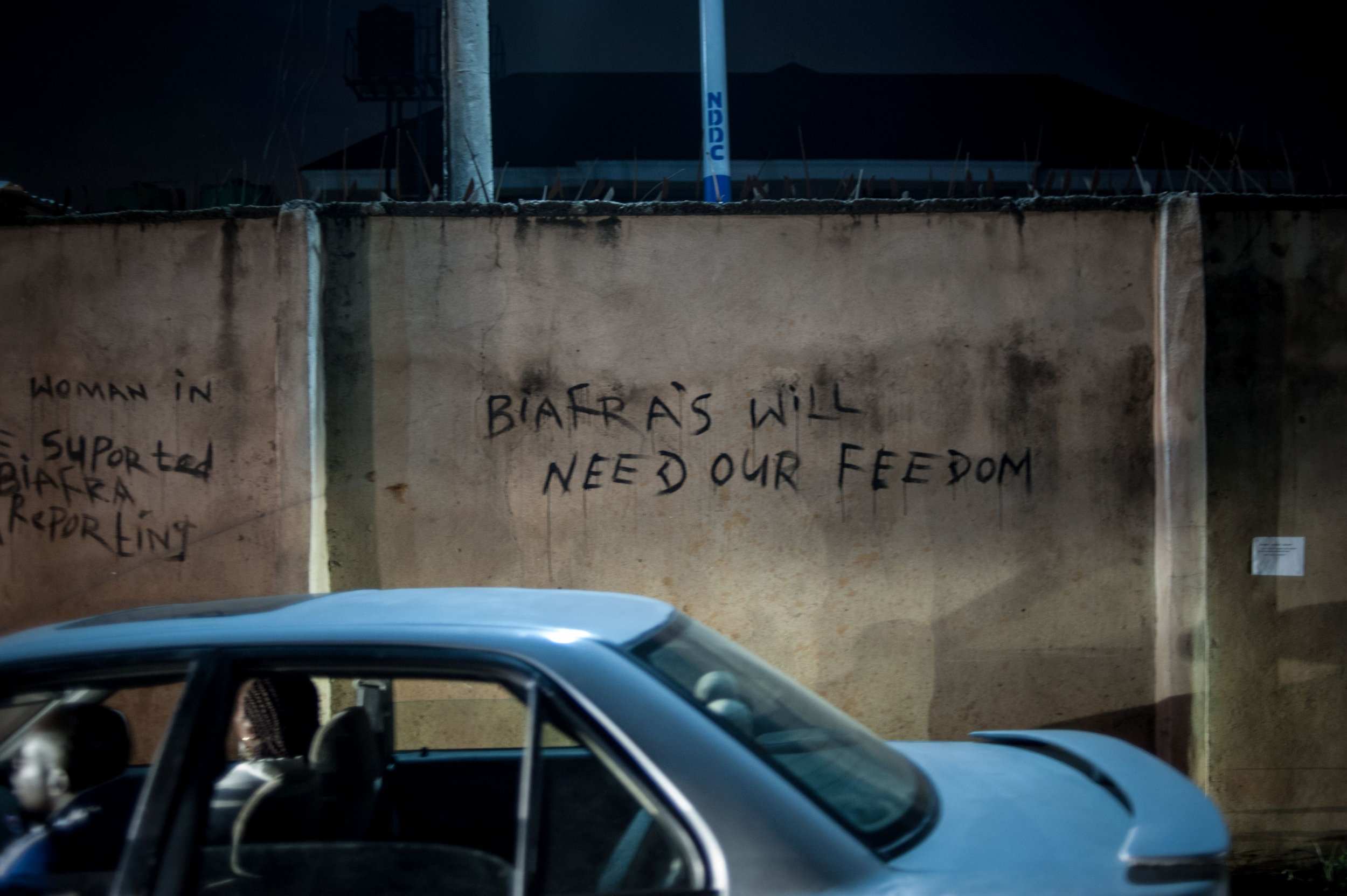 Updated | An official in the pro-Biafra activist group, the Indigenous People of Biafra (IPOB), has told Newsweek that the group is not using arms, in the wake of deadly clashes between protesters and security forces in southeast Nigeria.
Pro-Biafra activists turned out in several locations across the country's southeast on Monday to commemorate the anniversary of Biafran independence. On May 30, 1967, former Nigerian military officer Odumegwu Ojukwu declared a region of southeast Nigeria to be independent, naming it the Republic of Biafra and sparking a bloody three-year civil war.
Five activists and two police officers were killed during demonstrations in the city of Asaba, the capital of Nigeria's Delta state, on Monday, AP reported. The demonstrations involved members of IPOB and another secessionist group, the Movement for the Actualization of the Sovereign State of Biafra (MASSOB). Activists claimed that a further 15 civilians were killed in Onitsha, in Anambra state, though local police said nobody was killed there. Amateur video footage from Onitsha shows black smoke billowing through the streets after the clashes.
Following the clashes, Nigeria's Inspector-General of Police Solomon Arase issued an order for police commissioners in south and southeast Nigeria to disarm any members of IPOB found to be carrying weapons. Police spokeswoman Olabisi Kolawole claimed that armed IPOB activists had undertaken "premeditated attacks" against security forces trying to restore order in areas where demonstrations took place, Nigeria's Channels TV reported. The Nigerian Army claimed that IPOB and MASSOB members utilized "various types of firearms and all sorts of crude weapons" to attack security forces in Onitsha, according to a statement made available to Premium Times.
Clifford Iroanya, an IPOB spokesman and the coordinator of the movement's numerous national branches, tells Newsweek that IPOB is a peaceful movement and that the accusations of carrying weapons are politically motivated. IPOB's leader Nnamdi Kanu, a British-Nigerian dual national, has been in detention in Nigeria since October 2015 and is awaiting trial on charges of treasonable felony, one of which includes running an illegal society. Kanu denies the charges against him. "What they are trying to do is to provoke us into violence so that they can use the opportunity to give evidence against our leader, whom they are holding illegally," says Iroanya, who is based in Houston, Texas. "They are looking for the smoking gun...and we're not giving it to them."
May 30 is known among pro-Biafra activists as Heroes' Day, when the secessionists celebrate the declaration of independence. More than 1 million people died in the civil war that followed, with many people living in Biafra dying of starvation after Nigeria imposed a strict blockade on the territory's borders.
IPOB is campaigning for Kanu's release and for the realization of a sovereign state of Biafra. The group has already submitted a complaint against Nigerian President Muhammadu Buhari at the International Criminal Court in The Hague, accusing Buhari—who fought on the Nigerian side in the civil war—of intensifying violence against pro-Biafra activists, alleging that security forces have committed torture and unlawfully killed protesters since Buhari came to power.
Iroanya says the movement will continue to gather evidence of what it says are human rights violations by Nigerian security forces but it will not respond with violence. "What we're doing is building a case, a very strong case against the Nigerian government," he says. "At no point are we going to embark on any armed struggle or do anything that is violent."
Tensions are already rising in one part of southern Nigeria following a spate of attacks on oil pipelines by a group calling itself the Niger Delta Avengers (NDA). The group has said it intends to cripple Nigeria's economy and has listed the release of Kanu as one of its key demands. The Nigerian army has vowed to crush militant groups like the NDA and President Buhari has stated they will be dealt with the same way as Islamist militant group Boko Haram, which has lost much of its territory in Nigeria since Buhari came to power.
According to Manji Cheto, Nigeria analyst at political risk consultancy Teneo Intelligence, any further affiliation between militant groups in the Niger Delta and pro-Biafra activists could lead to an uptick in violence. "One thing that stands out is the number of pro-Biafra groups that have demonstrated support for the NDA," says Cheto. "If we do get a deterioration of the security in the Niger Delta, that is going to have a negative knock-on effect on the pro-Biafra movement."
This article originally incorrectly stated that the Republic of Biafra was established on May 30, 1976. Biafra was actually established on May 30, 1967.