Biden May Give Abrams Tanks to Ukraine in Huge Boost for Zelensky: Report
The United States could be reversing its opposition to providing Ukraine with M1 Abrams tanks, according to a Tuesday report from Reuters.
The news agency added that two U.S. officials said an announcement regarding Abrams tanks could come "as soon as this week."
Ukrainian President Volodymyr Zelensky and other officials from his country have been vocal in recent weeks about their desire to obtain battle tanks in order to defend themselves from Russian forces. On Friday, Zelensky appeared via video during a meeting of Ukraine allies at Ramstein air base in Germany to make an appeal for weapons, and he placed a special emphasis on a call for tanks.
The U.S. officials who spoke to Reuters on the condition of anonymity said they did know if a final decision had been made regarding the sending of Abrams tanks to Ukraine. However, if President Joe Biden approved the deal, the tanks could boost Zelensky's forces as Ukraine prepares for what it believes is a major offensive coming from Russia in the upcoming weeks.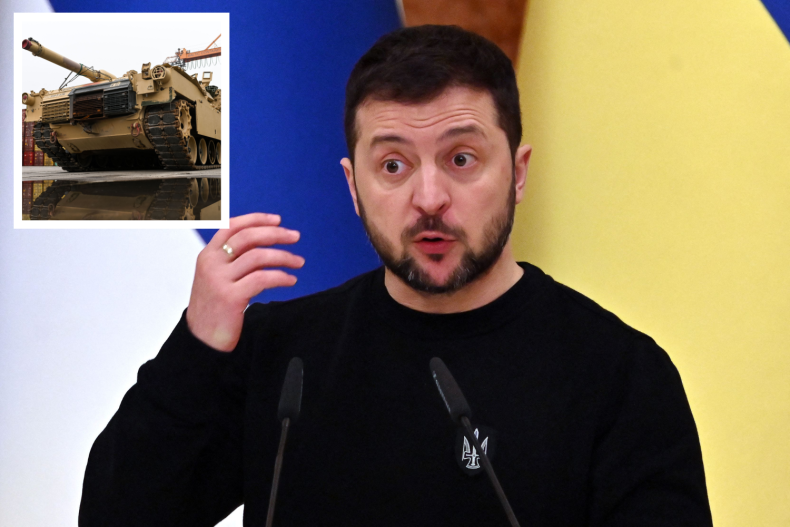 The Wall Street Journal also reported on Tuesday that anonymous U.S. officials said that the Biden administration was "leaning toward sending a significant number" of Abrams tanks to Ukraine.
The Journal wrote that the U.S. sending Abrams tanks to Ukraine would come as part of a deal with Germany that would see Berlin provide some of its own Leopard 2 tanks as well as approve Leopards being delivered by Poland and other nations.
One of the main objectives for Friday's meeting at Ramstein was to convince Germany to send Leopards to Ukraine and to approve Leopard transfers from other countries. The meeting ended with Germany still undecided, but Germany's Foreign Minister Anna Baerbock on Sunday told a French television station her country "would not stand in the way" if Poland sent Leopards.
On Tuesday, Poland's defense minister said he had formally asked Germany for permission to transfer its Leopards to Ukraine.
German officials had previously said they would only send or allow others to deliver Leopards to Zelensky's forces if the U.S. also provided M1 Abrams tanks.
Mark N. Katz, a professor at George Mason University's Schar School of Policy and Government, told Newsweek that reports had indicated the Pentagon was "hesitant about sending Abrams tanks to Ukraine due to the difficulty of operating them in combat by troops who have not received extensive training on them."
Katz added, "It would seem, then, that if the Biden Administration is now going to reverse course—or simply override the Pentagon—and send Abrams tanks to Ukraine, it is as part of the process of smoothing the way for Germany both to approve transfers of Leopards to Ukraine by other countries which have them, and perhaps even to Germany itself sending them directly to Ukraine."
Professor and chair of the political science department at Northwestern University William Reno told Newsweek that Germany has to "consider its future relations with Russia in a way" that the U.S. doesn't.
"We're asking them to punch the Bear in the face, and they're asking if we will be there after they punch the Bear," he said.
Reno also offered a brief summary of the differences between the technologically advanced Abrams tanks and Leopards.
"Abrams are for discriminating customers and Leopards are for value shoppers," Reno said.
Newsweek reached out to the White House for comment.
Update 01/24/22 12:35 p.m. ET: This story has been updated to include more background information and comments from Mark N. Katz and William Reno.