Biden Admin Asks Supreme Court to Suspend 'Remain in Mexico' Policy Before Saturday Deadline
President Joe Biden's administration is moving to the U.S. Supreme Court in its effort to repeal an immigration policy instituted by former president Donald Trump.
On Friday, the Biden administration filed an emergency request with the high court in its attempt to prevent reinstating what is known as the "remain in Mexico" border policy, Bloomberg reported.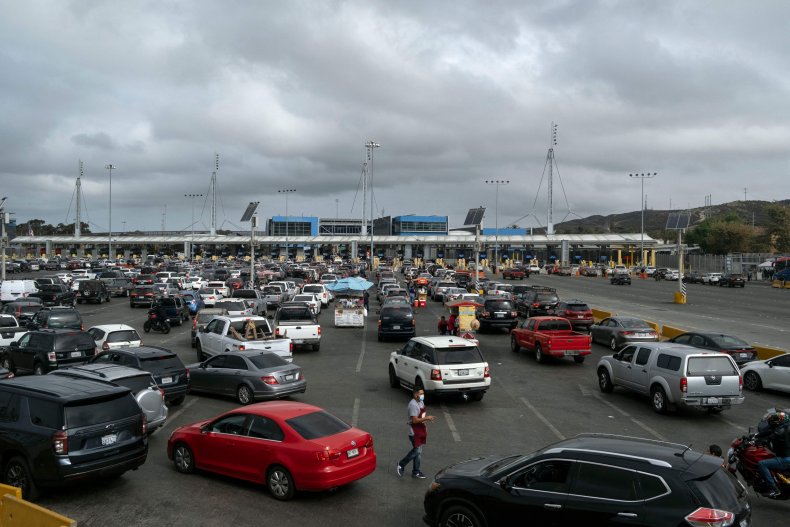 The policy, which Trump put in place in 2019, requires immigrants and asylum seekers to remain in Mexico while awaiting their immigration court proceedings in the United States.
Under Biden, the U.S. Department of Homeland Security formally ended the policy in June.
However, a federal judge overturned the repeal on August 13, after states challenged it in court. On Thursday, an appeals court declined to pause the lower court's order to revive the policy, which is due to be reinstated on Saturday.
When it overturned the repeal, the U.S. District Court for the Northern District of Texas placed an injunction against the Biden Administration's termination of the program, requiring the administration to comply with the policy.
The U.S. Department of Justice did not immediately respond to Newsweek's request for comment on Friday.
However, the department wants the Supreme Court to act immediately with the injunction slated to take effect this weekend, Reuters reported on Friday.
In the brief submitted to the Supreme Court on Friday, the Department of Justice argued that the Supreme court has frequently stayed injunctions against the executive branch.
"In recent years, this Court has repeatedly stayed broad lower-court injunctions against Executive Branch policies addressing matters of immigration, foreign policy, and migration management," the brief says, according to The Hill.
In the memo he wrote when the policy was terminated in June, U.S. Secretary of Homeland Security, Alejandro Mayorkas, said the "remain in Mexico" policy, formally known as the Migrant Protection Protocols (MPP), "does not adequately or sustainably enhance border management in such a way as to justify the program's extensive operational burdens and other shortfalls."
Though the policy formally ended in June, in February the Biden administration said it would begin processing nearly 25,000 of the estimated 70,000 asylum seekers forced to wait in Mexico due to the policy. It also ended enrollments in the MPP program and established new guidelines requiring migrants to register for court hearings online or via phone.
Republicans have opposed Biden's decision to end the policy. Texas Attorney General Ken Paxton and Missouri Attorney General Eric Schmitt sued the Biden administration over its suspension of the program, calling the move an "arbitrary and capricious decision."