Education Secretary Miguel Cardona took a swipe at Sen. Ted Cruz over mask mandates in schools.
Cruz last week criticized a Maryland elementary school principal's decision to temporarily impose a mask mandate following a COVID-19 outbreak.
"Our schools must stay open," Cardona said at a breakfast with reporters hosted by The Christian Science Monitor on Wednesday, The Dallas Morning News reported.
"Six years ago, I couldn't tell you what an epidemiologist did. But for the last three years, I had them on speed dial because they know transmission better than I do. And better than Ted Cruz does, too."
COVID-19 hospitalizations have been steadily increasing in recent months, and data from the Centers for Disease Control and Prevention (CDC) shows Texas is among states with the highest test positivity rates. A law took effect in Texas on September 1 that says "a governmental entity may not implement, order, or otherwise impose a mandate requiring a person to wear a face mask or other face covering to prevent the spread of COVID-19."
The Texas senator hit out at the Maryland school's mask mandate on social media on Wednesday, September 6.
"If you want to voluntarily wear a mask, fine, but leave our kids the hell alone," Cruz wrote on X, formerly Twitter.
He also criticized mask mandates on his podcast, Verdict with Ted Cruz, on September 6.
"Look, this is utterly absurd. Mask mandates are wrong," Cruz said. "This is all about controlling people, whether it's mask mandates, whether it's vaccine mandates, whether it's having the 437th booster. Enough is enough is enough... if you want to wear a damn mask, fine, but don't be a hypocrite and don't force other people to."
According to the Morning News, Cardona on Wednesday called it "a symptom of disrespect" to question the steps that schools takes to protect staff and students.
"Our ultimate responsibility as educators is to keep children safe," he said.
Cardona also criticized the laws as "interference from state government messing up the strategies that are helping keep schools safe."
"We have governors from hundreds of miles away sending down edicts," he said.
"They're vaccinated, they can control who walks into their office, he said, and they're "making decisions for a classroom where we have 25, 30 students, some of them who have ill parents at home or grandparents, and a teacher who may have children at home."
Cardona did not call out the governors by name, but Texas Gov. Greg Abbott is among several Republican governor—including Ron DeSantis of Florida—that have banned mask mandates.
"Even today, parts of our country are forcing children to wear masks," DeSantis, who is seeking the Republican presidential nomination, said last week. "Those mandates are DOA in Florida, and we will protect parents and children from this perpetual COVID hysteria."
Contacted for comment by Newsweek, a Cruz spokesperson pointed to the senator's post on X, formerly Twitter.
"The Biden admin cheered on schools staying closed, in many instances for over a year. Tens of millions of kids were hurt by the Dems' indefensible school closures," Cruz wrote. "If these zealots are giving me an "F," for my defending school kids, it's a badge of honor!"
Andrew Mahaleris, an Abbott spokesman, told Newsweek: "COVID mandates infringe on the rights and liberties of Texans, which is why Gov. Abbott made ending COVID restrictions an emergency item this year. Bureaucrats in the Biden administration will not stand in the way of Texans and their individual rights, and thanks to Gov. Abbott and the hard work of the Texas legislature, Texas has closed the door on COVID restrictions forever."
The Education Department has also been contacted for comment via email.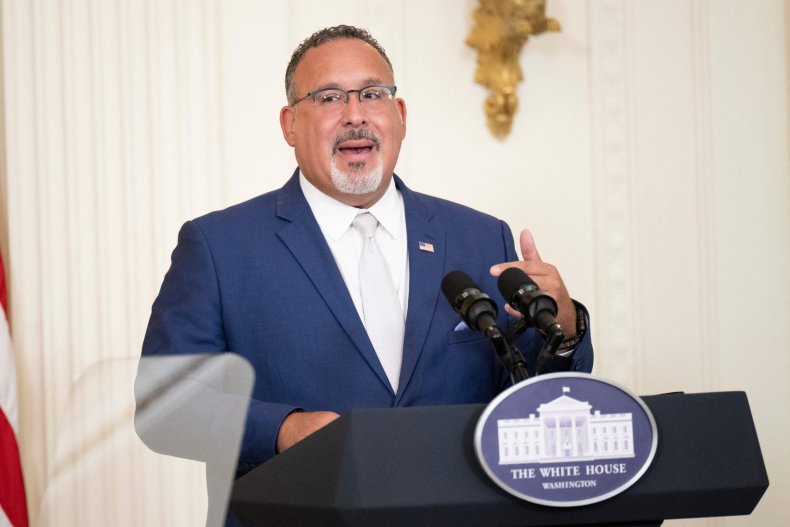 A CDC spokesperson told Newsweek on Wednesday that the agency "continues to recommend that all people are up to date on their COVID-19 vaccines and take steps to protect themselves and others. Anyone may choose to wear a mask at any time."
The spokesperson said the CDC's advice for individual and community actions around COVID-19 "are tied to hospital admission levels, which are currently low for more than 92 percent of the country." A CDC spokesperson also recently said that "rumors we've seen about plans for mask mandates are not true."
Update 9/17/23, 7:30 a.m. ET: This article has been updated to add a post from Ted Cruz and comment from Andrew Mahaleris.