Biden Administration's Signs of Policy Shift Divides Yemen's Warring Sides
President Joe Biden's foreign policy moves made in the first week of his administration are already causing a stir abroad, including in Yemen, where warring sides are split on whether the U.S. should double down on Trump's approach or abandon it entirely.
As this dramatic change of power unfolds in Washington, Yemen's internationally recognized government is hoping that two potentially impactful signs of a change of course by the Biden administration were premature.
Prominent among concerns expressed by Secretary of State Antony Blinken during his premier press conference on Wednesday was the designation of rebel movement Ansar Allah, or the Houthis, as a foreign terrorist organization by his predecessor, Mike Pompeo.
The move was criticized in the U.S. and among much of the international community, but was welcomed by Yemeni President Abed Rabbo Mansour's exiled administration, which is backed by a Saudi-led coalition including the United Arab Emirates.
"Since Day One, the Government of Yemen has welcomed the designation of Houthis as an FTO," Yemeni Foreign Minister Ahmed Awad bin Mubarak said in a statement sent to Newsweek.
Bin Mubarak served as Yemen's ambassador to the U.S. until last month, when he was named Hadi's top diplomat as part of a unity cabinet, which was attacked days later upon arrival at the airport in the southern second city of Aden.
No one has side has claimed responsibility for the attack, but bin Mubarak blamed Ansar Allah, which he hoped would be further punished and pressured by sanctions that typically accompany the application of a foreign terrorist organization label.
"It reaffirms that this designation comes timely to pressure the Houthis in order to advance the UN-led peace process after over two years of stalemate," bin Mubarak said, "and even overdue to hold this terrorist group accountable for its terrorist acts within and across the borders of Yemen, which includes targeting civilians and civilian infrastructures, sieging cities, and attacking international maritime lanes."
In his own announcement on the decision earlier this month, former Secretary of State Mike Pompeo made similar accusations against Ansar Allah, which blames the government and its sponsors for the Aden attack. Blinken also alleged Ansar Allah atrocities on Wednesday, but said he was concerned that branding them as a foreign terrorist organization would only hinder the delivery of humanitarian assistance to the 80% of the Yemeni population that lives under their control.
"We want to make sure that not only our American aid groups are able to do what they can to provide assistance," Blinken said, "but so are aid groups around the world that are providing the bulk of that assistance, and to make sure that nothing we are doing interferes with that, particularly if it doesn't in any other way advance our policy and objective."
But bin Mubarak argued it was Ansar Allah was using "blackmail" tactics to block critical food aid and other humanitarian assistance. He said the Hadi administration was working with Washington to ensure such access was available even while Ansar Allah remains blacklisted.
Lifting the designation, he warned, could send the wrong message to those considered adversaries, including Iran, which is accused of directly backing Ansar Allah—a charge both parties deny.
"While the Yemeni government joins the US administration in highlighting the importance of averting any unintended humanitarian consequences from this designation," bin Mubarak said, "it warns that revoking this designation will send wrong messages that Houthis may misinterpret as impunity for their terrorist crimes, and eventually expands Iran's destabilizing influence in the region."
Ansar Allah, on the other hand, shares the humanitarian concerns voiced by the Biden administration, the United Nations, and a myriad of international aid groups. Their spokesperson said U.S. labels would not affect the course of the conflict itself, but it would harm the Yemini people and chances for peace.
"What we consider from the American classification is that there's nothing new in it at the battlefield level, but rather it will negatively affect the humanitarian work and the political process," Ansar Allah spokesperson Mohammad Abdul Salam told Newsweek. "And here we hold the United States of America fully responsible for this."
He emphasized: "This effect is known to the world, and America is unable to overcome it nor cover it up."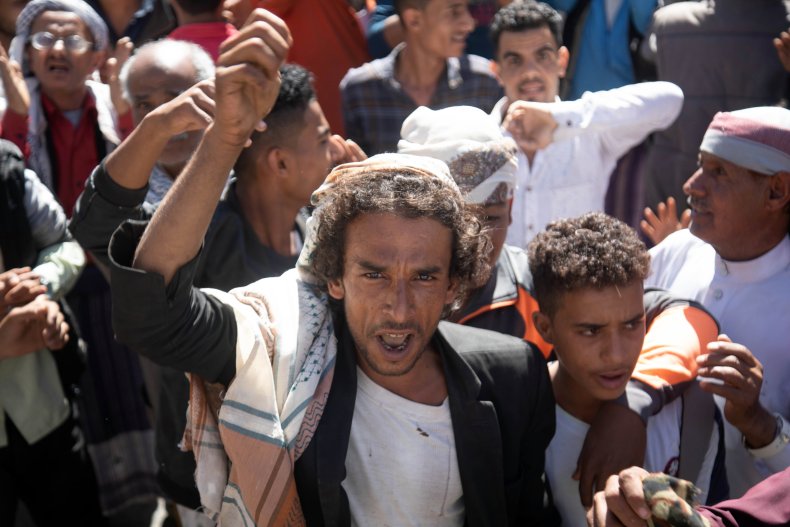 The two factions were also at odds over a second message sent by Blinken regarding the nearly six-year civil war in Yemen.
Blinken confirmed media reports that sales to U.S. regional partners Saudi Arabia and the UAE were under review, and had been suspended for the time being. While Blinken was critical of Ansar Allah and their 2015 takeover of Sanaa that forced Hadi to flee, he also acknowledged "a campaign led by Saudi Arabia that has also contributed to what is by many estimates the worst humanitarian crisis in the world today."
He stated that such reviews were not uncommon, however.
"Generally speaking when it comes to arms sales," Blinken told reporters Wednesday, "it is typical at the start of an administration to review any pending sales, to make sure that what is being considered is something that advances our strategic objectives and advances our foreign policy."
A divergence of interests existed even among Riyadh and Abu Dhabi's missions in Yemen. While the former has staunchly backed Hadi loyalists, the latter has backed a separatist force known as the Southern Transitional Council that has claimed Aden as its de facto capital.
But Bin Mubarak touted the role of both Arab partners in the conflict, which he said threatened to spill across Yemen's borders if not contained.
"The Kingdom of Saudi Arabia and the United Arab Emirates play an important and vital role within the Coalition to Restore Legitimacy in Yemen to counter the destructive role played by the Iranian-backed Houthi militia," he told Newsweek, "which threatens not only the security and stability of Yemen, but also that of the region."
Unrest has already risen in this stretch of the Middle East, from the Arabian Peninsula to the Persian Gulf and beyond, especially since the Trump administration's 2018 withdrawal from a nuclear deal reached with Iran under former President Barack Obama in 2015, the same year Yemen's war started.
Since the outbreak of the conflict, and particularly in recent years, Ansar Allah has launched missile and drone attacks against neighboring Saudi Arabia, and stands accused of targeting maritime shipping off Yemen's shores in one of the most critical sea trade routes in the world.
"The Houthis' crimes also constitute a threat to international peace and security, through attacking civilian and shipping vessels in Bab El Mandab strait and the Red Sea, as well as randomly distributing sea mines in the international maritime lanes," bin Mubarak said. "Consequently, any weakening to the role of the Coalition will negatively affect the security and stability not only for Yemen but for the whole region."
He expressed confidence that the Biden administration would appreciate the threat, as did former President Barack Obama, for whom Biden served as vice president when the U.S. first offered support for the Saudi-led coalition war in Yemen.
Here too, Ansar Allah fundamentally disagreed, seeing the role of the U.S. and the Saudi-led coalition as destructive. But Abdul Salam was also doubtful that the Biden administration would seriously shift Washington's position on the conflict.
"With regard to suspending arms sales," the Ansar Allah spokesperson told Newsweek, "it's been our previous experience that this happens for days or months and then the decision is changed."
He saw only one U.S. stance that could effectively alleviate Yemen's suffering, which is compounded by widespread famine and disease.
"The true position as it relates to Yemen is to stop the war and lift the siege," Abdul Salam told Newsweek. "This will address all the negative humanitarian and military effects and will allow the Yemeni political process to begin."