The day after President Joe Biden signaled support for an exception to the Senate's filibuster rule in order to codify abortion rights into federal law, he conceded that Democrats don't have enough votes in the Senate to do so.
During a virtual meeting with governors on Friday, Biden stressed that Congress will "ultimately" have to act to protect abortion rights after the Supreme Court overturned Roe v. Wade last week.
"The filibuster should not stand in the way of us being able to do that, but right now we don't have the votes in the Senate to change the filibuster," Biden said, according to The Hill. "That means we need two more votes."
Two Democratic senators, Kyrsten Sinema and Joe Manchin, have said they oppose ending the filibuster. Without Republican backing in the evenly divided Senate, the Democrats would need all of their senators' support in a vote ending the filibuster. For now, the two lawmakers are blocking the possibility of changing the rule.
The Supreme Court's highly controversial decision to overturn Roe has been met with Republican support and Democratic outrage. Biden and Democratic lawmakers have stressed the need for abortion rights to be protected by a new federal law, despite potential roadblocks in the evenly divided Senate.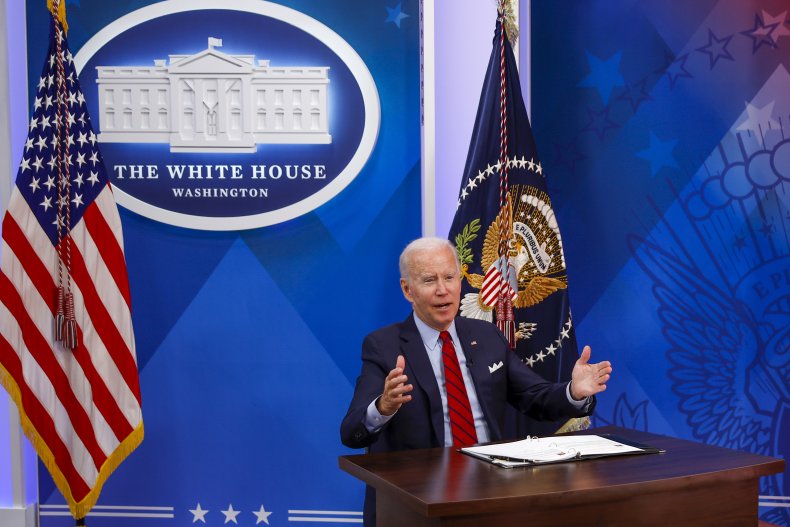 "I believe we have to codify Roe v. Wade into law. And the way to do that is to make sure Congress votes to do that," Biden said Thursday during a press conference at the NATO summit in Madrid. "And if the filibuster gets in the way, it's like voting rights, it should be—we provide an exception for this, should require an exception to the filibuster for this action, to deal with the Supreme Court decision."
Biden has previously pushed for ending the filibuster in order to pass voting rights legislation.
The Senate's website says a "filibuster" is a loose term that can describe "action designed to prolong debate and delay or prevent a vote on a bill, resolution, amendment, or other debatable question." The Senate has a "tradition" of allowing unlimited debate on such items.
While a bill that gets to a Senate vote requires only a simple majority of 51 votes to pass, a filibuster could indefinitely delay it from coming to a vote. The Senate can end debate on most topics with 60 votes under its cloture rule, but a 50-50 party split in the chamber makes reaching such a majority extremely unlikely.
Newsweek reached out to the White House, Manchin and Sinema for comment.
Updated 7/1/22, 4:10 p.m. ET: This story was updated with additional information and background.