Biden Allies Outraged At Plan To Re-Open Migrant Child Center Dogged by Abuse Allegations
A steady increase in unaccompanied minors coming to the border has led the Biden administration to reopen a Trump-era facility in Texas that had been closed, but additional plans to also reopen the much-maligned Homestead facility in Florida have led to growing public backlash among Democrats and activists who say they will fight to ensure it never opens again.
The Carrizo Springs Influx Care Facility in Texas, which was closed in 2019 after a surge of unaccompanied minors abated, is run by the Department of Health and Human Services (HHS), not the Department of Homeland Security (DHS), which has faced criticism for how it runs its centers. The government says the facilities are needed because COVID restrictions have cut the number of people facilities can hold in half and the HHS Office of Refugee Resettlement (ORR), which runs the facility, says it is quarantining and testing newly arrived children, per CDC guidelines, and adhering to social distancing.
The issue of Homestead, which the administration now calls the Biscayne Influx Care Facility, is a different matter for Democrats and activists, who recalled the protests against Trump for the conditions children were held in, reports of abuse and a stream of Democratic presidential candidates who visited and denounced the facility after a Miami primary debate in the summer of 2019. The Miami Herald first reported plans to reopen Homestead.
"ICE has repeatedly demonstrated that they do not value the humanity and dignity of immigrant families, and the announcement that they plan to re-open the for-profit immigration detention facility at Homestead is further evidence of that," Representative Ayanna Pressley told Newsweek. "At Homestead, children are reported to have gone hungry and cried themselves to sleep after being forcefully separated from their families—this is unacceptable."
Democrats said the alternative to a center like Homestead, with its dark history, is for migrant children who arrive alone at the border to be welcomed with dignity, housed in permanent and safe shelters for processing, and reunited with their families or sponsors in the United States as quickly as humanly possible. Lawmakers and activists fervently hope that despite the announcement that the Biden administration is planning to reopen the center, they can stop it from ever happening.
"As CHC Chair, I led a fact-finding congressional delegation to Homestead and reopening that facility would be a mistake," Representative Joaquin Castro told Newsweek. "President Biden rightly reversed the Trump administration's policy of summarily rejecting vulnerable unaccompanied children at the border, but these temporary facilities too often fail to meet adequate standards of care and have a history of abuse."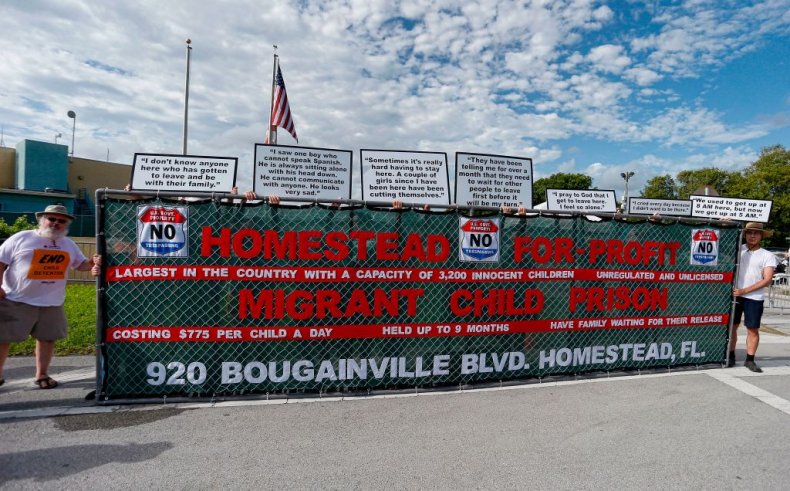 One fact buoying hopes of shutting down Homestead before it reopens is that the administration has not secured a contractor, Newsweek has learned. This was also a source of contention in 2019, when the parent company of the contractor was Caliburn International, which had ties to former Trump chief of staff John Kelly.
The White House did not answer questions on if it still plans to reopen the facility and whether a new contractor has been chosen.
"A decision has not yet been made on the Biscayne Influx Care Facility," HHS spokesman Mark Weber said. "We will notify state and local officials well in advance of opening this or any other temporary influx care facility."
The furor comes as 700 children were waiting to be transferred to facilities run by HHS, with more than 200 detained at border patrol stations for more than 48 hours and nine held for the longer than designated 72 hours, Axios reported Wednesday.
In a briefing Wednesday, White House Press Secretary Jen Psaki said a number of unaccompanied kids are coming into the U.S. without their families, and the Biden administration is not ripping children from the arms of their parents as the previous president did. But she said between the options of sending kids on a dangerous journey back to where they came from, or putting them with families and sponsors without any vetting, which has led to problems in the past, the White House chose quickly transferring them from CBP to HHS-run facilities.
But especially in the case of Homestead, that explanation is not enough for those who are usually on the side of the Biden administration, and believe the facility's reopening would represent the first major misstep on immigration by the new president.
Former Florida congresswoman Debbie Mucarsel-Powell visited Homestead half a dozen times and told Newsweek it was always "disturbing" and "felt like a prison" where "there was a certain level of abuse and neglect." She invited the Democratic presidential candidates to visit for themselves and much later received an ORR report that confirmed four sexual abuse allegations were made against staff, with three resulting in terminations.
"We worked so hard to shut this down because it became a scar on this community and a symbol of the cruel family separation policies of the Trump administration," she said, adding that she is hopeful Biden will not reopen the facility.
"I'm hopeful and optimistic because I have faith in this administration that they will do the right thing," she said.
Thomas Kennedy, now the Florida coordinator for United We Dream, has been apoplectic on Facebook and Twitter, posting videos and statements made by Democratic candidates in 2019, partly because of his own ties to fighting for the closure of Homestead.
Calling the planned reopening "disrespectful to our community" and a "slap in the face," he recalled facilitating the visits by the Democratic hopefuls two summers ago ahead of the Miami debate. He remembered it as a "performative circus" of politicians, sweat on their brow, with rolled-up sleeves, climbing ladders to look at the facility through binoculars because they were not allowed in. They included his former boss, Senator Bernie Sanders, who did not escape his social media callouts. If Sanders stood against Homestead then, Kennedy said, he should now as well.
But he also posted a damning video of then-presidential candidate Kamala Harris calling Homestead "a human rights abuse being committed by the United States government," adding "we are not going to allow this to happen on our watch." When elected, Harris said, one of the first things she would do is "shut down these private detention facilities, just shut 'em down."
"There are people who are literally profiting off of the incarceration of children, like just reflect on that for a moment," she said, flanked by Pete Buttigieg, who is now Biden's Transportation Secretary, and New York Senator Kirsten Gillibrand.
"What that does when the public sees outrage from Democratic politicians at kids in cages under Trump, rightly so, but then don't see the same response when the same center is opened under Biden, is it creates cynicism and apathy in the electorate," Kennedy told Newsweek.
The opposition to reopening the facilities is growing, with national grassroots organization Mi Familia Vota launching a petition Thursday against Biden and DHS Secretary Alejandro Mayorkas, along with the no-nonsense tagline "Detaining children is wrong, no matter who does it."
At the White House briefing, Psaki said the Texas facility "has been revamped," and now features teachers and medical facilities. "Our objective is to move them — move these kids quickly from there to vetted, sponsored families and to places where they can safely be," she said. "This is a difficult situation. It's a difficult choice. That's the choice we've made."
But even to those who support the administration, the approach to dealing with the obvious backlash that would come is seen as a public relations misfire.
"What I don't understand is how they didn't get in front of this?" a White House ally not authorized to comment publicly told Newsweek. "That's the thing that's baffling to me. This is such a sensitive thing for the community and for everybody. It's a key promise Biden made."
Julissa Arce, an author and immigration activist who has brought attention to the planned reopening of Homestead on her social media channels, said she bristled at friends who told her they needed to find the "right angle" to approach this controversy.
"Our angle should be no kid should be in cages ever," she said. "We should do what we would do if Trump was in power now."
It recalled something a friend told her recently about how there are no friends or enemies, only shared values.
"These are just the systems in place," she said pointing to the American immigration and detention systems. "If we as Democrats are utilizing the same systems, then how are we different?"