Biden Approval Plummets Double Digits Among Independents Since June: Poll
As President Joe Biden's approval rating has declined in recent months, his support among independent voters appears to have dropped even more steeply.
Gallup's latest polling conducted from October 1 to 19 shows the president's approval rating among voters who don't identify with either major political party has plummeted by double digits since June. Only about a third (34 percent) of independents said they approve of Biden—a drop of 21 percentage points since the same survey was carried out four months back.
Furthermore, Biden's approval among independents has dropped 9 points since August. Since February, when Gallup first queried voters on their approval or disapproval of Biden's presidency, his support has been nearly cut in half among independents. It stood at 61 percent at the outset of his presidency and has since dipped precipitously to just 34 percent in October.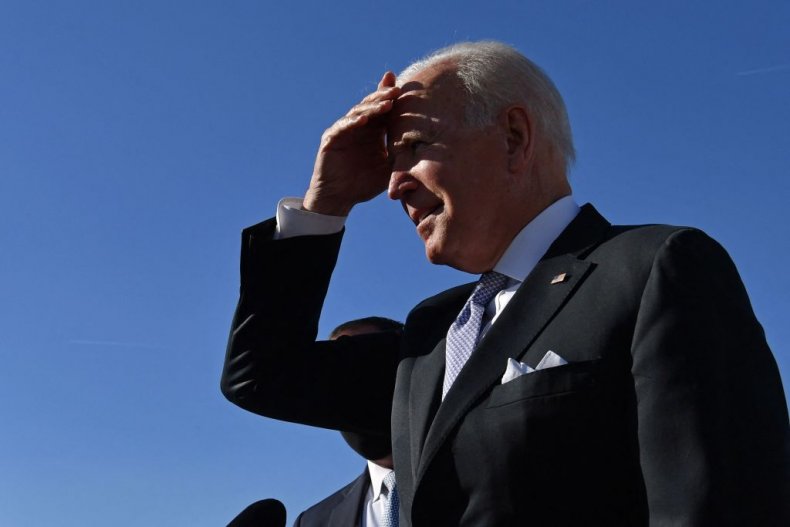 Meanwhile, Biden's overall approval rating among all voters stands at 42 percent. That's also a double-digit (14 percent) decline since June when it stood at 46 percent. In February, 57 percent of Americans approved of Biden. Even among Democrats Biden's approval has slumped significantly, dipping from 98 percent at the outset of his presidency to 92 percent now.
Biden's job approval in the third quarter of his first year in office falls below all but one of his predecessors dating back to 1953, when President Dwight D. Eisenhower served his first term in the White House. Only former President Donald Trump had a lower approval rating in the same time period of his presidency. While Biden's third-quarter approval rating is only 44.7 percent, Trump's was just 36.9 percent, according to Gallup's data.
FiveThirtyEight's compilation of recent polls aligns closely with the results of Gallup's most recent survey. The political site's approval rating poll average for Biden stands at 43.4 percent, while 50.7 percent disapprove of the president.
Although Biden started out his presidency with significant public support and popularity, a series of crises have plagued the administration. The president's handling of those crises and leadership of the country appears to have frustrated many voters.
Despite widespread vaccine availability, the COVID-19 pandemic surged dramatically over the summer as hospitalizations and deaths rose. Those hospitalized and dying of the novel coronavirus were largely from the unvaccinated segment of the population, but the Biden administration has received substantial criticism for its response.
The bungled U.S. withdrawal from Afghanistan also drew national and international backlash. Biden set August 31 as the day to withdraw all U.S. troops from the country, but the Taliban regained near-total control of Afghanistan two weeks prior. As a result, the U.S. military had to work frantically to evacuate tens of thousands of Americans, allies and Afghan asylum seekers.
Meanwhile, the number of undocumented migrants and asylum seekers coming to the southern U.S. border with Mexico continues to break records. In the past 12 months, the U.S. has seen 1.7 million migrants detained after crossing the border, which is the highest number ever recorded in a fiscal year.
Economic concerns remain at the forefront of many Americans' minds. Inflation has been a persistent problem due to major supply chain issues resulting from the COVID-19 pandemic, which affected a range of goods and products. Gas prices have also risen and jobless claims have remained elevated, as many businesses have complained that they are struggling to find workers.