Biden Asserts U.S. 'Made Clear' It Will Protect Sovereignty Against China
President Joe Biden said during his State of the Union address Tuesday night that the United States "made clear" it will protect its sovereignty against threats from China, as the U.S. on Saturday downed a Chinese surveillance balloon hovering in American airspace.
Biden over the weekend ordered the military to shoot down the balloon, which was first spotted over Billings, Montana, on Wednesday. The orb was traveling in violation of international law, escalating tensions between the nations. It prompted Secretary of State Antony Blinken to postpone a planned visit to China.
Biden highlighted the call to destroy the balloon during his speech Tuesday night, given before a joint session of Congress—including Republicans, who had been critical of his handling of the situation.
"Make no mistake: As we made clear last week, if China threatens our sovereignty, we will act to protect our country. And we did," Biden said during his address.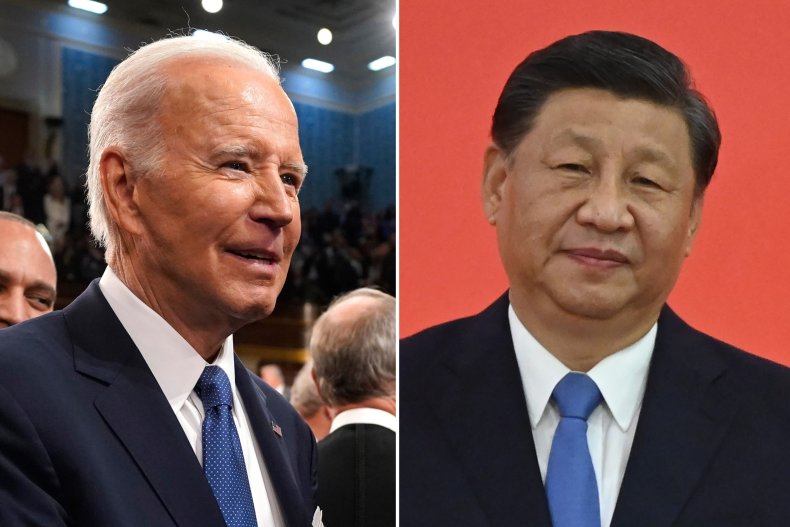 Biden largely focused on domestic policy during his State of the Union address. But concerns about the balloon, as well as its implications for America's relationship with China, swelled in the days leading up to the speech.
The president said he has told Chinese President Xi Jinping that the U.S. is seeking "competition, not conflict," touting the United States as being "in the strongest position in decades to compete with China or anyone else in the world." He called on Congress to "unite" around "winning" in competition against China.
Despite Biden's assertion that his administration made it clear that it would stand up to China, his remarks follow scrutiny from GOP critics over his handling of the surveillance balloon incident.
Republicans argued Biden did not act quickly enough to down the orb, allowing it to float across the country before shooting it out of the sky above the Atlantic Ocean. They have questioned why the military did not do so as soon as it entered U.S. airspace.
Earlier Tuesday, Representative Marjorie Taylor Greene, a Georgia Republican, taunted Biden by carrying a white balloon in the Capitol, accusing Biden of being "afraid" of China.
Despite GOP criticism, Pentagon officials warned Biden that downing the balloon above land would pose substantial risks to civilians on the ground, as the downed orb left roughly seven nautical miles of debris when it was knocked out and carried a payload the size of a jet.
The confrontation rattled relations between the two countries, which were already tense amid the Russia-Ukraine war and disagreement about Taiwan's right to self- governance.
China has condemned the Biden administration for downing the balloon, which Beijing claims was merely a weather balloon that was blown off course. Its foreign affairs ministry said it "reserves the right to take necessary measures to deal with similar situations" in one of several statements criticizing America's decision.