Marjorie Taylor Greene Taunts Biden With Giant White Balloon in Capitol
Representative Marjorie Taylor Greene taunted President Joe Biden by carrying a giant white balloon around the Capitol just hours ahead of the State of the Union on Tuesday.
Greene, a Georgia Republican, sought to call attention to the Biden administration's handling of the Chinese spy balloon that floated across the United States last week. Pentagon officials advised Biden not to shoot down the balloon until it reached the Atlantic Ocean, warning that doing so would cause a risk to the safety of civilians on the ground that outweighs the potential intel China would gather.
Despite these risks, Republicans including Greene urged Biden to order the balloon to be downed before it reached water, pointing to the national security concerns posed by the balloon.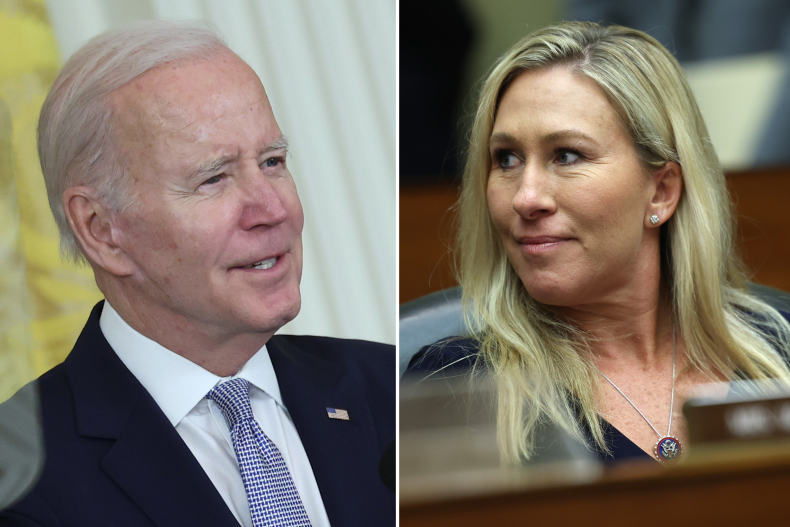 Just hours before Biden was set to address a joint session of Congress for his annual State of the Union, Greene mocked Biden by posting a video of her carrying the large balloon around the halls of Congress
"It's just an innocent balloon," Greene captioned the tweet.
She explained her reasoning for the stunt in an interview with the conservative news outlet Right Side Broadcasting Network, accusing Biden of not being "afraid" of balloons because he allowed "China to traverse the United States with a Chinese spy balloon" and gather intelligence from U.S. institutions.
"President Biden allowed it to happen, but also the Department of Defense and the Pentagon allowed it. We need to ask, why is our government afraid of China? Why were they afraid, to not do anything about it—why were they afraid of repercussions of what China might do if we shoot down their balloon before it entered our airspace?"
Ultimately, Biden did order the military to shoot down the balloon off the coast of Myrtle Beach, South Carolina, Saturday afternoon, enraging Republicans that it was not done earlier. Officials said the debris field crossed over roughly seven miles of water, with General Glen VanHerck comparing its payload to a "jet airliner" on Tuesday.
China has accused the United States of overreacting to the balloon by shooting it down, warning that it could take "further actions" in response to the decision, despite the balloon violating U.S. airspace and international law.
Greene's critics mocked her over the stunt Tuesday evening, with Representative Ruben Gallego, an Arizona Democrat who is running for Senate, tweeting: "The new IT movie is scarier than ever."
Podcast host Brian Tyler Cohen responded, "Shouldn't you have 3 of them?," a reference to a Defense official noting that a Chinese surveillance balloon entered U.S. airspace at least three times during former President Donald Trump's administration.
Newsweek reached out to Representative Greene's office and the White House for comment.