Marjorie Taylor Greene Mocked by Conservatives for Chinese Spy Balloon Idea
Several conservatives took to social media over the weekend to mockingly deride Representative Marjorie Taylor Greene, a Georgia Republican, over her idea for civilians to take down the suspected Chinese spy balloon themselves.
The craft was first spotted in American airspace above Billings, Montana, earlier this week, and was later identified to be a surveillance balloon owned by China. This led to widespread concern over its presence, with numerous Republicans and others calling for it to be shot down. The Pentagon declined to pursue such action, citing concerns about debris falling from the sky and stating that the balloon is believed to pose no immediate danger to citizens.
China, meanwhile, attempted to downplay the severity of the balloon, insisting that it was a device collecting weather data that got blown off-course.
In response, some Republicans have openly supported the notion of civilians using their personal firearms to try and shoot down the balloon, despite police urging against it. This included Greene, who said that "regular Americans can do everything better than the government."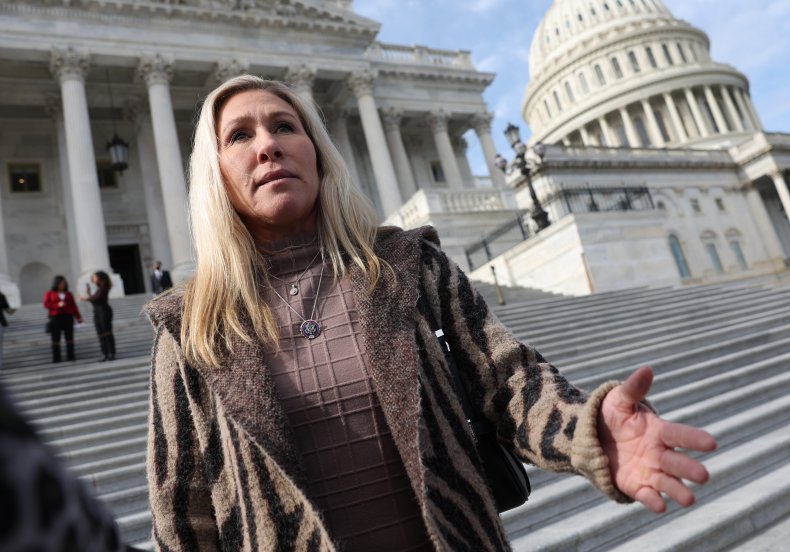 "Literally every regular person I know is talking about how to shoot down the Chinese Spy Balloon," the GOP lawmaker wrote on Twitter on Friday. "It would be great if an average Joe shot it down because China Joe won't. Regular Americans can do everything better than the government and actually care about our country."
Greene's tweet drew swift scrutiny and mockery from other Twitter users, including several more moderate conservatives. The responses generally highlighted the near-impossibility of actually hitting the balloon, given its altitude, and mockingly brought up her past comments about outlandish conspiracies.
One of the conservatives taking Greene to task was Adam Kinzinger, the former Illinois congressman known for his outspoken criticism of his far-right colleagues. Even before her initial tweet, Kinzinger tweeted a mocking reference to Greene's "Jewish space laser" conspiracy.
"Besides the laser, how can an average Joe shoot it down?" Kinzinger also tweeted. "Please elaborate..."
The "Jewish space laser" claims originate from a now-deleted 2018 Facebook post, in which Greene suggested that the recent California wildfires were caused by "lasers or blue beams of light" from "space solar generators" that "collect the suns energy and then beam it back to Earth." The post further insinuated a connection between the solar generators and the Rothschilds, a prominent European Jewish banking family and target of numerous antisemitic conspiracy theories.
The GOP lawmaker has recently attempted to push back against the characterization of those comments, which have dogged her for years and contributed to her image as a fringe conspiracy theorist. She insisted that her post never used the phrase "Jewish space laser," and blamed the story's framing on a "leftist 'journalist.'"
"Sorry but I don't think they are going to lend you the laser," tweeted George Conway, a co-founder of The Lincoln Project.
"Where are those Jewish space lasers when you need them?" MSNBC contributor Charlie Sykes wrote.
The congresswoman's tweet was also criticized by former Republican National Committee (RNC) chair Michael Steele, who called out the implausibility of shooting down a balloon so high in the air from the ground.
"At 60,000 feet," Steele wrote. "Where to even begin with you, Marge..."
The surveillance balloon is estimated to be floating upwards of 60,000 feet in altitude, which is a little over 11 miles. The furthest successful shot ever recorded by a military sniper was roughly 2.14 miles, accomplished in 2017 by a Canadian soldier serving in Iraq. The record for farthest shot ever made with a rifle was set in last September by a team of long-range shooting experts in Wyoming, successfully hitting a target 4.4 miles away.
Greene's spokesperson, Nick Dyer, responded to a request for comment by attacking Newsweek on Saturday, calling the publication "a left-wing Twitter aggregator for click-bait and it's pathetic." Dyer added, "That's my comment. You need to include it."
Updated 2/4/2023, 4:40 p.m. ET: This article was updated to include a response from Greene's office.