Trump Lawyer Slams Republicans' Chinese Spy Balloon Response
A prominent attorney for former President Donald Trump criticized congressional Republicans for their inaction on the suspected Chinese spy balloon that entered American airspace earlier this week.
The balloon was first spotted floating above Billings, Montana, on Wednesday, and was later determined to be a "surveillance" device owned by China, raising alarm with many over the ramifications of its presence. Montana happens to be home to the Malmstrom Air Force base, one of the few bases in the United States to house nuclear weapons. China, meanwhile, attempted to downplay the severity of the balloon, insisting that it was a device collecting weather data that got blown off-course.
The Pentagon has so far declined to shoot down the balloon, as some have called for, citing the potential risk posed to citizens by debris falling to the ground. Patrick S. Ryder, a spokesman for the Department of Defense (DOD), insisted during a Friday press conference that the balloon "does not pose a risk to people on the ground as it is traversing the continental United States," based on the DOD's assessment.
Meanwhile, Trump lawyer Christina Bobb took to Twitter on Saturday with criticism of Republican lawmakers in Congress for not taking it upon themselves to respond to the balloon.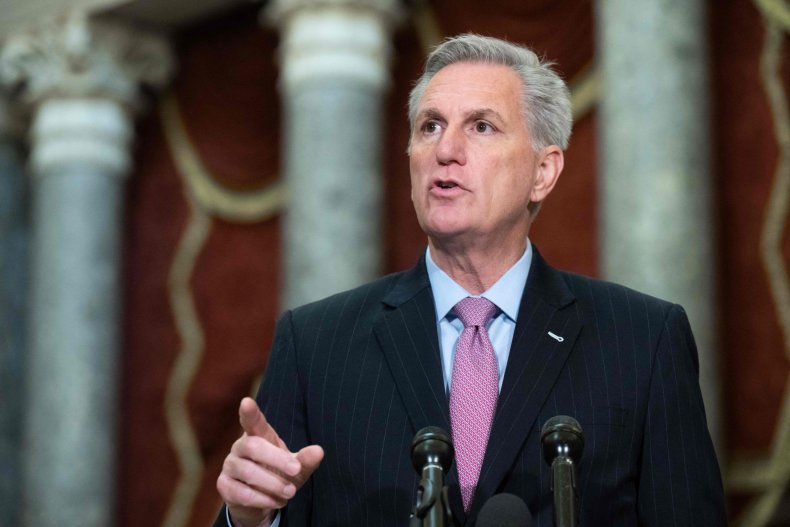 "Friendly reminder- the power to mobilize our military actually belongs to CONGRESS. Art. 1 sec. 8 clause 11," Bobb tweeted. "Lots of Republican members wagging their fingers while sitting on their hands."
The article of the U.S. Constitution referenced by Bobb vests Congress with the authority to vote on declarations of war. It has done so 11 times in U.S. history, most recently in 1942 with various declarations against countries involved in World War II. Other notable conflicts, including those in Korea, Vietnam, and the Middle East, were not formally considered wars, but were authorized by Congress.
Counter to Bobb's assertion, congressional declarations of war have traditionally been preceded by the president formally requesting their authorization. Such a declaration would also require the support of the Senate, which, unlike the House of Representatives, is controlled by Democrats, 51-49.
Furthermore, while Congress has the sole authority to declare wars, the president as the commander-in-chief, retains the authority to deploy the military, meaning that Joe Biden would still likely need to authorize a strike on the surveillance balloon. It's also unclear if Congress' war power would encompass any authority related to a single strike against a craft in American airspace.
Newsweek reached out to the DOD for comment.
In response to the balloon's presence, U.S. Secretary of State Antony Blinken postponed a major visit to Beijing on Friday, stating that it would "not be appropriate" given the circumstances, calling the balloon "an irresponsible act and a clear violation of U.S. sovereignty and international law."