Suspected Chinese Spy Balloon Updates: Blinken Postpones China Trip
A mysterious balloon was spotted flying over the U.S. this week, raising concerns about whether another country was using the device to spy on America.
The balloon has been identified as belonging to China. The Chinese government said Friday the balloon mistakenly flew off course while collecting weather-related data.
The Pentagon said it is tracking the balloon as it floats above U.S. commercial airspace. Officials said the "surveillance balloon" violates U.S. airspace and international law.
The balloon is expected to continue floating above the U.S. for "a few days," U.S. defense officials said. People across northern Missouri reported seeing the balloon Friday afternoon.
Republicans have blasted President Joe Biden for not shooting down the balloon, calling it moment of weakness for the administration. The White House said the balloon was not shot down due to the risk of safety of people on the ground.
U.S. Secretary of State Antony Blinken was scheduled to visit Beijing next week but postponed his travel plans after the balloon was spotted. Tensions have been high between the two nations due in part to the COVID-19 pandemic, Taiwan and the Russia-Ukraine War.
The live updates for this blog have ended.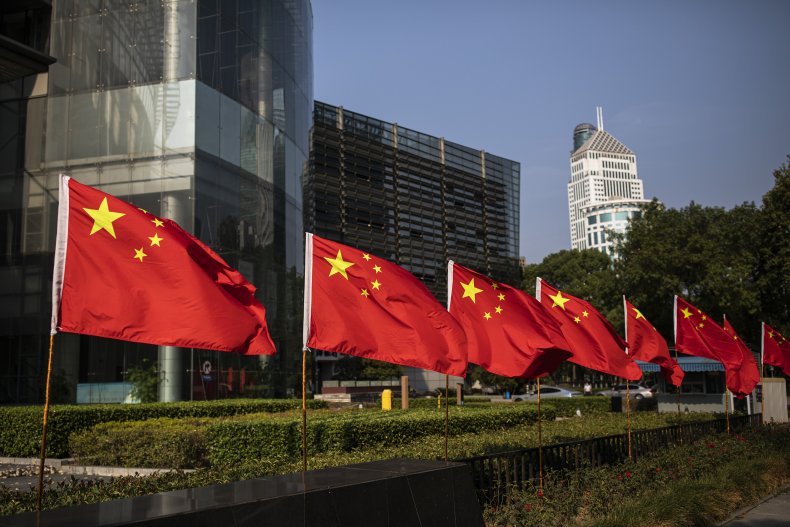 Blinken Postpones China Trip
U.S. Secretary of State Antony Blinken has postponed his highly-anticipated trip to China Friday amid growing tensions between Washington and Beijing.
According to the State Department, Blinken spoked with Director of the CCP Central Foreign Affairs Office Wang Yi "to convey that he will not be traveling to the People's Republic of China at this time in light of the current presence of a high-altitude PRC surveillance balloon in U.S. airspace."
Blinken said this incident is "an irresponsible act and a clear violation of U.S. sovereignty and international law" that "undermined the purpose of the trip."
He explained that it would "not be appropriate" to visit Beijing at this time but underscored that the U.S. is committed to maintaining open lines of communication, State Department spokesperson Ned Price said in a statement.
Blinken will visit Beijing "as soon a conditions allow."
During a news conference with his South Korean counterpart Friday, the secretary said the U.S. is "confident" that balloon is a "Chinese surveillance balloon."
He added that China's "decision to take this action" regarding the balloon is "detrimental."
"Any country that has its airspace violated in this way, I think would respond similarly. And I can only imagine what the reaction would be in China if they were on the other end," Blinken said.
He added that the most important thing at the moment is "to ensure the surveillance asset gets out of our airspace."
The White House said President Joe Biden supports Blinken's choice.
"The president agrees with the secretary's decision to not go on this trip, and it was a consensus that it was not appropriate to travel to the People's Republic of China at this time," White House Press Secretary Karine-Jean Pierre during a press gaggle aboard Air Force 1 Friday.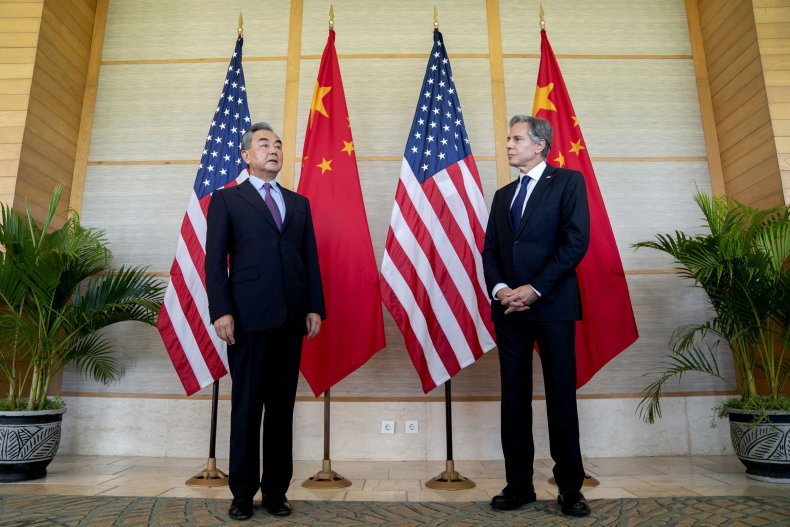 GOP Senators Want Balloon Shot Down
Several Republican Senators have said they would prefer President Joe Biden's administration to shoot down the Chinese balloon spotted floating over the U.S. this week instead of allowing it to remain in the air.
"Shoot it down," Senator Tommy Tuberville of Alabama tweeted.
Florida Senator Marco Rubio said it was "a mistake to not shoot down" the balloon, which some suspect is a surveillance tool for China. The Chinese government said Friday the balloon is used for gathering weather-related data and that it is floating in U.S. airspace because it blew off course.
Texas Senator Ted Cruz said the Biden administration's reaction to the balloon "reeks of indecision and weakness."
"They can't decide whether to shoot it down or not," he said. "They can't decide whether to go to China or not," he said, seemingly referring to the visit U.S. Secretary of State Antony Blinken was scheduled to make to Beijing next week. That trip has now been postponed.
Arkansas Senator Tom Cotton suggested the Biden administration's decision to allow the balloon to remain airborne was "just a story or sketch" for NBC's Saturday Night Live or the conservative satire website The Babylon Bee.
Senator Josh Hawley of Missouri called for Congress to hold public hearings on what he described as a "major domestic security threat." Montana Senator Steve Daines also called for answers from the U.S. Department of Defense after the balloon floated over his state.
During a press briefing aboard Air Force One on Friday, White House Press Secretary Karine Jean-Pierre said Biden was initially briefed on the balloon on Tuesday and "has continued to receive regular briefings and updates from the National Security team."
The Pentagon has said defense officials do not believe the balloon poses an immediate threat to Americans as it flies above them. Jean-Pierre reiterated the Pentagon's message while speaking with reporters, adding that Biden is following the "strong recommendation" of U.S. Secretary of Defense Lloyd Austin and U.S. General of the Joint Chiefs of Staff General Mark Milley "not to take kinetic action."
The Biden administration is tracking the balloon "closely" and "keeping all options on the table," Jean-Pierre said.
Balloon Spotted Over Northern Missouri
The suspected Chinese surveillance balloon floating over the United States has been spotted in Missouri.
The balloon was spotted in several areas across northwest Missouri about two hours ago, according to the National Weather Service station in Kansas City.
According to some reports, the balloon was visible over Columbia, MO.
Missouri Governor Mike Parson said he has received "zero communication" from the Biden administration regarding the reports of the balloon flying over his state.
"We have heard no explanation or plan to remove it," he said in a tweet. "Why has this been allowed to reach our heartland? Why has it not been eliminated?"
Parson said he will remain in contact with the Missouri National Guard and law enforcement.
Missouri Lt. Governor Mike Kehoe said it is "deeply disturbing" that a Chinese spy balloon is flying over Missouri.
"The fact that Missourians can see a surveillance object from a hostile nation from the ground is unacceptable," he said in a tweet.
The balloon was seen over Billings, Montana on Wednesday and is believed to have also traveled across over western Canada and Alaska.
The National Oceanic and Atmospheric Administration's (NOAA) HYSPLIT model, a system for computing air parcel trajectories, predicted that the balloon would be somewhere over southeast Missouri by 7 a.m. ET on Saturday.
If the balloon was still over Montana Thursday morning, it likely moved over the northeastern corner of Wyoming and the southwestern corner of neighboring South Dakota.
Some predict the balloon may travel have moved over Nebraska or Kansas. It may move over Kentucky and Tennessee towards the Carolinas on the eastern U.S. coast.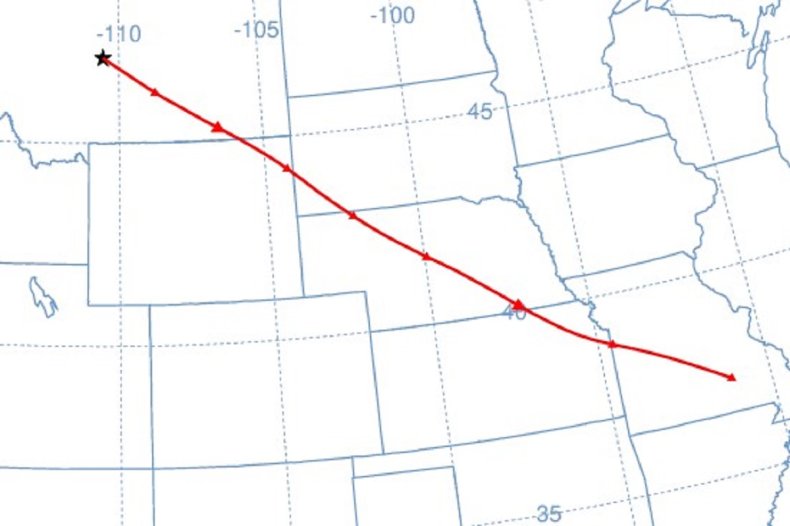 China Says Balloon is a 'Civilian Airship'
Beijing confirmed the high-altitude balloon traveling over the United States is a "civilian airship" from China mostly used to monitor the weather.
"Affected by the Westerlies and with limited self-steering capability, the airship deviated far from its planned course," Mao Ning, a spokesperson for the Chinese Foreign Ministry, said during a press briefing Friday. "The Chinese side regrets the unintended entry of the airship into US airspace due to force majeure."
China is currently "gathering and verifying the facts," Mao said.
"China is a responsible country and we always act in accordance with international law," she said. "We have no intention to violate the territory or airspace of any sovereign country."
Pentagon Says Balloon Violates U.S. Airspace
The Pentagon said the surveillance balloon violates U.S. airspace and international law, calling it "unacceptable."
"We've conveyed this directly to the [People's Republic of China] on multiple levels," Pentagon Press Secretary Brig. General Patrick Ryder told reporters Friday.
He said the U.S. is aware of China's statement claiming it's a weather balloon and maintains that the Pentagon "knows it's a surveillance balloon."
"We currently assess that balloon does not present a military or physical threat to people on the ground at this time, and we'll continue to monitor," he said.
Ryder would not provide further details about the balloon, but said it is assessed to be at about 60,000 feet above the ground and moving eastward.
"In terms of the size, I'm not able to get into the specifics other than to say that it is big enough that, again, in reviewing our approach, we do recognize that any potential debris field would be significant and potentially cause civilian injuries or deaths, or significant property damage," he said.
He said the Defense Department will continue to monitor the balloon and review its options. Ryder added that "nothing has changed" in regard to the open line of communication with China.
"I think we've been very clear that we're always open to maintaining an open line of communication with the PRC (People's Republic of China). And in that regard, nothing has changed. Nothing," Ryder said to reporters.
The Pentagon announced Thursday that it tracked the "intelligence-gathering balloon" launched by China. Ryder said the Pentagon expects balloon will be over the U.S. "for a few days."
"The United States government has detected and is tracking a high-altitude surveillance balloon that is over the continental United States right now," Ryder said during a briefing Thursday. "The U.S. government, to include NORAD, continues to track and monitor it closely."