China's Spy Balloon Was 200 ft Tall, Carried Payload the Size of a Jet
The Chinese high-altitude balloon shot down over the Atlantic off the coast of South Carolina over the weekend was 200 feet tall and carried a payload the size of a regional airliner, a U.S. Air Force general said in a briefing on Monday.
The balloon's superstructure and hardware weighed "in excess of a couple thousand pounds," said Gen. Glen VanHerck, commander of North American Aerospace Defense Command and U.S. Northern Command.
China has stuck to its line that the balloon was a civilian airship collecting meteorological data, but VanHerck said NORAD was confident from the start about the craft's surveillance purposes.
The debris in the Atlantic was spread across nearly 1 square mile, or "more than 15 football fields by 15 football fields," according to VanHerck. U.S. Navy and Coast Guard crews taking part in the ongoing recovery effort were fishing up potentially hazardous pieces of wreckage from 50 feet of water, while other parts may have sunk or floated ashore, he said.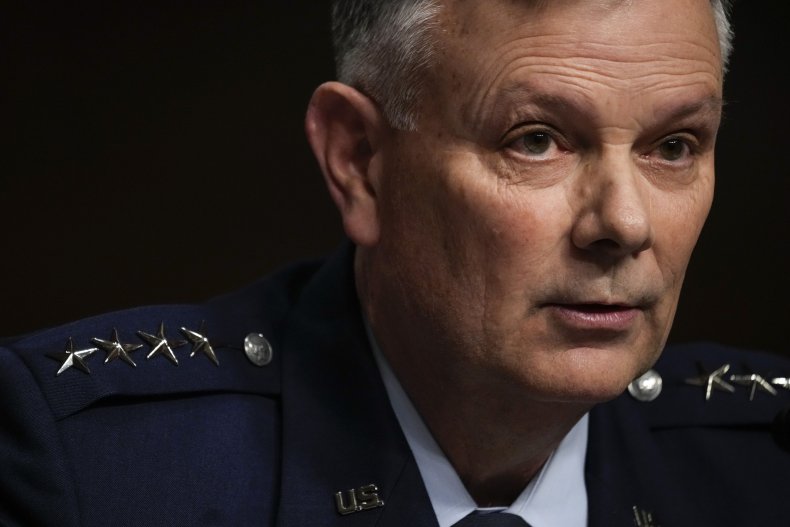 The interagency effort, which includes personnel from the FBI and NCIS as well as modeling of the debris field by NASA, is focused on a safe but "effective recovery," said VanHerck, "so that we can exploit that, and to provide as much information as we can to the media, the public, Congress—everybody that has an interest in what we're actually finding."
The Defense and State departments didn't respond to Newsweek's questions about the possibility of returning recovered hardware to China.
Mao Ning, a Chinese foreign ministry spokesperson, said in Beijing on Tuesday that the aircraft "doesn't belong to the U.S. It belongs to China."
VanHerck repeated earlier assurances that the United States "took maximum precaution to prevent any intel collection," while acknowledging similar spy balloons went undetected during the previous administration. "And that's a domain awareness gap that we have to figure out," he said.
The NORAD general said the balloon's path across Alaska's Aleutian Islands, Canada and finally the continental U.S. was deliberate.
China utilized the winds and the platform's maneuverability to "strategically position themselves" and "traverse portions of countries that they want to see for collection purposes," he said.
U.S. Secretary of State Antony Blinken called off his long-planned visit to China over the weekend in light of the spy balloon saga, which has thrown a wrench in Beijing's plans to stabilize relations with Washington after years of at times unpredictable tension.
Asked at the White House on Monday about China's motivations for sending the surveillance craft, President Joe Biden quipped: "They're the Chinese government."
Earlier Monday, Mao, the spokesperson, repeated Beijing's protests against the balloon's shoot-down, and insisted that its unexpected deviation off course was weather-related and an "isolated incident."
The resulting diplomatic fallout was "a test of the U.S. side's sincerity about stabilizing and improving its relations with China and its approach to crisis management," she said.
At the same press briefing, Mao acknowledged that another Chinese balloon had deviated from its planned route and traversed Latin America and the Caribbean.
Do you have a tip on a world news story that Newsweek should be covering? Do you have a question about China? Let us know via worldnews@newsweek.com.