Biden-Backed Willow Project Is Destined for Years of Legal Wrangling
The first major federal drilling project of President Joe Biden's administration could be facing years of legal roadblocks after threats of lawsuits by several environmental groups in recent days.
The administration is reportedly set to a release a decision on an Alaska-based drilling project known as the Willow Project. The $8 billion proposal comes amid tensions between the Biden administration's initial promise to review new drilling projects on federally owned land as well as an ongoing push for U.S. energy independence, including reducing reliance on foreign sources of oil.
"We need to responsibly increase American oil production without delaying or deferring our transition to clean energy," Biden said in remarks on increasing U.S. energy independence in October.
Environmental legal nonprofit Earthjustice has reportedly been preparing a lawsuit against the Alaska-based project if it is approved, while the League of Conservation Voters has launched a six-figure television and digital ad campaign urging Biden to reject the ConocoPhillips-backed project.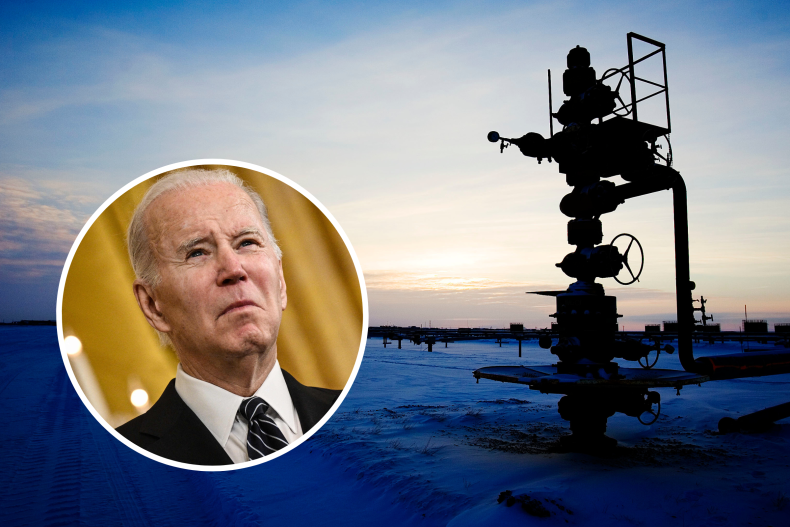 Public interest is high, as well. A Change.org petition urging Biden to "say no the Willow Project" has garnered more than 2.4 million signatures as of this writing, while videos urging the stoppage of the project have attracted more than 50 million views on platforms like TikTok, CNN reported.
Newsweek reached out to Earthjustice for comment.
Critics claim that the project—which was pushed through for approval in the closing days of President Donald Trump's administration—is anticipated to add more than 250 million metric tons of CO2 to the atmosphere over the next 30 years, a greater greenhouse gas impact than any other project currently on federal lands.
It is also expected to have significant environmental impact on the species of migrating caribou and waterfowl that have found refuge in the area after years of paltry development in the 23 million-acre region, which was initially set aside for development in the early 20th century by President Warren G. Harding as a site to ensure a steady supply of oil for the U.S. Navy.
In its evaluation of the project last month, the Department of the Interior put out a statement claiming "substantial concerns" with the project as currently proposed.
However, proponents including Alaska's lone congresswoman, Democrat Mary Peltola, say the project would provide much-needed jobs and revenue for the area. If approved, it could produce up to 180,000 barrels of oil a day—roughly 1.5 percent of total U.S. production—generate between $8 billion and $17 billion in revenue, and create between 2,000 and 2,500 construction jobs, plus 300 permanent roles.
Biden is working to assuage environmentalists' concerns. In recent days, the Washington Post reported that the White House has indicated it might be willing to reduce the scope of the project and introduce a number of mitigating proposals that include a new ban on drilling in the Arctic Ocean off Alaska's North Slope—where the Willow Project is based—as well as more habitat protections for other parts of the state.
However, officials with ConocoPhillips have claimed that the proposed scale reductions being pushed by Biden could make the project non-viable, and could be considering a lawsuit of their own if the administration pulls the plug on the Willow Project after roughly a half-decade of planning, CNN reported.
A legal challenge to the project could be a realistic threat. Last January, a federal judge sided with Earthjustice attorneys and canceled more than 80 million acres of oil and gas leases in the Gulf of Mexico after ruling that the Biden administration did not sufficiently take climate change into account when the leases were auctioned.
And last June, a number of other groups, including the Center for Biological Diversity and the Sierra Club, sued the Bureau of Land Management (BLM) over its approval of oil and gas lease sales across 128,510 acres of public land in eight primarily Western states, most of which were in oil- and gas-rich Wyoming.
"The very least the BLM could do is acknowledge the connected nature of these six lease sales and their collective impact on federal lands and the earth's climate," Melissa Hornbein, senior attorney with the Western Environmental Law Center, said in a statement at the time. "Its failure to do so is an attempt to water down the climate effects of their decision to continue leasing and is a clear abdication of its responsibilities under the National Environmental Policy Act."
The case is still pending in D.C. District Court.