Stop Willow Project Petition Signed by 2.5M as Anger Grows Against Biden
A petition to stop the approval of a new oil drilling project in Alaska gained 2.5 million signatures as of 7:30 a.m. ET Friday, as anger grows at the Biden administration over a potential green light for the plans. Another petition has received more than 300,000 names.
Lawmakers in Alaska have been calling on the White House to approve the project. It hopes to build new drilling sites on the North Slope, the northernmost borough of the state, representing the largest oil field in Alaska in decades.
However, environmentalists have been calling on the administration to shelve the project. They say it would call into question Biden's climate-change credentials as the president pushes to electrify transport and decarbonize the U.S. economy.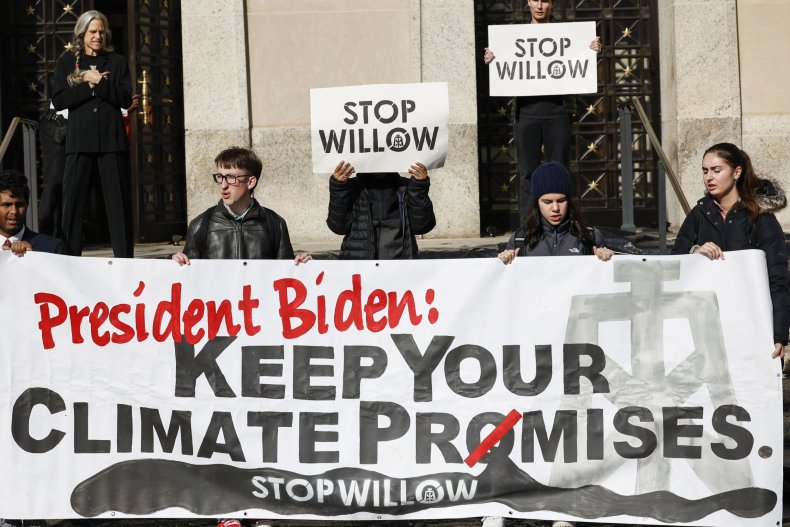 ConocoPhillips, Alaska's largest crude-oil producer, proposed five drilling sites as part of its Willow Project, after making a "significant" new oil discovery in the remote region in January 2017. The company says that the project would create 2,000 construction jobs and 300 permanent roles.
The U.S. Bureau of Land Management (BLM), which governs one-eighth of the country's landmass, recommended the project for approval in February. However, it added that the Willow Project should include just three sites initially.
Even this, though, would lead to an estimated production of 278 million tons of greenhouse gases over the project's 30-year span. This would be the same level of emissions as 700 gas-fired power plants produce in a year, according to the Environmental Protection Agency.
According to multiple outlets, a decision on the project is expected imminently. However, even before one has been made, activists have been targeting their anger over the proposal at the president.
"Joe Biden is so selfish he doesn't even care for the earth," Angel Rejas, a signatory of one of the petitions, wrote in a comment that has been liked nearly 1,000 times.
"How dare that nasty president do such a thing," Reasha William, another opponent of the project, commented.
"Who the hell does Joe Biden think he is, to even consider dumping toxic waste in one of the only pristine natural areas left," wrote M Connor, one of the 2.2 million signatories of the other petition. "And NO! [Being] president of the U.S.A. does not excuse him!"
Newsweek has reached out to the White House for comment.
Biden's prior efforts toward bolstering the U.S.'s renewable energy sector and expanding its electric-vehicle infrastructure were heralded by environmentalists. They also cheered his decision to cut the Keystone XL oil pipeline that would have carried oil from Canada to Nebraska if built.
However, Biden has faced criticism from climate activists for allowing the sale of drilling leases of 1.7 million acres of oil in the Gulf of Mexico.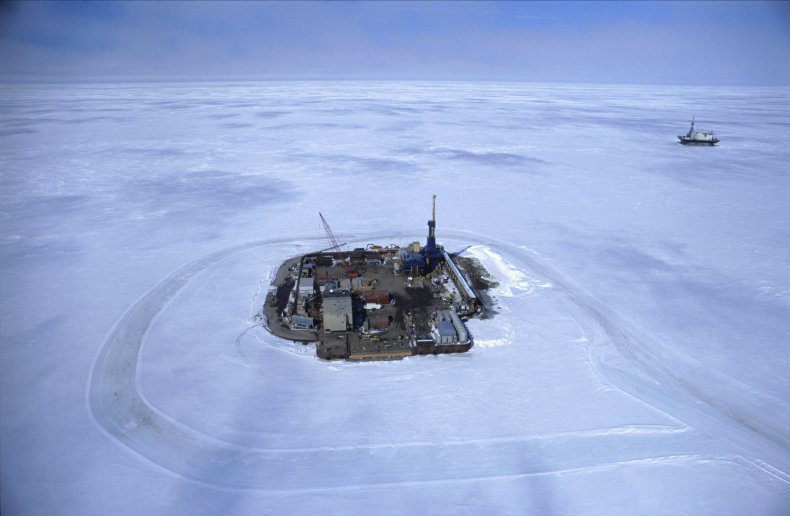 To minimize criticism of an approval of the new project in Alaska, the Biden administration is looking to reduce further the number of drilling sites to two. It has offered to boost conservation elsewhere in the state, CNN reported on Thursday.
Citing White House sources, the news outlet said that officials are planning to drop the most ecologically sensitive site and would plant more trees to offset the carbon emitted.
In Thursday's press briefing, Karine Jean-Pierre, the White House press secretary, dodged questions on its involvement in deliberations. She said that the decision was "going to be made by the Secretary of Interior," Deb Haaland.
The U.S. Interior Department has said it had "substantial concerns" about the project. These include "direct and indirect greenhouse gas emissions and impacts to wildlife and Alaska Native subsistence."
When asked to comment, a department spokesperson told Newsweek: "We have nothing to share on this at this time beyond our previous statement."
However, Alaskan lawmakers from both sides have thrown their support behind the Willow Project, as have representatives of local Native American communities. On Monday, the Alaskan legislature passed a resolution unanimously supporting the approval.
"I encourage President Biden and the Department of the Interior to listen to this strong statement from Alaska's elected representatives," Mary Peltola, a Democrat U.S. representative for Alaska, who is Yup'ik, said.
"Alaskans from every walk of life support Willow because we know that a clean energy transition will still rely on gap oil," Peltola added. "Willow will give Alaska, and America, a reliable source of domestic energy to help power that transition."
The BLM thinks the Willow project could generate between $8 billion and $17 billion in revenue. The company says it could produce up to 180,000 barrels of oil a day—roughly 1.5 percent of total U.S. production—out of an estimated recoverable oil reserve of 450 to 800 million barrels.
Update 03/03/23, 10:42 a.m. ET: This article was updated to include comment from a Department of the Interior spokesperson.