President Joe Biden has invoked the Defense Production Act as part of an effort to expedite the production and delivery of baby formula amid the ongoing national shortage.
The White House said on Wednesday that Biden had "directed his team to do everything possible to ensure that there is enough safe infant formula in the country and available for families that need it." The Defense Production Act, which allows the federal government to take greater control over industrial production during an emergency, was invoked as part of the effort to increase supply.
"The President is requiring suppliers to direct needed resources to infant formula manufacturers before any other customer who may have ordered that good," a White House fact sheet reads. "Directing firms to prioritize and allocate the production of key infant formula inputs will help increase production and speed up in supply chains."
The Biden administration also launched a new initiative dubbed "Operation Fly Formula," which directs the Department of Health and Human Services (HHS) and Department of Agriculture to use commercial aircraft supplied by the Department of Defense to deliver formula that meets U.S. health and safety standards from overseas.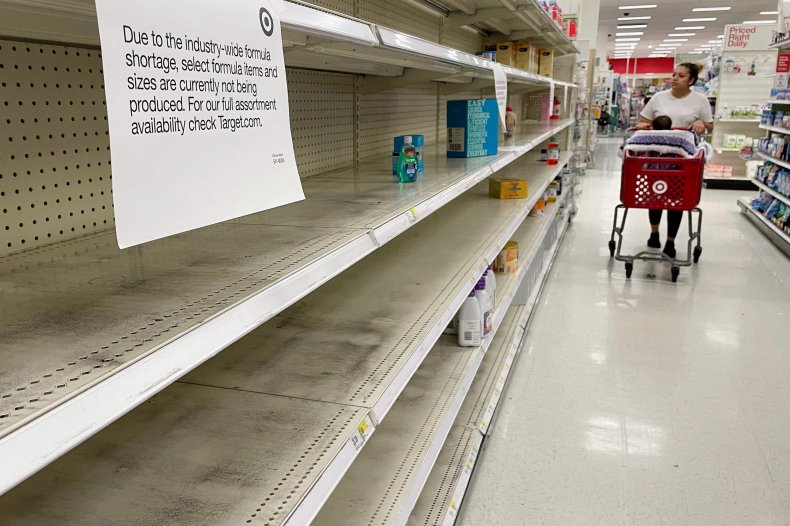 Earlier this week, the Food and Drug Administration (FDA) announced that it would ease some restrictions to help speed up the importation of formula from foreign manufacturers. FDA Commissioner Robert Califf said in a statement that the move would help "companies who don't normally distribute their infant formula products in the U.S. to do so efficiently and safely."
The FDA also announced that it had reached an agreement with U.S. manufacturer Abbott Nutrition to resume production of formula at its Sturgis, Michigan, facility—which has been closed since February due to bacterial contamination concerns that resulted in at least two infant deaths and a major recall that worsened the formula shortage.
Production of the Abbott formula, which includes popular brands like Similac and EleCare, is expected to resume in the next two weeks. However, it could still take up to 10 weeks before the final product is able to reach store shelves and consumers, necessitating the easing of restrictions on imports in the short term.
In a letter that Biden addressed to HHS Secretary Xavier Becerra and Agriculture Secretary Tom Vilsack on Wednesday, the president stressed that "imports of baby formula will serve as a bridge to this ramped up production" while calling on the officials to aid in the importation effort.
"I request that you work expeditiously to identify any and all avenues to speed the importation of safe infant formula into the United States and onto store shelves," Biden wrote in the letter, which was obtained by Newsweek.
"I further request that over the next week you work with the Department of Defense to utilize contracted aircraft to accelerate the arrival of infant formula into the United States that meets our Government's health and safety standards," he added. "This will ensure that we are using every available tool to get American families swifter access to the infant formula they need."
The Defense Production Act was first invoked by Biden on his second day in office to increase the production of pandemic safety equipment. Former President Donald Trump invoked the DPA in April of 2020 in an effort to keep meat plants active after the COVID-19 pandemic swept the nation.
Newsweek reached out to the White House for comment.