Biden Is Botching COVID and Crime. Republicans: It's Time to Show Up for Black America | Opinion
President Biden is botching the COVID response. With a new Omicron variant spreading and Christmas upon us, home tests are nowhere to be found. Worse, the ever-changing goal posts given by the Biden administration have made many skeptical or even outright rebellious toward health experts; confidence in Dr. Anthony Fauci has waned with every political group.
We're used to hearing about those feeling skeptical toward the powers that be as recalcitrant Trump voters—despite the fact that President Trump recently shared that he is not only vaccinated but he had received a booster shot. Writers at leading news outlets and liberal politicians routinely portray the vaccine hesitant as white Republicans. And yet, there has been persistent reluctance in the Black community to get the vaccine, too—so much so that Black Lives Matter activists came out against the vaccine mandate. "I think it's important to note the historic context for vaccine hesitancy," Amara Enyia, policy and research coordinator for the Movement for Black Lives, pointed out. "There is a history of a healthcare system that has actually been harmful to Black people."
So maybe it's not surprising that there has been a decline in Black voter support towards Biden since the federal vaccine mandate was announced. In September, Biden's performance approval was down five points, to 71 percent, with Black voters, while the share who disapproved of him rose to 24 percent. Biden's net approval rating among unvaccinated Black voters plummeted 17 points, and just 61 percent of Black voters approved of Biden's handling of coronavirus, which meant it was down 9 points since the end of August.
This dip in approval makes sense to me. We are tired of mandates. We are tired of the narratives that are constantly shifting about how a vaccine shot and a booster shot will alleviate all the concerns—then being being told that even fully vaccinated people can contract COVID and must wear masks. We are tired of being told we are wrong for making decisions in a way that best serves us, and we are tired of being told we are responsible for the entire United States population. And we are tired of the mandates when what we want is to work.
What this fatigue represents is an opportunity for Republicans to make their case to Black voters who may share many of their values.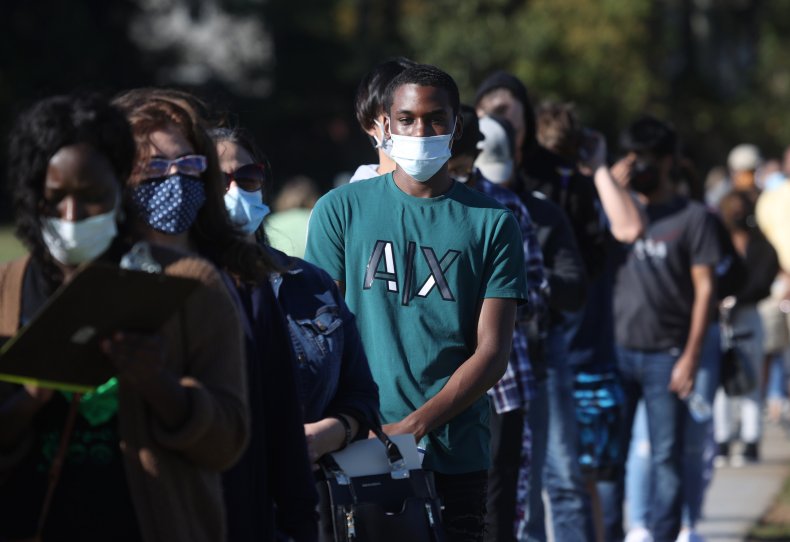 The administration's overreach is providing conservatives with an opportunity to showcase their message of small government and individual empowerment. For Black Americans struggling with distrust toward the administration's tactics, the Republican emphasis on independence and thinking for oneself without government intrusion could make conservatism very appealing to Black Americans turning on the administration.
Moreover, COVID isn't the only thing the Biden administration is botching. There has been a spike in crime that is going widely unaddressed. Across the nation, homicides, carjackings, and other violent crime is skyrocketing, and much of this crime disproportionately impacts Black Americans. And while President Biden has signaled desire to see police reform and a decrease in crime, he is battling a progressive wing that wants to "Defund the Police," making it an uphill political battle for the leader of the free world.
Conservatives should take advantage of these opportunities to show Black Americans that they can lead on these issues that matter deeply to them. By pointing to jobs, open schools, resources that will keep communities safe and support for law enforcement, conservatives can change the narrative and the direction America is headed in—by making their case to Black America.
Should we ignore a pandemic and those who are at risk for viruses and diseases? Absolutely not. But should we at least offer a perspective of life that offers liberty for all? Absolutely yes.
No one needs this more than the Black community. Republicans: It's time to show up and make your case.
Demetrius Minor is a preacher, advocate, relationship builder, and a writer. He has been the director of coalitions in Florida for Americans for Prosperity, where he worked in partnership with the NAACP. He is a contributor to Family Vision Media.
The views in this article are the writer's own.