Vaccine Mandates Put Black Lives Matter Activists on Collision Course With Democrats
Earlier this month, a brawl broke out between the hostess of an Italian restaurant in New York City and Black women from Texas over the requirement that they show proof of vaccination.
It later emerged that the three women had provided documentation of COVID-19 vaccinations, but the altercation had escalated after two men, both Black, turned up to join them at Carmine's and didn't have proof.
The restaurant's hostess suggested the vaccination cards the women provided were fake, spoke condescendingly and used a racial slur, Justin Moore, an attorney for the women, told the New York Times.
Carmine's has denied the allegation that racism played a role in the incident. In a statement provided to Newsweek, the restaurant's owner, Jeffrey Bank, said the hostess is Asian American and that other employees who were involved are also people of color. "None of our hosts–all of whom are people of color–ever uttered such a slur," he said.
But the incident, prompted by the city's enforcement of rules that require people to show proof of having received at least one dose of a coronavirus vaccine before dining indoors, underscores another issue at play: the racial vaccination gap in the U.S.
Black people are less likely to be vaccinated against COVID-19, even though the pandemic has taken a disproportionate toll on them. Racial breakdowns of vaccination data from the U.S. Centers for Disease Control and Prevention show Black Americans are lagging far behind other groups with only around 30 percent fully vaccinated.
This means vaccine requirements disproportionately impact the Black community, Hawk Newsome, the co-founder of Black Lives Matter Greater New York told Newsweek. His group is not affiliated with the Black Lives Matter Global Network.
Newsome, who organized a protest outside Carmine's earlier this week, pointed to recent data showing that less than half of the city's Black residents between the ages of 18 and 44 are vaccinated. "That means that you're excluding a tremendous amount of Black New Yorkers, from engaging in everyday actions," he said.
Several factors are driving the racial disparity, including mistrust of the medical establishment due to a history of discriminatory treatment, said Amara Enyia, policy and research coordinator for the Movement for Black Lives.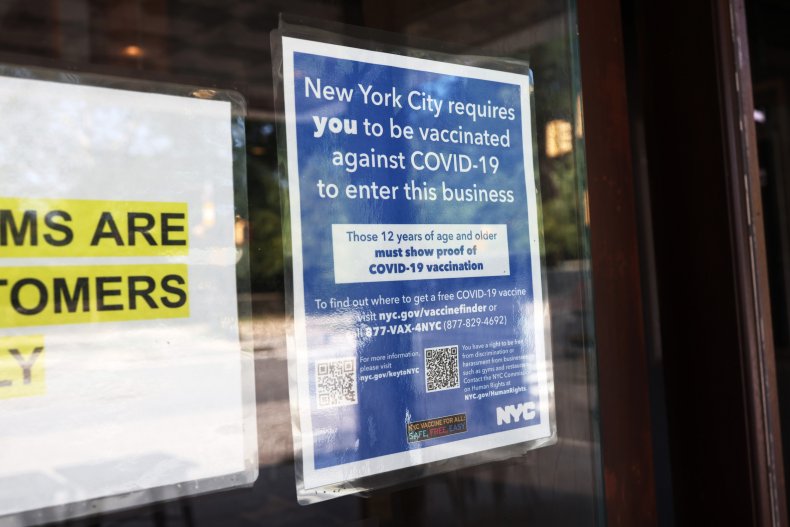 It dates back to the nation's history of medical experimentation on Black enslaved people. Other examples include the government's Tuskegee syphilis experiment, where treatment was withheld from Black men with syphilis.
"I think it's important to note the historic context for vaccine hesitancy. There is a history of a healthcare system that has actually been harmful to Black people," she told Newsweek.
But more recent examples of Black people not receiving adequate medical care have also reinforced the mistrust, Enyia said, citing the case of Susan Moore, a Black doctor who died of COVID-19 complications after complaining of racist treatment while in hospital.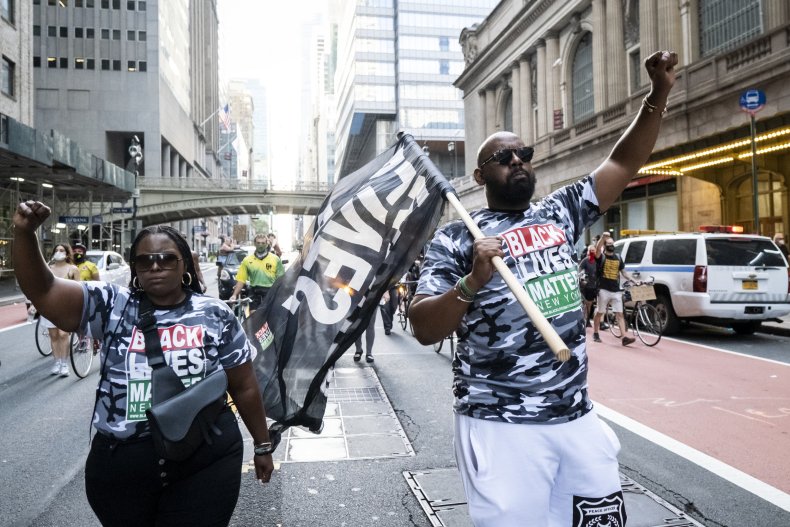 President Joe Biden's announcement of vaccine mandates, after previously vowing to not take the step, has fueled further mistrust, according to Newsome.
"I'm not an anti-vaxxer. I'm no Fox News-watching conservative. Many Black people are not, they just do not trust this vaccine," Newsome, who is unvaccinated, added.
The president "made a lot of promises to us around all the Black Lives Matter movement, but he hasn't taken any substantial steps on that front," Newsome said, and pointed to the mistreatment of Haitian migrants at the border.
"Black people are realizing that Democrats are almost as bad as the Republicans when it comes to their treatment of Black people," he said. "It's a very sobering feeling."
But he added: "We're fully aware that Republicans only care about Black issues when it impacts them. They were pro-police when there was BLM protests, anti-police when they stormed the Capitol on January 6."
And while he disavowed any comparison between vaccine mandates and Nazi Germany or slavery, he believes they would be used "to make Black people second-class citizens."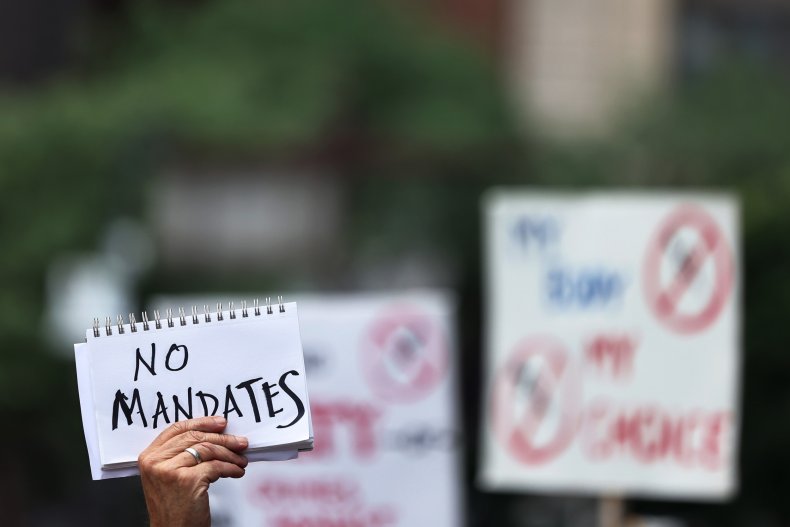 Forcing Black Americans to make a decision to take the vaccine or lose their job is "completely unfair... because as a Black person, I do not trust the government," he said. "The largest numbers of unvaccinated people are Black. We will truly feel the penalty of not complying."
Newsome said he would not get the COVID-19 vaccine until he can trust it is safe. "I think each individual has their own threshold," he said. "I'll know mine when I reach it."
Enyia added: "When we talk about issues of vaccine hesitancy, and we hear 'trust the science' and those sort of phrases, you just can't overlook the role that historical factors play into the scepticism and perhaps the mistrust.
"Frankly, it's condescending and a bit trite to toss it aside... because the time for trust building is throughout time, it's throughout that history. It's harder in the middle of a pandemic, to need to hurry up and convince people to trust an institution when the history has not shown that that trust has been earned. That's a very real challenge."
The information gap, as well as the proliferation of misinformation and disinformation, also feeds into vaccine hesitancy, Enyia said. "Local governments, state governments, federal government, and including the CDC as the federal agency that's at the helm of this need to be consistent in their messaging," she said.
And humorous campaigns that target the Black community like Baltimore's "ginger ale can't cure COVID" meme can also be effective, she added.
Although she sees why vaccine mandates haven been imposed, Enyia describes it as a territory fraught with ethical and legal questions. "Because it involves essentially forcing people who have made a conscious choice not to get a vaccine to get a vaccine," she said.
Structural issues can also be barriers to Black Americans getting the vaccine, Enyia said, such as whether or not they can get paid time off and access to transportation. "If we're looking at the profile of workers who tend to have the least opportunities to take paid time off, you're looking at Black and Latinx workers," she said.
"The landscape is changing, but it's important for us to continue naming structural inequities an developing solutions, because regardless of what people are choosing to do, we have to make sure that there are no structural barriers to them being able to make the decision, especially when it comes to taking the vaccine."
Erica Loewe, White House director of African American Media, told Newsweek: "President Biden and Vice President Harris have committed to instilling equity and racial justice in every policy pursued across the government, including the Administration's response to COVID-19.
"As part of this effort, we have worked closely with community-based partners and implemented a comprehensive strategy to ensure our nation's highest risk and hardest hit localities have the support they need. From those efforts, we are seeing strong, positive increases in vaccination rates in communities of color across the country—as well as closing of gaps in vaccination rates between races/ethnicities as we continue our vaccination push. We will continue to work with stakeholders to pay heed to their concerns with the shared goal of saving lives."
The graphic below, provided by Statista, shows the share of the world population fully vaccinated against COVID-19 by region.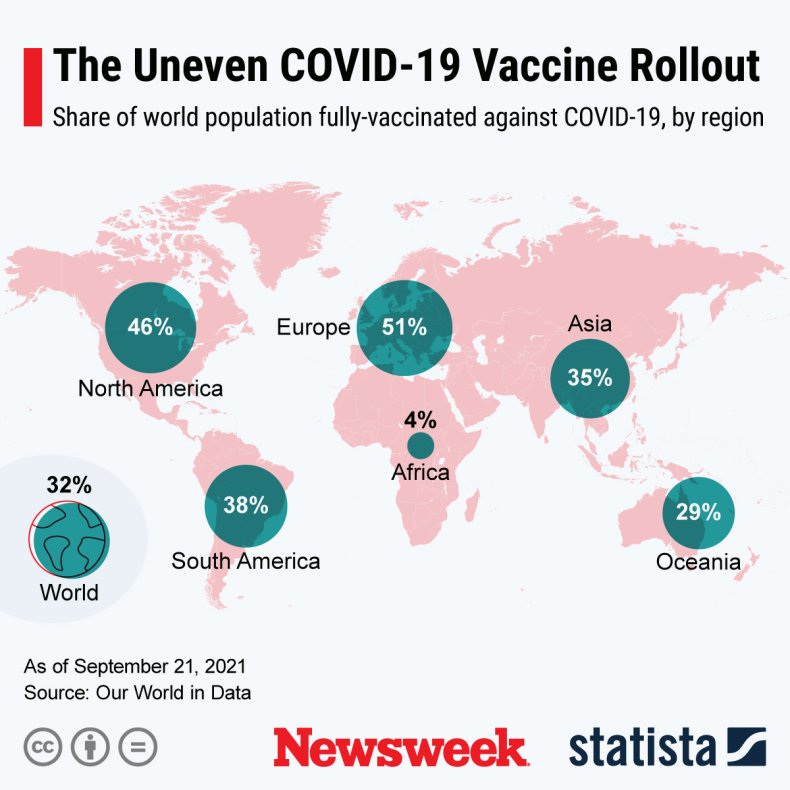 Update 9/27/21, 4:00 a.m. ET: This article has been updated with a White House statement.
Update 9/30/21, 4:00 a.m. ET: This article has been updated with comment from Carmine's. This article was updated to clarify that the hostess involved is Asian American, not white.