A Black Lives Matter protest is reportedly set to take place on Monday outside the Italian restaurant Carmine's in New York City, where a physical dispute erupted on Thursday over COVID vaccination proof cards.
Hawk Newsome, co-founder and chairman of BLM Greater New York, told The New York Times on Saturday that the group will protest against the treatment of Black patrons. The plan to protest comes after new details reportedly reveal that the restaurant hostess said a racial slur to a group of five Black women trying to enter.
"Restaurants are using vaccine mandates to enforce their racist beliefs and excluding Black patrons," Newsome said.
On Thursday, a group of five Texas women physically assaulted the restaurant hostess after she said that their vaccination proof cards were fake, but an attorney for one of the women, Kaeita Nkeenge Rankin, described the fight as a "mutual combat."
Rankin's lawyer, Justin Moore, said that the hostess spoke condescendingly to the women as she suggested that their vaccination cards were fake.
"The hostess begins spouting out derogatory comments, and speaking with two of the women; they claim that the N-word is being spewed out" Moore told the Times. "They also heard the hostess say, 'Yeah, you guys can leave my restaurant,' or something very aggressive like that. When Dr. Rankin hears that, she turns around and addresses the hostess. She tells her: 'This isn't your restaurant. You're just a staff member here. Please address us with respect.'"
The restaurant's attorney, Carolyn Richmond, denied the claim and told the Times that "nothing about this incident suggests race was an issue."
"The pandemic has added a key responsibility to the host position—ensuring the safety and health of all employees and guests by checking for proof of vaccination in compliance with New York City law," Richmond said.
Newsweek contacted Carmine's, Richmond, BLM and Moore for comments but didn't hear back by the time of publication.
According to the Times, the women from Texas are facing charges of misdemeanor assault and criminal mischief. They are scheduled for a court appearance on October 5.
On Friday, a Carmine's spokesperson confirmed to Newsweek that the women physically assaulted the 22-year-old hostess. According to the Daily News, the police said that they punched the hostess repeatedly and ripped off her necklace.
"It's a shocking and tragic situation when one of our valued employees is assaulted for doing their job—as required by city policies—and trying to make a living," the spokesperson told Newsweek on Friday. "Our focus right now is caring for our employee and the rest of our restaurant family. We are a family-style restaurant, and this is the absolute last experience any of our employees should ever endure and any customers witness."
The police said that three of the women were released after being issued desk appearance tickets for assault.
The physical dispute sparked outrage across New York City's hospitality sector as the city began enforcing vaccination proof requirements this week for gyms, entertainment venues, and dine-in restaurants.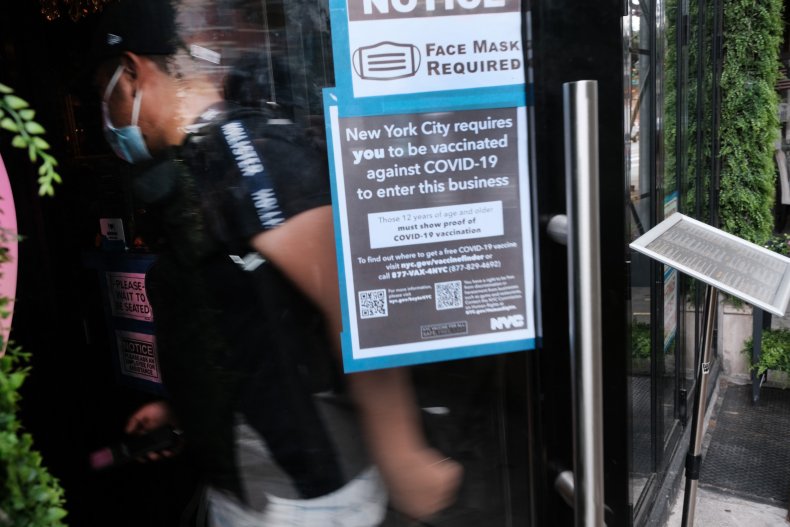 "Assaulting a restaurant worker for doing their job is abhorrent and must be punished. We're calling on the City and State of New York to immediately increase penalties for assaulting restaurant workers in New York City in conjunction with enforcement of COVID-19 protocols," Andrew Rigie executive director of the NYC Hospitality Alliance, wrote on Twitter on Friday.
A spokesperson for Mayor Bill de Blasio told Newsweek that the city provided restaurants with conflict-resolution training in recent weeks that could help restaurant workers deal with similar situations.
"This disgusting and violent behavior [at Carmine's restaurant] has no place in New York City—and it's entirely unacceptable against service workers who are keeping staff and patrons safe," said the spokesperson.