Biden Campaign Official Says He'll 'Make Good' on Commitments, as Some Progressives Express Concerns
President-elect Joe Biden's deputy campaign manager Kate Bedingfield attempted to ease concerns raised by some progressives that the Democrat would cave to pressure from moderates and Republicans.
Progressive Democratic lawmakers—such as Representatives Alexandria Ocasio-Cortez of New York, Ihan Omar of Minnesota and Rashida Tlaib of Michigan—initially endorsed Senator Bernie Sanders of Vermont over Biden in the Democratic primaries. However, after Biden won the nomination, they rallied behind him and urged their supporters to back his campaign.
But as Biden inched toward victory in the Electoral College last week, some moderates and Republican supporters of Biden urged the president-elect to govern from the center.
"I think that Vice President Biden campaigned on an incredibly progressive and aggressive agenda. Take a look, for example, at his climate plan. It's the boldest biggest climate plan that's ever been put forward by, you know, by a nominee running for president and now a president-elect," Bedingfield said when she was asked about progressives' concerns during an interview with NBC News' Meet the Press on Sunday.
"He's going to make good on those commitments. I mean we, you know, he spent time during this campaign bringing people together around, around this climate plan. He was able to get the endorsement of groups like the Sunrise Movement and the endorsement of labor for this plan. It's a big, aggressive plan," the campaign official asserted.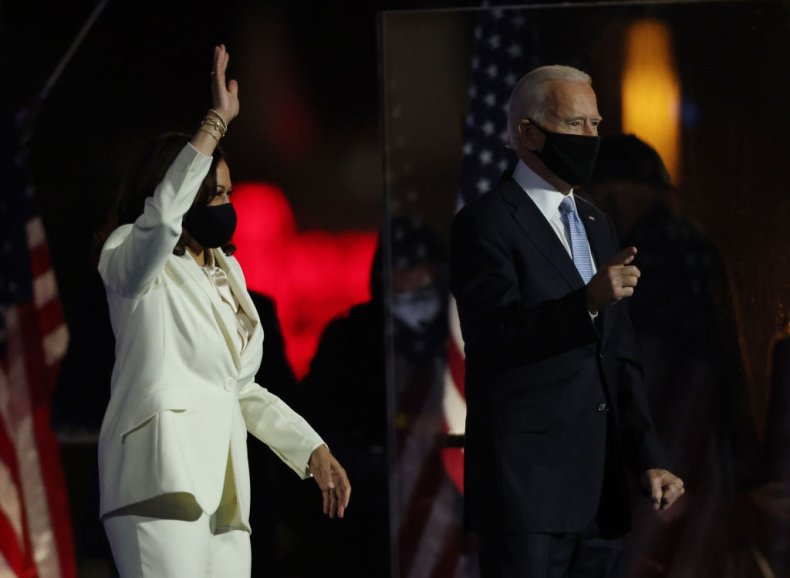 Ocasio-Cortez argued in a new interview with The New York Times that Biden's victory came largely as the result of campaigning by progressive lawmakers and activists in key battleground states. "The history of the party tends to be that we get really excited about the grassroots to get elected, and then those communities are promptly abandoned right after an election," the congresswoman cautioned.
Newsweek reached out to the Biden campaign and Ocasio-Cortez for further comment, but they did not immediately respond.
While Biden won the presidency and Democrats managed to gain at least one seat in the Senate, they lost several seats in the House of Representatives. Democrats still control the majority in the House—but some moderates have pointed fingers at progressives for their losses. Ocasio-Cortez and Omar pushed back against those criticisms on Twitter.
"Every single swing-seat House Democrat who endorsed #MedicareForAll won re-election or is on track to win re-election," Ocasio-Cortez tweeted Saturday. "Every. Single. One."
"Progressive get attacked by other Dems. Everyone: silent Progressives defend themselves and their democratic base. Everyone: stop being divisive," Omar wrote on Twitter Sunday. "Maybe people should stop attacking progressives and work on unity instead of projecting."
Biden recognized the activists and progressives that helped get him elected in a Saturday evening victory speech. However, he also nodded to the conservatives and moderates in his winning coalition.
"To my campaign team, and all the volunteers, to all those who gave so much of themselves to make this moment possible, I owe you everything. And to all those who supported us: I am proud of the campaign we built and ran. I am proud of the coalition we put together, the broadest and most diverse in history," the president-elect said.
"Democrats, Republicans and independents. Progressives, moderates and conservatives. Young and old. Urban, suburban and rural. Gay, straight, transgender. White. Latino. Asian. Native American," Biden also remarked.