Biden Claimed He Never Wanted to Ban Fracking. He Did
During the third and final presidential debate, Democratic presidential nominee Joe Biden denied that he had ever said that he wanted to ban fracking. However, Biden has said in he past that he wants to ban fracking, even though that's not his current position.
After the debate, the Trump campaign released video footage of Biden and his running mate, vice presidential nominee Kamala Harris, both supporting bans on fracking. She, like Biden, has since advocated for limiting fracking rather than banning it outright.
"I never said I oppose fracking," Biden said.
"You said it on tape," Republican President Donald Trump replied.
"Show the tape, put it on your website," Biden replied. "The fact of the matter is he's flat lying," Biden said of Trump's claim that Biden had endorsed banning it.
"I do rule out banning fracking because the answer is we need other industries to transition to get a complete zero emissions by 2025," Biden said during the debate. "What I will do with fracking over time is make sure that we can capture the emissions from the fracking, capture the emissions from gas. We can do that, and we can do that by investing money. But it's a transition to that."
However, Biden has said that he opposes fracking in the past.
During the July 31, 2019 Democratic debate, when asked if there would be "any place for fossil fuels, including coal and fracking, in a Biden administration," Biden said, "No, we would, we would work it out."
"We would make sure it's eliminated and no more subsidies for either one of those, either—any fossil fuel," Biden said.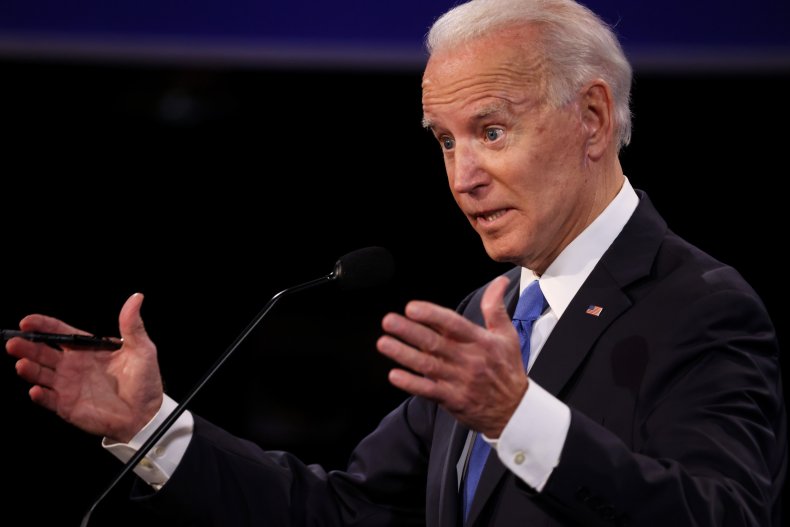 During the March 15, 2020 Democratic debate, Biden said he would authorize no more federal subsidies for the fossil fuel industry, adding, "No more drilling on federal lands. No more drilling, including offshore. No ability for the oil industry to continue to drill, period."
When his then-competitor, Independent Vermont Senator Bernie Sanders said, "I'm talking about stopping fracking, as soon as we possibly can," Biden replied, "So am I.... No more, no new fracking."
Fracking, also known as hydraulic fracturing, uses a drill that pumps water, sand and chemicals in order to fracture underlying rocks and extract natural gas from the Earth. Environmental activists oppose fracking because it depletes water reserves, creates wastewater, can potentially cause earthquakes and ultimately contributes to global warming.
After the debate, the Trump campaign made good on Trump's promise to release video footage of Biden and Harris repeatedly making public statements in favor of ending fracking.
The video ends with the statement, "Joe Biden and Kamala Harris want to ban fracking and kill American jobs."
Newsweek contacted the Biden campaign for comment.
Biden has since said that fracking "won't be on the chopping block" if he becomes president.
During an April interview with KDKA-TV news in Pittsburgh, Biden said he wouldn't shut down the fracking industry but merely not allow new fracking leases on federal land, which only represents 10 percent of all national leases.