Biden Defeats Warren in Her Home State of Massachusetts, Here's What It Means for Her Campaign
Former Vice President Joe Biden dealt a humbling loss to Senator Elizabeth Warren in her home state of Massachusetts during the Super Tuesday Democratic primary on Tuesday night.
With 70 percent of precincts reporting, Biden won the state with 33 percent of votes. Senator Bernie Sanders came in second with 27.3 percent, while Warren trailed behind in third with 20.9 percent.
The Massachusetts senator, who on Saturday suffered a loss in South Carolina, is experiencing a low point in her candidacy after failing to secure good results in any of the first four contests ahead of Super Tuesday. Massachusetts was considered a must-win for Warren and her third place finish will further damage the credibility of her campaign.
Newsweek reached out to Warren's campaign for comment.
Warren continued her presidential bid through to Super Tuesday after Minnesota Senator Amy Klobuchar, former South Bend, Indiana Mayor Pete Buttigieg and billionaire Tom Steyer dropped out of the race following disappointing results in some of the early voting states. Buttigieg and Klobuchar quickly moved to endorse Biden, which boosted momentum for his campaign ahead of Super Tuesday and solidified his position as the moderate frontrunner.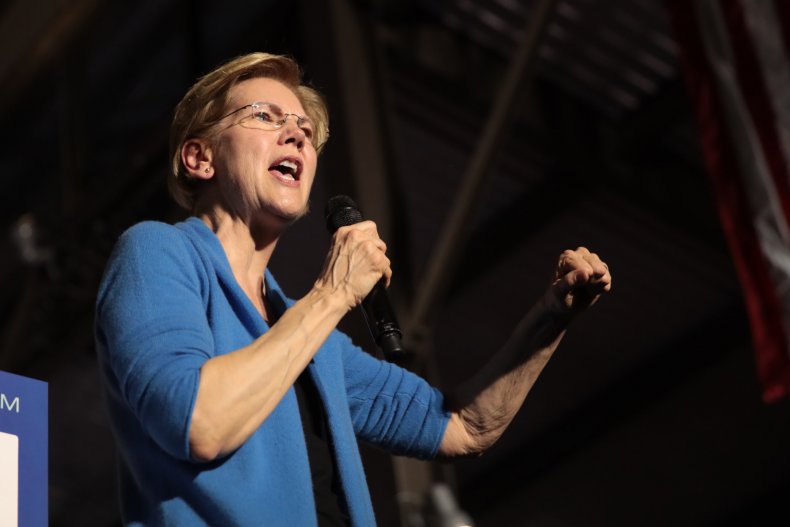 In response, Sanders' supporters called for Warren to drop out of the race ahead of Super Tuesday to help boost the Vermont senator's chances against the former vice president. Although five candidates still remain in the Democratic primary, some strategists have asserted that the race has now become a head-to-head matchup between the leading progressive and the leading moderate.
"At this point, whether some candidates realize it or not, it's essentially a two-person race," Democratic strategist Chris Kofinis told Newsweek. "It's really down to Sanders and Biden."
Warren's disappointing finish in her home state will likely result in more calls for her to end her presidential campaign. A Morning Consult poll, released late-February, indicated that roughly 40 percent of her supporters would go to Sanders. Another recent poll, conducted by Quinnipiac University, similarly found that 33 percent of her supporters would back Sanders after she drops out.
Biden's Massachusetts win was unexpected as most recent polls had Warren and Sanders neck and neck to secure the state. Sanders had also made a push for the state in the days leading up to Super Tuesday.
"Last year, it was assumed Elizabeth Warren would carry Massachusetts and carry it comfortably," Suffolk University pollster David Paleologos said on Monday. Unfortunately for Warren, it didn't happen.