The granddaughters of Joe Biden showed their support for the presidential contender in a video message ahead of his closing remarks of the 2020 Democratic National Convention.
Maisy, Finnegan, Naomi and Natalie Biden squeezed onto a couch to talk about their grandfather and when asked about a fun fact about the election contender, they described his penchant for ice cream, especially vanilla, with chocolate sprinkles.
"He likes ice cream in hidden ways," Naomi Biden said, with Natalie chiming in to say that he would eat it in the freezer "so that like my grandma doesn't see... he hides it."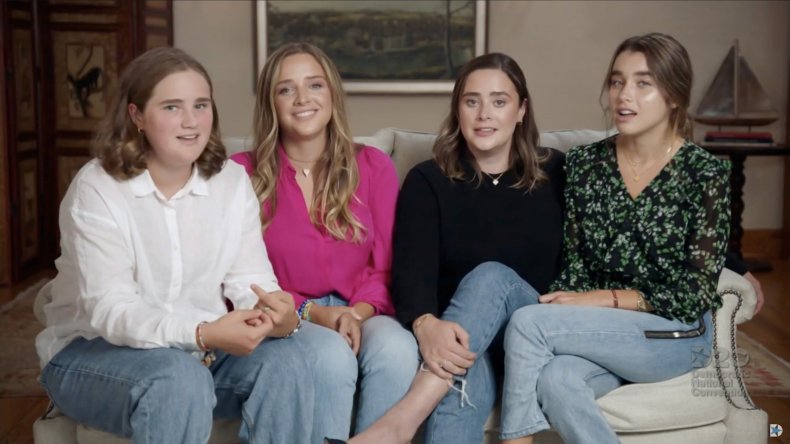 They also revealed that he would contact them every day and would get worried if any of them was not available or had not returned his call.
"He will pick up our calls no matter where he is. He'd be on stage giving a speech and we'd call him and he would be like 'what's wrong? Is everything good?' Naomi said.
"He always calls with the same energy even after he's just done 15 interviews in a row," added Maisy.
They also spoke about how worried he was that his family would face scrutiny on the campaign trail and Naomi called a family meeting to encourage him to run.
"He thought we were calling a meeting to discuss whether or not we wanted him to, but really we were calling it to be like 'Get in that race. Hurry up,'" Naomi Biden said.
The presidential contender has two other grandchildren, Robert Hunter Biden II, and a baby grandson whose name has not been released publicly.
On the second night of the DNC, Natalie Biden described her grandmother, Jill Biden, in a video segment ahead of the former second lady's address, describing her as a "prankster" and "very mischievous."
Ahead of his keynote speech, Joe Biden's children Ashley and Hunter spoke of their late brother Beau, the former attorney general of Delaware who died in 2015 of cancer, as they introduced him as the Democratic presidential nominee.
"We want to tell you what kind of president our dad will be. He will be tough and honest, caring and principled.
"He'll listen, be there when you need him. He'll tell you the truth even when you don't want to hear it. He'll never let you down," Ashley, 39, and Hunter, 50, said.
Biden's infant daughter Naomi, died in the same 1972 car crash that killed his first wife, Neilia. The Biden family's tragedies have been invoked during the DNC this week as examples of the former vice president's strength of character and ability to handle times of crisis.