Biden Economy Message Eclipsed by Musk's 'Bad Feeling,' Dimon's 'Hurricane'
President Joe Biden has spent the week promoting an optimistic plan for fighting inflation—penning an op-ed for The Wall Street Journal on Monday, sending senior officials to promote his new economic agenda and finishing Friday off with a positive speech on last month's jobs report.
"My plans have produced the strongest fastest, most widespread economic recovery America has ever experienced," Biden said on Friday. "It's the foundation for an economy that works for working families. Because of that foundation, we're better positioned than any country in the world to overcome global inflation that we're seeing and reach a new chapter of stable and steady growth."
But the White House's efforts to convince Americans the economy is healthy has been eclipsed by other voices who are forecasting a starkly different future for the markets and headlines that have undermined the Biden administration's predictions on the economy.
Biden's detractors include JPMorgan Chase CEO Jamie Dimon, who warned of a looming economic "hurricane" on Wednesday, and Tesla CEO Elon Musk, who said he has a "super bad feeling" about the economy in an email to executives this week.
"Right now it's kind of sunny, things are doing fine. Everyone thinks the Fed can handle this," Dimon said at a Bernstein conference this week. "That hurricane is right out there down the road coming our way."
"We just don't know if it's a minor one or superstorm Sandy. You better brace yourself," he said, adding that his company was preparing for "bad outcomes" from the war in Ukraine, rising inflation and the Federal Reserve's interest rate hikes.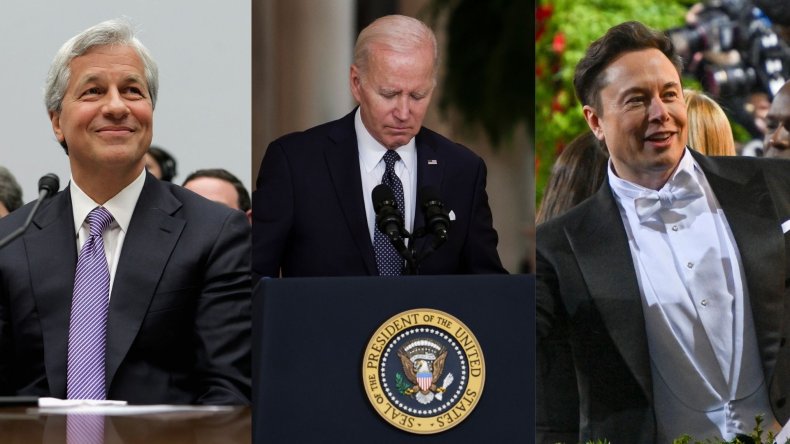 Just a day later, Goldman Sachs President John Waldron echoed Dimon's remarks, saying the shocks to the economy have been "unprecedented" and described the current outlook as "the most complex, dynamic environment I've ever seen in my career."
Then Musk added to the chorus of warnings from business leaders on Thursday, telling his executive team he wants to slash 10 percent of Tesla jobs and "pause all hiring worldwide" because of his "super bad feeling" in an email obtained by Reuters.
Asked about Musk's remarks on Friday, Biden said that while the Tesla CEO was writing his email, Ford and Chrysler were making new investments in electric vehicles that created thousands of new jobs. He also pointed to new jobs at Intel.
"So you know, lots of luck in his trip to the moon," Biden said of Musk.
The alarms have been loud enough to capture the attention of Americans who are already seeing rising prices in their everyday lives, from groceries to fuel. And new polling shows that voters are identifying inflation as the number one issue facing the country, even as the Biden administration has emphasized its economic efforts on employment.
"With today's numbers, the jobs over the last three months have averaged about 400,000 jobs per month. That's historically robust and a sign we're beginning to shift to steady growth after rapidly recovering 600,000 jobs per month over the prior six months," Biden said on Friday.
"At the time I took office about 16 months ago, the economy installed and COVID was out of control," he added. "Today, thanks to the economic plan and the vaccination plan that my administration put it in action. America has achieved the most robust recovery in modern history."
Despite the president's efforts to push a positive spin on the economy, the biggest headline from his administration this week was Treasury Secretary Janet Yellen's concession that she was wrong about the inflation the U.S. would experience as it moved out of the COVID pandemic.
"I think I was wrong then about the path that inflation would take," Yellen admitted to CNN's Wolf Blitzer on Tuesday, when asked about downplaying the risk of inflation a year ago.
Yellen, who met with Biden and Federal Reserve Chairman Jay Powell this week, added that much of the inflation has been due to "unanticipated and large shocks to the economy," including Russia's invasion of Ukraine and COVID variants, that she couldn't have predicted 18 months ago.
In a statement sent to Newsweek, a Treasury spokesperson doubled down on Biden's tune, noting "there has been historic growth and record job creation and our goal is now to transition to steady and stable growth as inflation is brought down."
But the positive job numbers—with unemployment reaching historic lows—have not been enough to sway many Americans, who are still holding off on major purchases due to concerns of inflation.
The secretary's CNN appearance was one of 20 Tuesday television bookings for Biden's top economic officials, according to the White House—an early sign of the administration's month-long plan to tout a healthy economy ahead of this fall's midterm elections.
"I understand the feeling. I grew up in a family, about 100 miles from here, that if that were the price of gas went up, you felt it was a discussion at the kitchen table," Biden said on Friday.
"There's no denying that high prices, particularly around gasoline and food, are a real problem for people," he added. "But there's every reason for the American people to feel confident that we'll meet these challenges."
Update 6/3/22, 1:31 p.m. ET: This story was been updated to include a new photo.