President Joe Biden's administration will soon lift travel restrictions that were imposed on eight African countries last month as scientists rushed to uncover information about the rapidly spreading Omicron coronavirus variant, the White House said on Friday.
Starting next week, foreign nationals who were temporarily barred from traveling to the U.S. within 14 days of visiting those nations will again be allowed to enter the country. The decision comes as Omicron has been driving a surge of new COVID-19 cases in the U.S., with infections from the variant reported in every state.
"On Dec. 31, @POTUS will lift the temporary travel restrictions on Southern Africa countries. This decision was recommended by @CDCgov. The restrictions gave us time to understand Omicron and we know our existing vaccines work against Omicron, esp boosted," White House spokesperson Kevin Munoz tweeted Friday.
The restrictions were originally imposed in late November and halted travel from South Africa, Botswana, Zimbabwe, Namibia, Lesotho, Eswatini, Mozambique and Malawi. The temporary ban did not apply to American citizens or permanent residents, but required those individuals to provide proof of a negative COVID-19 if they were traveling from the listed countries.
Biden joined at least 15 other countries in enacting the travel ban in an effort to buy time for scientists to uncover more information about Omicron, and to help reduce the virus from initially spreading in the U.S.
"This travel pause has served its purpose. It bought time to understand the science, it gave time to analyze the variant," a senior White House official told Reuters this week. "This was not meant to keep Omicron out. We knew we couldn't do that. The point was to reduce the number of cases coming in—in those early days and weeks."
Dr. Anthony Fauci, the top infectious disease expert in the U.S., added this week that lifting the restrictions was likely "because we have enough infection in our own country....We're letting in people from other countries that have as much or more infection than the southern African countries," according to Reuters.
The Omicron variant was first discovered in South Africa in early November, and has since spread rapidly around the globe. This week, South Dakota became the last U.S. state to report a case of the new variant after a man in his 20s became infected.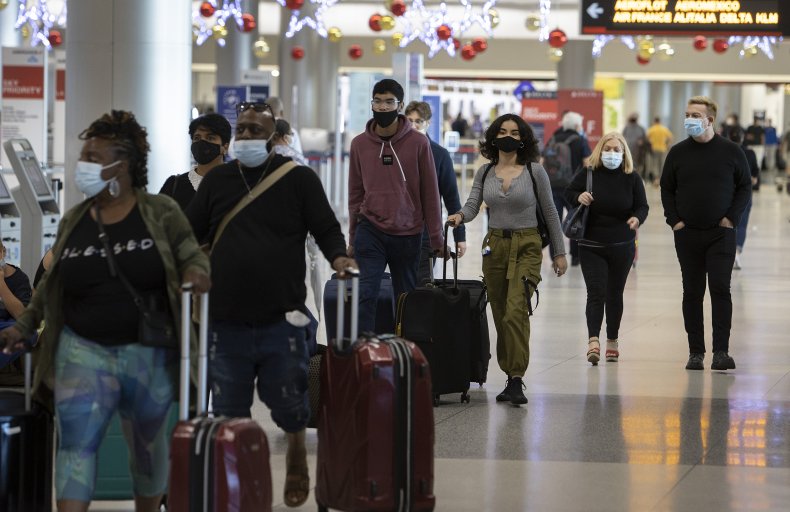 The U.S. is now reporting an average of more than 140,000 new COVID-19 cases a day, marking the highest surge across the country since February, according to the New York Times. The latest variant has fueled record-breaking daily cases across New York, and has caused a flurry of mask mandates and event cancellations across the nation.
Scientists are still working to uncover information about Omicron, but some studies have suggested that it might be more resistant to vaccines and capable of spreading more easily than the Delta variant. However, symptoms from the virus have so far appeared to be more mild.
This week, Biden urged Americans to get vaccinated and receive booster shots to halt the spread of the virus, calling the action a "patriotic duty."
"You have an obligation to yourselves, to your family and quite frankly, I know I will be criticized for this, to your country. Get vaccinated now. It's free. It's convenient. I promise you it saves lives. And I honest to God believe it's your patriotic duty," he said.