Biden Extends Trump's Policy of Expelling Migrants, Cites Delta Variant
President Joe Biden has elected to support the continued enforcement of former President Donald Trump's Title 42 policy, which allows border authorities to expel migrants back to Mexico or their home countries without giving them the chance to apply for humanitarian refuge.
News of this order was released yesterday by the CDC. The agency said the migration of non-citizens, "regardless of country of origin," creates a "serious danger" of the further introduction of COVID-19 into the United States, citing the threat of "emerging variants."
The duration of this policy remains indefinite, with the statement confirming that the policy will remain in effect until CDC Director Rochelle Walensky determines the migration of non-citizens to no longer be "a serious danger to the public health."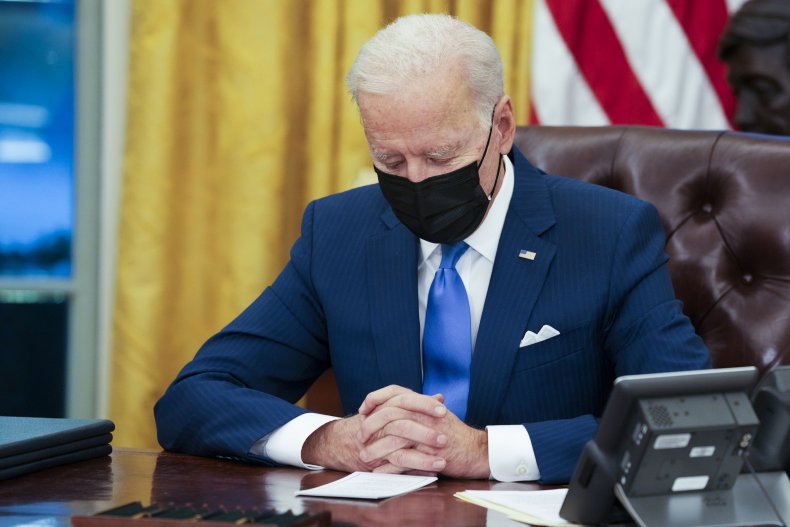 The announcement comes as a blow to advocates and migrant support groups who have long argued for the end of the policy. These individuals have stated the policy endangers those waiting at the border and violates U.S. refugee law and treaties. Josiah Heyman, director of the Center for Inter-American and Border Studies at the University of Texas at El Paso, spoke with Newsweek about the dangers associated with this policy last April.
"The level of violence and both regional and local persecution has risen in Mexico as well as Central America," Heyman told Newsweek at the time. "Title 42—immediate expulsion of single adults and some families—has a perverse effect of encouraging people to enter, be apprehended, be expelled, and try again until they succeed in entering."
With many individuals simply being routed back across the border, those who have invested in the journey north from Central America may decide to attempt entering again. To avoid getting caught, these individuals sometimes decide to take dangerous journeys through the desert or risk serious injury by hopping on trains. In June, when over 188,000 people crossed the border, NBC reported that 34 percent of those stopped had tried crossing at least once before.
Human Rights First reports that these individuals, who often do not have connections close to the border, face significant threats upon undergoing Title 42 expulsion. As of late June, 3,250 migrants expelled across the border were kidnapped, attacked, raped or trafficked since Biden took office in January 2021.
Despite these reported threats, the CDC remains focused on the spread of COVID-19. Walensky cited concerns of spreading the virus in migrant detention facilities as a reason for concern.
"CBP cannot appropriately execute consequence management measures to minimize spread or transmission of COVID-19 within its facilities," Walensky said in the order. "While scientists learn more about Delta and other emerging variants, rigorous and increased compliance with public health mitigation strategies is essential to protect public health."