Only a Third of Americans Will Blame Biden If Gas Prices Keep Rising: Poll
Just a third of Americans would blame President Joe Biden if gas prices continue to rise, and less than a third say he's responsible for recent price rises, according to a new poll published on Tuesday.
A Yahoo News/YouGov poll found that 33 percent of Americans believed Biden would be responsible for further rises in the price of gas, while 22 percent would place the blame on oil and gas companies, and 17 percent would consider Russia to be responsible.
The poll comes amid the ongoing Russian invasion of Ukraine, which initially saw a sharp rise in the price in oil before the price fell back to less than $100 a barrel.
There have also been recent rises in the cost of gas at the pump but the national average price per gallon of regular unleaded gas has begun to decline.
While a plurality of respondents said Biden would be responsible for further rises in the price of gas, there was a stark partisan divide with 65 percent of Republicans saying the president would be to blame, compared with just nine percent of Democrats.
The graph below, provided by Statista, shows that U.S. gas prices have reached a new record high.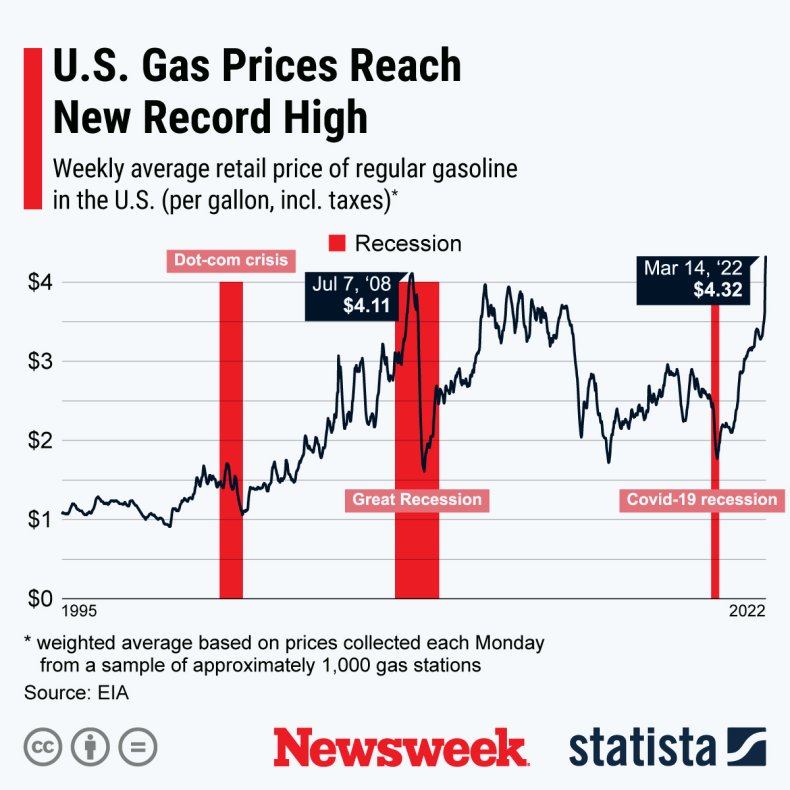 In what could be an important factor heading into this year's crucial midterm elections, 34 percent of independents said Biden would be responsible for further price rises.
The poll was conducted among 1,623 U.S. adults from March 10 to 14 and had a margin of error of +/- 2.7 percent. The survey also found that less than one third of respondents held Biden responsible for gas price rises that have already taken place.
Just 30 percent said the president was responsible, while 23 percent blamed oil and gas companies and 19 percent blamed Russia. The partisan divide was also in evidence, with 60 percent of Republicans blaming Biden for recent rises and just eight percent of Democrats agreeing, while 32 percent of independents also blamed Biden.
According to the American Automobile Association (AAA), the average price for a gallon of regular gas was just over $4.30 on Wednesday. That was down marginally from an average of just over $4.31 on Tuesday.
The Yahoo News/YouGov survey also found that 48 percent of Americans disapprove of how Biden is handling the situation with Russia and Ukraine, compared to 39 percent who approve of it.
However, that represents an improvement on the same poll two weeks ago, which found that just 34 percent of respondents approved of Biden's handling of the situation. Disapproval also stood at 48 percent in the previous poll.
Just of 38 percent of independents said they approved of Biden's handling of the Ukraine crisis, compared with 51 percent who disapproved, while 69 percent of Democrats said they approved of the job the president is doing and 21 percent disapproved.
Republicans overwhelmingly disapproved of how Biden is handling the issue, with 82 percent expressing disapproval and just 11 percent approving.
When respondents were asked about Biden's response to Russia, 31 percent said it was "about right," 34 percent said it was "not tough enough," and six percent answered that it was "too tough."
Update 03/16/22 10.10a.m. E.T.: This article was updated to include a graph.