A handful of states in the Western U.S. continued recording record-high gas prices on Tuesday even as the national average price for a gallon of regular unleaded gas began to decline.
Russia's February 24 invasion of Ukraine has been credited by industry experts as driving up prices at the pump in the U.S. amid concerns about disruptions the war could have on oil production and distribution. Last week, the U.S. broke a national average gas price record set nearly 14 years ago, and the new record was broken another three times in the days that followed.
Gas price experts said last week that they expected gas prices to continue increasing in the U.S. but said the pace of those increases was likely to slow following President Joe Biden's announcement that the U.S. planned to ban Russian oil imports. While the record national average gas price of $4.331 from March 11 has held over the last few days, some states have continued to break their own statewide average gas price records, with a Newsweek analysis of American Automobile Association (AAA) data finding that seven states in the Western U.S. set new records on Tuesday.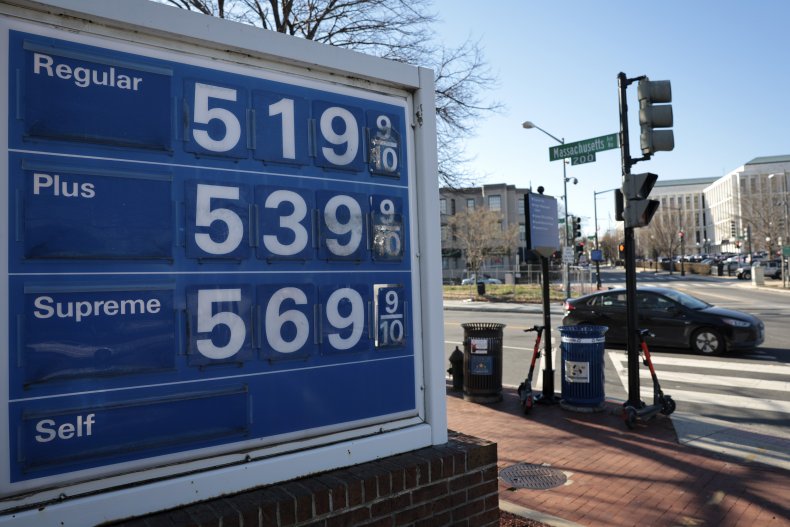 California, a state that often has the highest average gas prices in the U.S., has set several new statewide records over the last few weeks and did so again on Tuesday, with its statewide average cost for a gallon of regular unleaded gas climbing to $5.75. California has in the last week recorded one of the biggest gas price increases when compared with other U.S. states, with prices rising an average of 40 cents, according to AAA.
While Utah and Arizona both recorded larger increases than California over the last seven days, Utah's average gas price dropped slightly on Tuesday, while Arizona's single-cent increase pushed it to reach a new statewide record.
Hawaii recorded Tuesday's largest single-day gas price increase for a U.S. state of just over 4 cents, setting a new statewide average record of $4.997 per gallon. Alaska, Idaho, Nevada and Washington also set new statewide records on Tuesday, with those increases ranging between 0.4 and 1.2 cents, according to AAA data.
Colorado also recorded a small increase of less than one-half of 1 cent on Tuesday, but its statewide average gas price remained below its record from July 2008. Further east, three states—North Dakota, South Dakota and West Virginia—recorded statewide average gas price increases of less than one-half of 1 cent as Colorado did Tuesday, while Nebraska recorded a Tuesday increase of just over one-half of 1 cent.
Even as some states saw small increases on Tuesday, the national average gas price dropped by nearly 1 cent from the price recorded on Monday. AAA spokesperson Andrew Gross has credited small gas price declines with falling crude oil prices. Gross told Newsweek last week that it is difficult to predict exactly how gas prices will fluctuate in the days ahead as Russia's war with Ukraine continues, but noted that falling oil prices "could eventually take some of the pressure off of these pump price increases we have been seeing."