Russia Says Biden in 'Fantasy World' for Blaming U.S. Inflation on Putin
Russia has hit back at President Joe Biden's suggestion that Americans are paying higher prices because of Vladimir Putin's invasion of Ukraine.
After the U.S. Federal Reserve announced its largest interest rate hike for nearly three decades, in an attempt to curb surging inflation, Moscow's foreign ministry spokeswoman Maria Zakharova rejected Biden's claims that the war is having a big impact on Americans' pockets.
Biden has repeatedly blamed the war for soaring prices. Last week he told a press conference in San Pedro, California, that May's 8.6 per cent spike in inflation year-on-year, the fastest increase since 1981, "confirms what Americans already know—Putin's price hike is hitting America hard."
On Tuesday, the president told a convention in Philadelphia: "I'm doing everything in my power to blunt Putin's gas price hike. Just since he invaded Ukraine, it's gone up $1.74 a gallon, because of nothing else but that."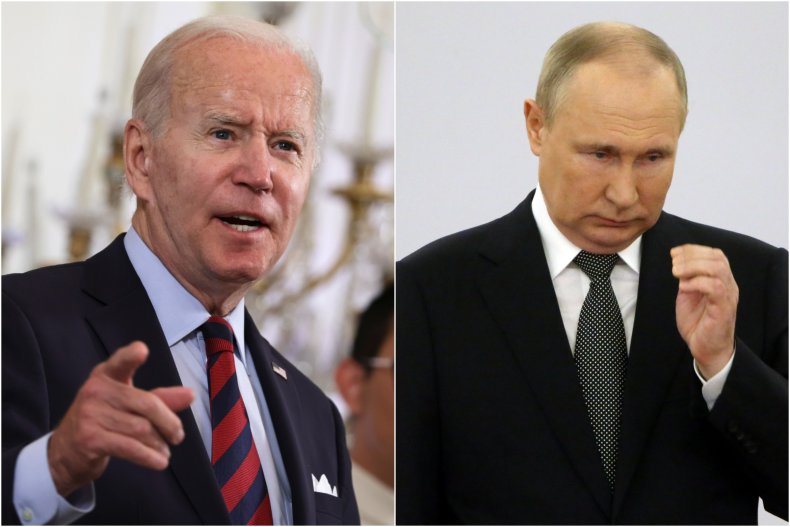 Zakharova said in an interview that food prices in the U.S. had been rising in 2020 and 2021, long before the Kremlin launched what it calls a "special military operation" in Ukraine on February 24.
"If we listen to what the White House says—Biden calling American prices Putin's prices, Putin's tax, Putin's gasoline, Putin's inflation—yes, they live in a fantasy world," she said.
"In 2021, wheat prices increased by 25 percent, by February 2022 they were already 31-62 percent higher than the average level over the past five years," she said, in comments reported by the newspaper Izvestia. The article is headlined "Biden lives in a fantasy world when he talks about 'Putin's inflation,'" according to a Google translation.
Newsweek has contacted the White House for comment.
The conflict in Ukraine has affected the U.S., in part because of a surge in commodity prices. There has also been increased geopolitical risk as tough international sanctions were imposed on Russia.
However, as reported in a Newsweek Factcheck article, the U.S. economy, which is more insulated from the war than many European countries, had faced inflationary pressures in the months before the conflict.
Inflation rates have rarely decreased throughout Biden's presidency. Between September 2021 and February 2022, inflation rose by 2.5 percentage points.
In January this year, reports were already flagging high inflation caused by the easing of COVID-19 restrictions, with businesses facing a supply-chain crisis as economies reopened.
On Wednesday Federal Reserve chairman Jerome Powell announced a 0.75-percentage-point rise in interest rates—which experts said would ease demand for homes and everyday goods.
"If money is more expensive to borrow, people will borrow less and spend less, and prices will come down," said Josh Lipsky, senior director of the Atlantic Council's GeoEconomics Center.
Jeffrey Roach, chief economist for LPL Financial, said the Fed had made the decision because household spending and business investment were no longer strong.
"In conjunction with a weakening economy, the committee is increasing its commitment to returning inflation to 2 percent by front-loading interest rate hikes to tighten financial conditions," Roach told Newsweek.
"Adding to its growing list of problems, the Federal Reserve affirmed its stance that supply-chain disruptions are adding to the upward pressure on inflation and we know that is a thorn in their side."
Bill Adams, chief economist for Comerica Bank in Dallas, said in a statement to Newsweek that "the overall tone of the decision was hawkish and emphasized the Fed's commitment to bringing inflation back to their 2 percent target."
"The economy is somewhat more likely to muddle through this current weak patch than to slip into a recession, but it is a close call."