Biden's Vested Interest in Ukraine Winning War Goes Beyond Russia
President Joe Biden has remained steadfast in his commitment to Ukrainian sovereignty over the last year, both financially and diplomatically, but the political bets waged by those investments grow larger each day.
In the span of a year, Congress has approved more than $112 billion in aid for Ukraine, including $67 billion in military aid, $28.4 billion in economic aid and $14.7 billion in humanitarian aid. In terms of money spent, no other nation has contributed as much to Ukraine as the United States. The European Union, which is the second-largest donor to Ukraine, has committed less than half of that figure.
It's not only American aid that Biden has delivered to Ukraine. He has also publicly defended Ukraine and continuously renewed his support in a variety of public speaking engagements and most notably, in a surprise visit to Kyiv last Monday.
Michael Kimmage, who previously held the Russia/Ukraine portfolio on the State Department's policy planning staff, told Newsweek that Biden's latest trip will "be one of the iconic moments of his presidency." The trip also signals that Biden is "going to keep on with the war effort as he's been describing it over the past 12 months."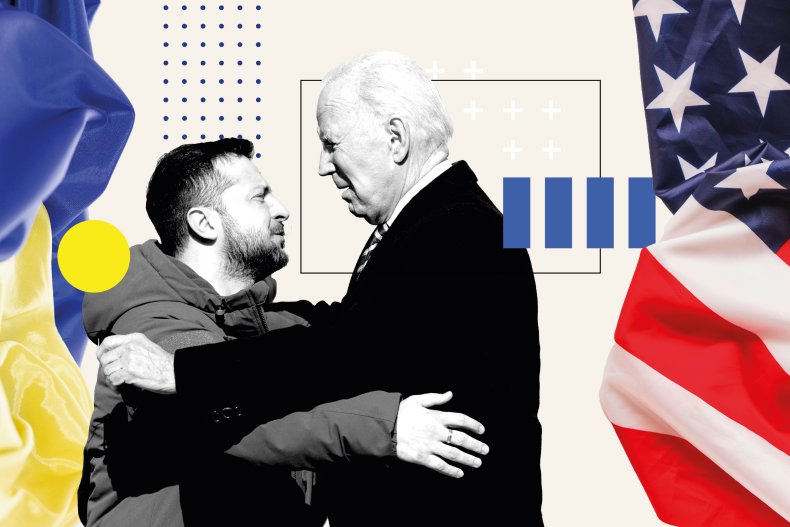 Those commitments, which Biden has vowed to maintain, will ramp up the pressure for a Ukrainian victory.
"A major set of defeats for Ukraine would reverberate throughout Europe in ways that would be deeply unsettling and potentially, politically disastrous, for Biden," Kimmage said.
Many Republican lawmakers have opposed the massive spending bills, warning that there's not enough oversight for Ukranian aid while arguing that the Biden administration is too busy with international matters to address domestic affairs, like immigration at the southern border.
Senator Josh Hawley has also spearheaded growing concerns that helping Ukraine defend its sovereignty reduces the nation's ability to defend itself from governments like China's.
Even though Biden remains committed to Ukraine "for all the right reasons," Monica Duffy Toft, a foreign policy and international security expert, told Newsweek that sustained American support will depend "a lot more on how the GOP frames U.S. support."
So, Biden will have to make his case to the American people and show them that a significant, sustained commitment to Ukraine is vital to the U.S., Nikolas Gvosdev, an expert on American foreign policy and international relations, told Newsweek.
Public opinion is already beginning to shift. The number of Americans who say that the U.S. is not giving enough to Ukraine has fallen from 42 percent to 20 percent between March 2022 and January 2023. Those who say the U.S. is providing too much have risen from 7 to 26 percent, data from the Pew Research Center shows.
While the movement is mostly attributable to a growing share of Republicans, some Democrats have changed their positions.
The war in Ukraine, and the West's response to Russia, has upended global markets, driving up oil prices and exacerbating inflation that was already reaching decades-long highs. Those economic pressures were not lost on the American people. Last summer, those price indexes became top issues for voters gearing up to head to the polls for the midterm elections.
Biden used his Memorial Day speech to remind Americans that "Freedom has never been free. Democracy has always required champions."
"Today, in the perennial struggle for democracy and freedom, Ukraine and its people are on the frontlines fighting to save their nation," Biden said. "But their fight is part of a larger fight that unites all people. It is a fight that so many of the patriots, whose eternal rest is here in these hallowed grounds, were part of."
Kimmage sees Biden's visit to Kyiv as a sign that he has no plans to change course. If anything, the president is bolstering his promises to Ukraine. Monday's visit has made Biden more "deeply" and "personally" involved in the war than ever before—a war where it's "very difficult to say what victory will look like."
Now, Gvosdev said, the Biden administration will need to show how focusing on Ukraine still fits within defense officials' "strategic assessments about China as the pacing challenge" and the Indo-Pacific region emerging as a "global center of gravity."
"There's no doubt that when the history of the Biden presidency is written, there are going to be chapters—not just one—but chapters about this conflict and how the administration responded," said Max Bergmann, a former senior adviser in the State Department and now director of the Europe program at the Center for Strategic and International Studies, told NBC News on Monday.
There is also a "looming Catch-22" waiting for Biden and additional American spending for Ukraine, according to Toft.
If Ukrainians successfully defeat the Russians, who greatly outnumber them, Biden may be asked why Ukraine needed American help to begin with. But, if the U.S. sends advanced weapons systems only for Ukraine to still lose, Biden will be questioned on why those systems were delivered only to fall into Russia's hands.
"At this point, it's hard to say what's the greater threat to Biden's rightly preferred policy of 'we will not falter, we will not tire," Toft said.