President Joe Biden will go to California next week to attend a rally in support of Governor Gavin Newsom ahead of the state's September 14 gubernatorial recall election, Newsom's campaign announced Thursday.
Biden will appear at a Monday rally in Long Beach, the campaign said in a press release. The event is to be the final rally of Newsom's campaign before the special election.
During the rally, "President Biden will urge Californians to vote NO on the recall and turn in their ballot by Tuesday, September 14," according to Newsom's campaign.
A White House advisory confirmed Biden's plan to travel to Long Beach for the rally and said the president will also travel to Sacramento on Monday to assess damage from recent wildfires.
Biden's visit will come less than a week after Vice President Kamala Harris made a trip to the state in support of the governor. Harris, who represented California in the U.S. Senate before Biden selected her as his running mate last year, appeared Wednesday at a rally Newsom's campaign hosted in San Leandro.
The president's visit will take place one day before voters decide if they want to keep Newsom in office or remove him before the official end of his term. If more than 50 percent of voters who return their ballots say they want to recall the governor, he will be replaced by whichever recall candidate receives the highest number of votes.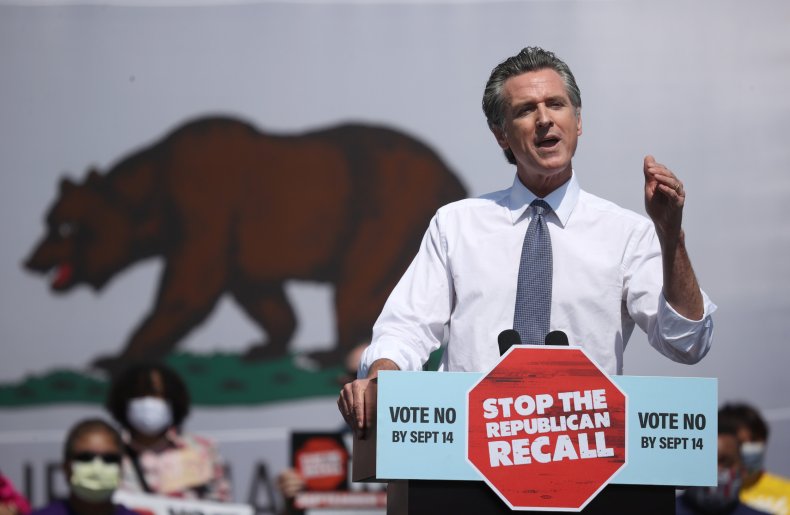 Newsom is the second California governor to face a recall election since the state adopted its current recall process in 1911. The other California governor who faced a recall, Democrat Gray Davis, lost his recall election in 2003 and was replaced by Republican Arnold Schwarzenegger.
Forty-six candidates are running to replace Newsom if he is recalled. Republican Larry Elder is widely considered the front-runner of the field because of his performance in polls conducted since launching his campaign in July. Aside from Elder, 23 other Republicans are on the ballot, as well as nine Democrats, two Green Party Candidates, one Libertarian and 10 candidates who indicated no party preference.
In recent weeks, Newsom's campaign and the California Democratic Party have urged Californians to vote against the recall but discouraged them from picking among the replacement candidates. Other high-profile Democrats outside California have weighed in on the state's recall election, many in support of Newsom. Senators Elizabeth Warren of Massachusetts and Bernie Sanders of Vermont filmed ads in support of Newsom that the governor's campaign released this summer, and both Warren and Minnesota Senator Amy Klobuchar went to California in the past week to attend Newsom campaign events.
Biden has in the past said he supports Newsom in the election. Before the recall petition qualified for a ballot, White House press secretary Jen Psaki said in a February tweet that Biden "clearly opposes any effort" to recall Newsom, and Biden himself tweeted in support of Newsom last month.
Update (September 9, 2:25 p.m. ET): This story has been updated with additional information and background.