Biden Leads Trump by 9 Points Nationwide, Draws Progressive Support: Poll
Presumptive Democratic presidential nominee Joe Biden holds a 9-point national lead over President Donald Trump, according to a new poll by Morning Consult.
The former vice president's lead over Trump has been consistent throughout Morning Consult's presidential polling, the tech company said, but his advantage increased over the last month as the coronavirus pandemic and protests in response to the death of George Floyd dominated the news cycle.
As the U.S. set record single-day highs of new COVID-19 cases, Trump's approval rating hit an 18-month low, according to Real Clear Politics data. Another poll conducted by Rasmussen Reports showed the president's approval rating among Republicans is also on the decline.
Amidst the pandemic and protest backdrops, 48 percent of the 33,549 likely voters who participated in Morning Consult's poll between June 29 and July 5 said they supported Biden, while 39 percent said they supported Trump. Pollsters said the results have a 1-point margin of error.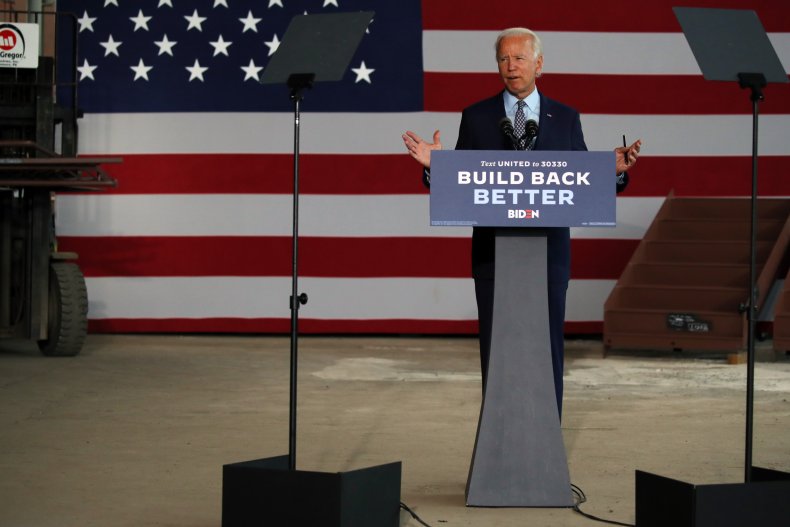 While the president's approval rating has declined in recent months, Biden's approval among progressive voters appeared to be on the rise. In a separate poll recently conducted by Morning Consult among 1,933 likely voters, pollsters found Biden was considered to be more liberal in early July than he had been when a similar poll was conducted in late February and early March. At that time, Biden was still facing other Democratic presidential contenders leading into Super Tuesday, with Vermont Senator Bernie Sanders running as the most progressive candidate on the ballot. The polls conducted before Super Tuesday and in early July both had a 2-point margin of error, pollsters said.
Since Sanders dropped out of the race and endorsed Biden in April, Americans have come around to viewing Biden as increasingly progressive, Morning Consult's poll showed. Gaining acceptance by the progressive left was identified shortly after Sanders suspended his campaign as one of the biggest hurdles Biden needed to clear in order to have a strong chance at winning the presidential election in November.
Biden's efforts to adopt some of Sanders' platforms and work alongside the former nominee and other liberal politicians have helped him move left on the liberal-conservative scale. According to Morning Consult, likely voters gave Biden a 3.2 average rating on a scale of 1 (very liberal) to 7 (very conservative) in March. His average rating moved to 2.8 by early July, the poll showed. The view of Biden as a liberal is one that Democrats, Republicans and independents all seem to share, though the poll showed that Republicans believed Biden to be more liberal than Democrats or independents did long before the pandemic and Black Lives Matter protests began.
Meanwhile, the poll showed that voters also consider Trump to be less moderate than they did in 2016. While voters traditionally choose moderate candidates over those who lean too far into the liberal or conservative realms, pollsters said Biden's current rating is better suited for a presidential run than Trump's.
"While voters are increasingly likely to say Biden is liberal, the findings also suggest that members of the Trump campaign, which is trying to brand the Delaware Democrat as a Trojan horse for socialist policies, still have their work cut out for them in making him look comparatively extreme," the poll said.