Biden Makes Puzzling Remark About Chickens, Turkeys in Delaware
President Joe Biden said Delaware has more chickens than any other state while he pardoned two turkeys on Monday.
The president pardoned turkeys Chocolate and Chip during the annual White House tradition leading up to Thanksgiving. During the ceremony, Biden's remarks about Delaware's chicken population raised eyebrows.
"We have more chickens than anywhere in the nation in Delaware, but we don't have turkeys," Biden said, leading to some confusion on social media about the state's chicken production.
Delaware indeed has a significant poultry industry, according to the U.S. Department of Agriculture (USDA). However, other more rural, agriculture-based states have much higher chicken populations.
Delaware only discloses the amount of broiler chickens, not the number living on its farms. It combines the latter metric with five other states, which in total reported only 30,500 farm chickens—less than several other states' individual counts.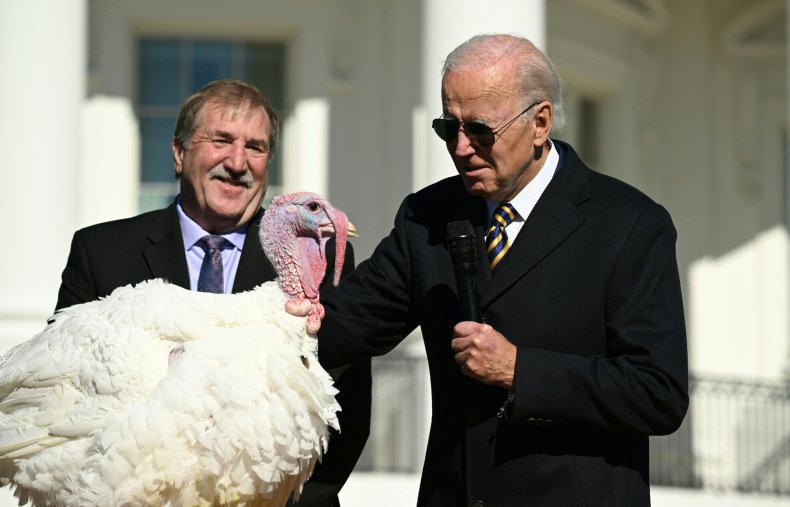 Iowa reported the highest inventory of chickens last year, with more than 60 million, according to the USDA. Indiana, Ohio and Pennsylvania had more than 35 million.
Delaware is also not a major producer of turkeys—though some farms do exist. Along with most other states, it doesn't report the total amount of turkeys it raised in 2021, but Minnesota raised more than any other state at 40 million, according to USDA data. Other states that raise notable amounts of turkeys include North Carolina, Arkansas and Indiana.
It was unclear what Biden was referring to while pardoning the turkeys, and the White House had not clarified his remarks.
The offhand comment would not be the first gaffe made by President Biden, who has faced scrutiny for questionable comments throughout his presidency.
Earlier this month, he delivered a gaffe-filled speech containing several errors, including falsely referring to Representative Debbie Wasserman-Schultz as "Senator" and a claim that he had spoken with the people who invented insulin, which has been questioned by some conservative commentators.
While some have sought to use these gaffes to question Biden's fitness to serve—especially after he turned 80 years old last week—White House officials have downplayed these concerns, insisting he remains able to successfully lead the U.S.
Polls have found voters do have concerns about Biden's cognitive ability—but they also show voters have these concerns about former President Donald Trump, who announced his 2024 presidential bid last week. Trump is only a few years younger than Biden and made several blunders of his own during his tenure in the White House.
Newsweek has reached out to the White House for comment.