Joe Biden Health Questions Poll Complicates 2024 Picture After Attacks on Kamala Harris
A survey just released has showed a significant shift in opinion about President Joe Biden's physical fitness for office over the last year.
The poll by Politico/Morning Consult found that considerably more people disagreed than agreed with the statement that the president "is in good health."
With Biden turning 79 on Saturday, the poll's findings come amid questions over whether he will run for re-election and a report from CNN suggesting a rift between those working for the president and those working with Vice President Kamala Harris.
The survey was conducted between November 13 and November 15 and had a a margin of error of two percent.
It found that 40 percent of respondents either "somewhat" or "strongly agreed" that Biden is in good health, while 50 percent disagreed.
The gap of ten percent is a 29-point shift since October 2020, when Morning Consult last asked the question in a poll, Politico reported. That survey found people believed Biden to be in good health by a 19-point margin.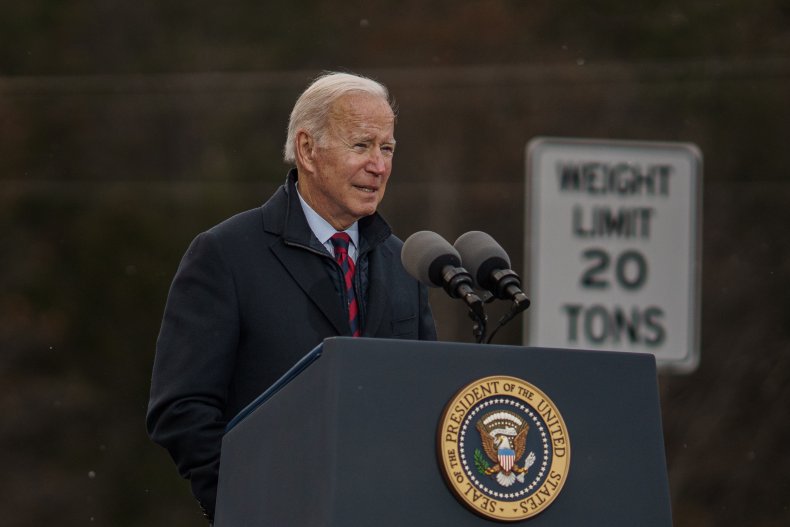 When asked whether they thought that Biden was "mentally fit," for high office the response was more evenly divided.
Some 46 percent either "strongly", or "somewhat agreed" that he was, while 48 percent of respondents disagreed.
The poll of 1,998 registered voters also discovered that just over one third (34 percent) of voters believed that Biden was energetic, while slightly more (37 percent) agreed that he was a clear communicator.
Meanwhile, 44 percent of respondents approved of Biden's performance, while more than more than half (53 percent) disapproved. This week his job approval rating fell to a record low of 41 percent in a Washington Post/ABC News survey.
It follows a downward trajectory of his popularity in a difficult few months of his presidency, which include the botched U.S. withdrawal from Afghanistan, the pandemic, high inflation and congressional disputes over his social spending plan.
Celinda Lake, a Democratic pollster, told Politico that the scrutiny of Biden's age and verbal gaffes is no longer limited to conservative news outlets and this is "bleeding over into the mainstream a little."
Meanwhile, three dozen former and current Harris aides, administration officials and Democratic operatives told CNN this week they felt she was being sidelined and that there was division between her team and that of the president.
"It is natural that those of us who know her know how much more helpful she can be than she is currently being asked to be," said Eleni Kounalakis, the lieutenant governor of California who is also a longtime friend. "That's where the frustration is coming from."