Joe Manchin Will Back Paid Family Leave in Bill if It Meets This Condition
Senator Joe Manchin, whose opposition to paid parental leave among other issues has held up the Biden administration's social welfare and climate package, has said such a policy should only be undertaken with bipartisan support via separate legislation.
The West Virginia Democrat said that he backed parental leave in principle, but wanted both parties on board with a bill that would not increase the national debt.
Plans by President Joe Biden and Democrats for paid family leave in the wide-ranging—but scaled back—$1.75 trillion package was reduced from 12 weeks to four, following Manchin's opposition, before being dropped altogether.
The social spending bill is being considered under budget reconciliation, requiring no GOP support but needs the backing of all 50 senators who caucus with the Democrats.
However, House Speaker Nancy Pelosi said she had reinserted four weeks of federal paid family and medical leave into the legislation, putting pressure on Manchin to drop his opposition, The New York Times reported.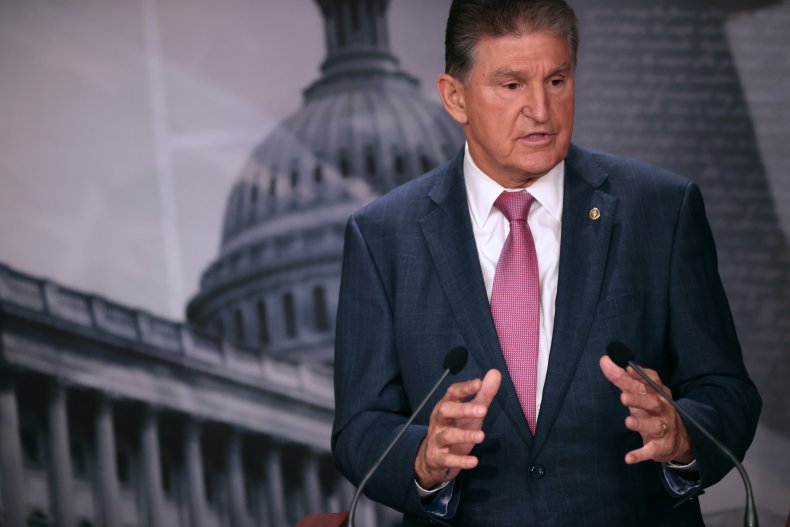 Asked by MSNBC on Thursday whether the leave policy was a "deal breaker" for him, Manchin replied he did not "begrudge" policies being put back into the social spending bill.
"But they shouldn't begrudge me for saying 'this is not the right place for this piece of legislation,'" he said.
"I believe in family leave, I believe people should have that opportunity," Manchin said, "can't we find a better position for this and do this in a bipartisan and a process that works?"
"I do not object to it at all as far as the concept of paid family leave," Manchin told MSNBC.
"People should be able to have family leave as they need it but also we should be paying into it from same as we do social security, it's employer/employee participation.
"I am talking with my Republican colleagues and friends and my Democrats, we can work a piece of bill out in a regular process that doesn't put a burden on taxpayers, that doesn't put a burden and also more debt.
"When you start the programs, you never stop them, you just don't," he added.
Newsweek has contacted Manchin's office for further comment.
Last week, The Washington Post reported Manchin was concerned that a paid-leave program could be beset by fraud. He was also reportedly worried about the logistical burden small businesses might face.
The House is preparing to debate a revised draft of the package, as well as a companion $1 trillion infrastructure bill, with votes possible on Thursday, the Associated Press reports. A senior administration official told AP the House bill will be fully paid for.
The Democrats look to get over the line the president's signature package whose delay has been blamed for the party's poor election results in Virginia and New Jersey.